Schools close as teachers strike
Hundreds of schools across London could be disrupted today as teachers hold further strikes in an ongoing dispute over pay, pensions and working conditions. The Government says it is 'disappointed' at the decision.
Thousands of families faced huge disruption today, as schools closed right across the capital. Teachers from two unions walked out in an ongoing battle over pay and conditions.
As they marched on Parliament to protest to the Government, parents were forced to make alternative arrangements for their children. Luke Hanrahan reports.
The NASUWT later estimated that around 15,000 people had taken part in a march organised in London.
Today's strike action has been a great success and is an indication of the anger and concern that teachers share about the changes this Government is making to the profession.

Strike action does of course always come at a price and we are very well aware of the disruption this causes to parents' working lives as well as their children's education.

Michael Gove has demoralised an entire profession and today's action is a direct result of his and the Government's steadfast refusal to accept there are problems that need to be resolved.
– Christine Blower, NUT general secretary
Advertisement
Martin Webb It's not just the teachers though - posties, firemen etc we're all being affected and yet the media just portray us as rejecting improved pay when it's about so much more - working conditions, pensions. Remember if you can read this or have commented on this thread - THANK A TEACHER !
Anthony Tickner My best mate's wife is a teacher she's lucky if she gets a day off and often working gone 8pm and very lucky if she gets 2 weeks off out of the the 6 at summer "holidays".
Add your comment by tweeting us @itvlondon or going to our Facebook page.
Opinions are deeply divided over whether teachers are right to go on strike. Tweet us @itvlondon or go to our Facebook Page.
@itvlondon As a parent I completely support our teachers. This Government needs to stop taking attacking public services
Mark Abernethy Most people think teachers just work 9 months of the year.. I wish it was try 60 hour weeks.. I wish parents had the same interest in their kids education as the teachers do!
@itvlondon totally support them. I have 5 school going children.
Get involved in the debate about whether teachers are right to go on strike. Tweet us @itvlondon or go to our Facebook Page.
Wayne Geoghegan Yes I agree with the strike wholeheartedly! I don't see the Tories smashing their pensions or working longer hours for nothing so why should hard working teachers be punished!
Sue Morris My son isn't going in and personally just getting any education seems to be a bonus these days. They work 9 months of a year and get paid accordingly, if they want more work a full day and full year!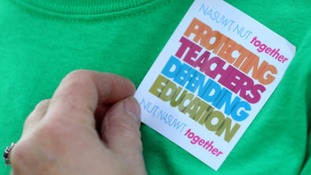 726 schools across the capital are closed today because of joint industrial action from two unions.
Read the full story
Advertisement
You've been telling us what think about today's strike by teachers, and the disruption it's causing for parents. Tweet us your views @itvlondon or go to our Facebook Page.
@itvlondon Luckily our families will have ours. Other mums aren't that lucky ! Its totally wrong doing this to parents who work !!
You've been telling us what you think about today's strike by teachers. You can get involved in the debate by tweeting us @itvlondon, or going to our Facebook Page.
Debs Shipley It's about lots if things including this stupid idea of shortening holidays and making school days longer. I support them however my daughter's school is using 6th formers to show round prospective parents instead of doing any work. Disgraceful. School use them as unpaid help yet again.
The overwhelming majority of teachers in the region will be on strike today. Teachers are committed and dedicated public service workers.

They do not take strike action lightly. No teacher has any wish to inconvenience parents or disrupt pupils' education, but this action is not the failure or due to the unreasonableness of teachers.
It is the failure and unreasonableness of the Secretary of State, who day-in-day-out is disrupting the education of children and young people through his attacks on the teaching profession.

We continue to appeal to the Secretary of State to acknowledge the real and deep concerns of teachers and commit to engage constructively in discussions to seek to resolve the dispute.
– Chris Keates, General Secretary of the NASUWT
National
Only 8% of parents support the education secretary's reforms and think they are good for their children, the general secretary of the National Teacher's Union (NUT) said.
Christine Blower made it clear no one - teachers and parents - wanted to resort to a strike, but industrial action was necessary if a pay system which was "fair" to teachers "everywhere" was implemented.
Load more updates
Back to top