Osborne: Growth figures 'significantly up'
George Osborne has delivering his latest assessment of the state of the economy in the Autumn Statement, announcing that growth forecasts for the upcoming years are "significantly up".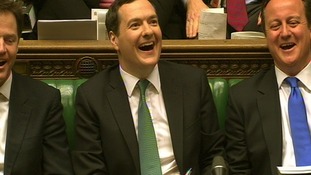 There is little doubt that George Osborne wanted the headline of the Autumn Statement to be; 'growth is up, up, up'.
Read the full story
National
Growth forecasts are "significantly up" in the largest improvement at any Budget or Autumn Statement for 14 years, with UK growing faster than any other major economy.
The state pension will rise by £2.95 a week from next April. People now in their 40s will receive a state pension at 68. Those in their 30s will be 69.
Financial resources will be provided to fund expansion of free school meals to all school children in reception, year one and year two.
The fuel duty rise for next year has been cancelled.
Plans to increase train fares by 1% above inflation has been cancelled.
Advertisement
Back to top