PM calls for calm response to the Duggan inquest
The Prime Minister has appealed for a calm response to the conclusions of the Mark Duggan inquest that found the 29-year-old was lawfully killed when shot by police in 2011.
The family of Mark Duggan said the jury's ruling that his death was lawful was "a perverse judgment".
Outside the Royal Court of Justice, the family said: "(The) jury found that he had no gun, yet he was gunned down, which for us is an unlawful killing".
Mark Duggan's aunt Carole Duggan added: "The majority of people know Mark was executed...we will fight for justice for Mark and his children."
Shaun Hall, Mark Duggan's brother, said after the verdict:
We still fight for justice."
Advertisement
National
The jury were asked to answer five questions on the circumstances around the shooting of Mark Duggan before they gave their conclusion that his killing had been lawful.
The questions and the answers given by the jury were:
1. Did the police do their best to with intelligence that Mark Duggan may collect a gun?
No.
2. Was the stop conducted in a way which minimised the possibility of having to use fatal force?
Yes.
3. Did Mr Duggan have the gun with him in the taxi immediately before the stop?
Yes.
4. How did the gun get to the grassy area it was found in?
Mark Duggan threw it.
5. When Mr Duggan received the fatal shot did he have the gun in his hand?
No.
Coroner door kicked in. Now disturbance outside courtroom. Shouts of 'no justice, no peace'.
National
After initial chaos in the court outbursts continued in the corridors of the court complex after the verdict, as supporters repeatedly shouted "murderers" and claimed police had got away with murder.
Some smashed a door and security staff were called to contain the situation.
National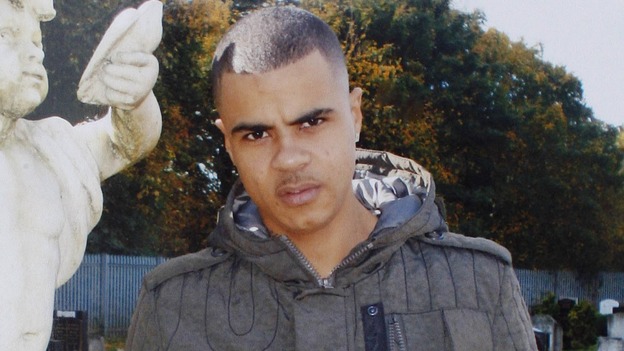 There were emotional outbursts at the court when the conclusion was given, with Mr Duggan's brother shouting after the jurors as they left court, saying "f**k them".
Other supporters shouted "murderers".
Advertisement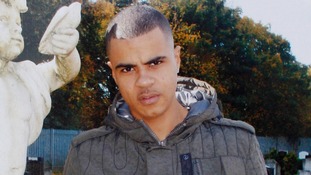 The shooting of Mark Duggan by police was the spark that began violence which spread to almost every major English city.
Read the full story
by Ronke Phillips: Senior Correspondent
Shouts of "He was murdered - murderers!" from Mark Duggan's family as inquest jury leaves hearing.
Load more updates
Back to top