Tom Daley to relocate training base to London
The diver has confirmed he will move his training base to the London Aquatics Centre at Queen Elizabeth Olympic Park from Spring 2014.
by Simon Harris: Olympics Correspondent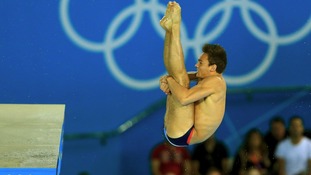 The diver visited the Aquatics Centre earlier today to look at his new training base.
Read the full story
Plymouth will obviously always be my home but after thinking long and hard about my future in diving, I have decided that a change will be beneficial to my development. I have my sights firmly set on Rio 2016, and I'm looking forward to starting the next chapter in my diving career in London. I have some great memories at that pool.
I would also like to take this opportunity to thank Andy for all his help over the years. He has been pivotal to my achievements and I wouldn't be the diver I am today without his continued dedication and support. I know we will keep in close contact and I know he will always be there for me.

I also want to thank everyone at the Life Centre and the Council for their support over the years. I will obviously miss everyone at Plymouth Diving but will look forward to the trips home.
– Tom Daley
Advertisement
Excited to be starting a new chapter with Jane in London ? #Rio2016 I'm going to miss you Plymouth lot though :(
Back to top