Road and rail travellers hit by bad weather in the south east
Road and rail travellers in the South East endured troubled journeys home after another day of flooded roads and delayed and cancelled train services.
National
The stormy weather has caused a landslide on the busy commuter line through Surrey, affecting thousands of passengers.
The railway on the Redhill Line out of London, near Merstham Tunnel, is blocked after the incident at around 5.20pm today - leaving thousands of passengers facing severe delays this evening.
Read: Marine police deliver food parcels to flood residents
A spokeswoman for Southern Rail said: "It affects the line between Purley in south London and Redhill, on the way out of London.
"That is our main line coming out of London so there have been knock-on delays as a result. It is going to affect a lot of people, certainly thousands.
"The cause is weather related."
Passengers travelling along the route are being advised to either get a bus from Purley or travel down to Gatwick where they can catch an alternative train to Redhill.
INFO: Owing to flooding, the 19:12 Southampton Central to London Victoria service will now start at Barnham, leaving 20:15
London Victoria is total chaos. Floods and land slips in the South mean all trains out of Victoria pretty much cancelled.
Advertisement
National
High winds predicted across the UK tomorrow. There may be a chance of some cancelled flights so check with your airline before travelling.
To make things a little easier for our customers during the flooding disruption, we have lifted ticket restrictions today
1/2 Please be advised that we are expecting a closure of the Thames Barrier tonight, between 2215 until 0315.
2/2 Last Thames Clippers RB1 Eastbound service to Woolwich departs at 21:58 from NGP (this is the 21:13 Eastbound departure from L Eye)
1/3 The RB5 Woolwich to North Greenwich shuttle has been cancelled this weekend due to planned Thames Barrier closures
Advertisement
Trains between East Croydon and Gatwick Airport may be delayed by up to 30 minutes because of a landslip near Merstham. #UKStorm
Route 434 is curtailed at Whyteleafe Station due to flooding.
Route 407 is subject to diversion and delays in both directions on Godstone Road, Whyteleafe Road due to flooding.
We have created a Travel Advice page here http://t.co/BFQdROEfOT to help you plan your journey through the flooding disruption.
Network Rail has confirmed that floodwater is likely to continue to affect trackside signalling and safety equipment for some time.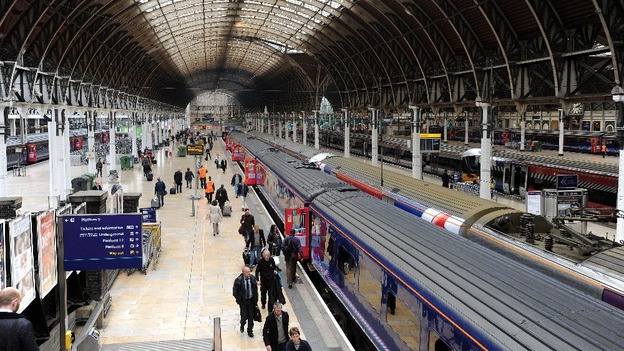 In a statement, they said: "While they work to fix the problem we will only be able to run five trains an hour between Paddington and Reading in each direction. This is around a fifth of the services that would normally be scheduled.
"This will continue until Network Rail lets us know it is safe to run a full service again. We strongly advise customers not to travel unless it is absolutely necessary, and to consider alternative routes."
Load more updates
Back to top