Euston Station to be rebuilt as part of HS2 plans
Euston station could be demolished after an apparent U-turn by the government over plans for a new high speed railway. Eleven new platforms are due to be built at Euston as part of HS2 railway plans.
Camden Council leader Sarah Hayward welcomes the government's U-turn over demolishing Euston Station. @itvlondon
As plans to demolish Euston Station as part of the HS2 railway line have been revealed today, ITV London has been asking you whether you think it is a good idea:
@itvlondon wast of money better spent in Hosps schools & education & care homes
@itvlondon @simonharrisitv platforms at Euston are horrible. Got to be the one of the worst of any major station on the UK rail network.
Join the debate @itvnews.
Advertisement
by Simon Harris: Political Correspondent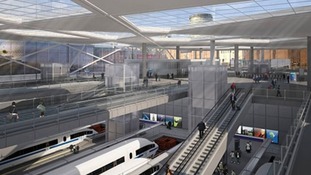 Euston Station is set to be demolished and rebuilt to become the gateway to the Midlands and North as part of plans for HS2.
Read the full story
Back to top