Three-day Tube strike suspended after last-ditch talks
The London Underground and the Rail, Maritime and Transport Union held last-ditch talks just hours before a three day strike commenced
by Simon Harris, Political Correspondent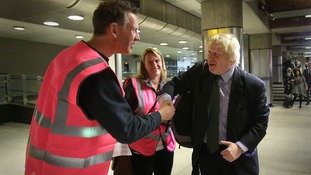 Mayor of London Boris Johnson believes the aborted strike on London Underground was broken by commuter power.
Read the full story
Londoners expecting to face the chaos of a Tube strike this morning can breathe a sigh of relief.
A last-ditch effort to avert the planned three-day strike was successful, with the announcement being made just hours before the industrial action was scheduled to begin.
London Underground bosses said yesteraday they are pleased with the result of the talks, but say more work is needed to resolve the disputes over the future of the Tube.
Advertisement
National
London Underground and the Rail, Maritime and Transport union have welcomed the decision to suspend a three-day tube strike, which was due to start tonight at 9pm.
I am pleased that Londoners will not have to endure further strike action this week. The only way to resolve this dispute is for the RMT leadership to work with us to shape the future of the Tube in a changing world. It is good that they have committed to doing so alongside the three other unions involved.
– Phil Hufton, chief operating officer of London Underground
We have been able to secure real movement and significant progress on the issues at the heart of this dispute in talks with the Tube management over the bank holiday weekend.
– Mick Cash, acting RMT general secretary
The planned three-day strike by London Underground workers has been suspended, the RMT Union has said.
National
The London Underground and Rail, Maritime and Transport are holding last-ditch talks just hours before a three day strike, that could affect millions of people across London and surrounding areas.
Conciliation service Acas said the talks between the RMT and London Underground started at 10am.
RMT union members are set to walk out of their jobs for three days at 9pm this evening, in a long-running dispute with the London Underground over ticket office closures.
A two-day strike last week caused huge disruption, with roads clogged as people switched to other forms of transport.
More: RMT: Cuts to 'safety-critical' Tube jobs led us to strike
Back to top