Twelve people escape building after restaurant fire
More than 70 firefighters were called to the fire on the High Street in Ponders End, Enfield, north London around 1:30am on Wednesday.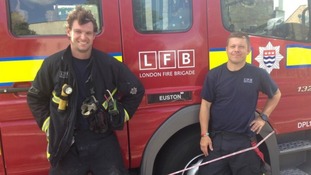 Firefighters turned midwifes at a major blaze in Enfield after remembering advice from Channel 4's One Born Every Minute.
Read the full story
Two firefighters sent to help rescue twelve people from a burning building in Ponders End this morning suddenly found themselves taking on the role of midwife.
Ross McLaren and Richard Hall helped deliver a baby boy in the back of a car as more than 70 firefighters dealt with a blaze on the High Street.
One of our firefighters, Ross, turned midwife when he delivered a baby at scene of the Ponders End fire this morning - more soon #itsaboy
Advertisement
Road closures all directions Southbury Rd,Nags Head Road,High St Ponders End & Hertford Road due to a fire. Avoid the area where possible-AS
People inside escaped before fire crews arrived and no one else is thought to be involved in the fire at this stage.
Enfield's High Street is closed to traffic and people living in the area are being warned to keep doors and windows closed as a precaution against the heavy smoke. Firefighters are expected to be at the scene for some time this morning.
The fire is affecting a range of shops, including a restaurant, as well as a number of flats above them.

Our firefighters are working extremely hard in very challenging conditions to stop this fire from spreading and have managed to contain the fire to two units in the row of shops involved.
– Mark Blomfield, London Fire Brigade
Twelve people have escaped from a burning building after a large fire broke out in a restaurant and nearby flats in north London. More than 70 firefighters were called to the High Street in Ponders End in Enfield at around 1:30am.
Advertisement
Back to top