Live updates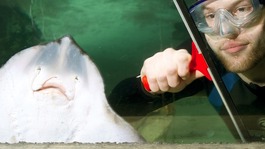 Penguins, terrapins and sharks among the creatures given their regular clean-up.
Read the full story
His name is 'Zorro'. He's a shark - a 'zebra' shark, to be precise.
A resident at the London aquarium, he was shipped off to Great Yarmouth today - to see if his 'reputation' amounts to anything.
Dan Hewitt has the story
Advertisement
Zorro is the London Aquarium's resident zebra shark is a big draw with visitors, but he has failed to produce any offspring.
So, he is off for a holiday to an aquarium in Great Yarmouth where it is hoped he willl be a hit with Athena, the resident female zebra shark there
Back to top