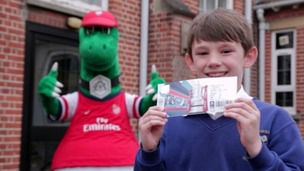 One lucky Arsenal fan received a surprise gift from the club's mascot during his school assembly today.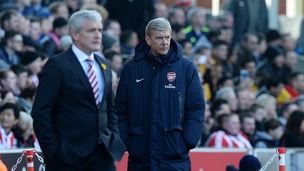 Arsene Wenger has described Arsenal's weekend as "a major set back" and a "big worry."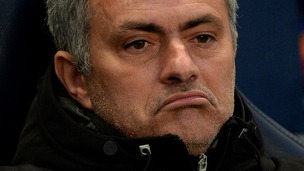 The Chelsea manager called the Arsenal boss a "specialist in failure". The feud escalated by Wenger calling Mourinho an "embarrassment".
Live updates
Arsene Wenger has suggested the ticketing allocation for the FA Cup final at Wembley could impact on the atmosphere.
Arsenal and Hull will receive 25,000 tickets for the final at the 80,000-seater national stadium, with the rest of the tickets passed to their 'football family and Club Wembley members.
"One of the charms of the FA Cup final was always that the stadium was reality divided in two," the Arsenal manager said.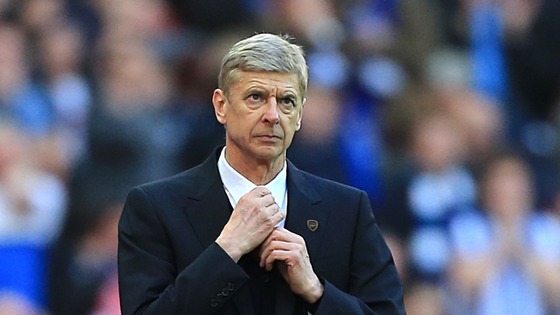 "It's a shame that it doesn't happen any more because that was always an absolutely fantastic atmosphere.
"I remember I have been at European Championship finals of the nations and World Cup finals and always there's a little bit of a lack of atmosphere because it is so divided. I think the atmosphere will lose a little bit."
The north London side were supported by over 50,000 fans as they defeated Wigan in the semi-final last weekend.
Read: Arsenal 'disappointed' by FA Cup final ticket allocation
Arsenal beat West Ham to move back into top four
Arsene Wenger said he hopes Everton slip up in the race for Champions League football next season.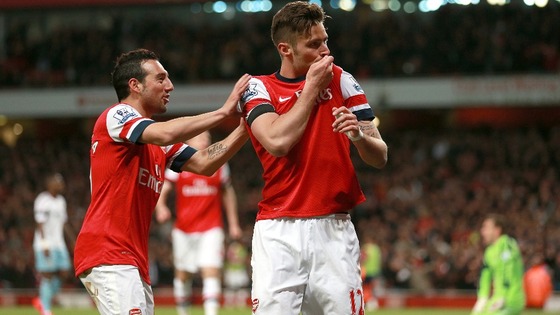 Two goals from Lukas Podolski and a wonder strike from Olivier Giroud helped Arsenal beat West Ham 3-1 and move back above Everton into the Champions League places, but the Blues have a game in hand on their rivals.
"We know we have to win our games and hope that Everton will slip up somewhere. Let's focus on our job and not look too much at Everton," Wenger said.
"If we need that we'll see when we need it, but at the moment we can only do it if we win our games, so let's focus on that."
Advertisement
Arsenal beat West Ham to move back into top four
Arsenal have moved back ahead of Everton in the race for fourth place in the Premiership. Two goals from Lucas Podolski helped Arsenal come back from a goal down to beat West Ham 3-1 at the Emirates.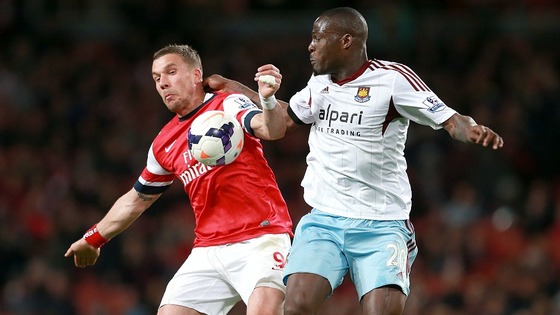 West Ham took the lead in the 40th minute through Matt Jarvis but two from Podolski and another goal for Olivier Giroud ensured all three points for the Gunners.
Defeat leaves West Ham in 11th place, seven points clear of the relegation. Everton can leapfrog ahead of Arsenal again if they beat Crystal Palace tomorrow night.
Arsenal beat West Ham to move back into top four
Arsene Wenger has stressed the importance of Arsenal qualifying for the Champions League next season as he prepares his side for a crucial game against West Ham tonight.
A win at the Emirates would move Arsenal above Everton and into the top four and give their season a further boost after Saturday's FA Cup semi-final victory.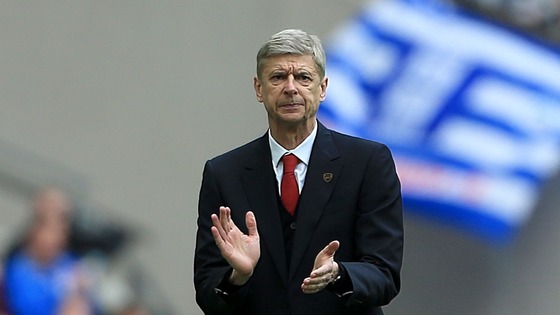 "It is vital to me to do it. I want this club to play in the top level competition, and for that you want to be in the Champions League," Wenger said.
"What will be an advantage is our desire to play in this competition because we love the Champions League and just to imagine how much we love it will help us to achieve it.
"The pain of not having it? I would like them (the players) rather to concentrate on the pleasure to be in it."
Read: Arsenal 'disappointed' by FA Cup final ticket allocation
Arsenal 'disappointed' by FA Cup final ticket allocation
Arsenal have announced plans to screen the FA Cup final live at the Emirates Stadium after the club's chief executive expressed his disappointment at the ticket allocation for fans.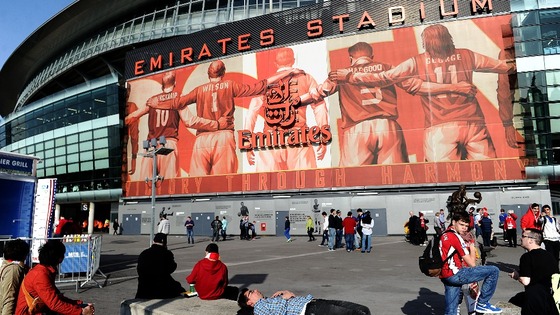 The Gunners said they were planning on broadcasting the match against Hull City on May 17 on giant screens inside the stadium so as many fans as possible could watch the match together.
"We want this to be a special day for Arsenal fans wherever they are, and the screening will be a great way for thousands of our supporters who are unable to get to Wembley to watch the match together at Emirates Stadium," Ivan Gazidis added.
Further information about the screening plans would be made as soon as tickets for the final at Wembley were sold out, the club said.
Read: Arsenal 'disappointed' by FA Cup final ticket allocation
Arsenal 'disappointed' by FA Cup final ticket allocation
Arsenal chief executive Ivan Gazidis has expressed his disappointment at the "balance" of ticketing for the FA Cup final against Hull City.
Each club have been allocated 25,000 for the occasion at Wembley on May 17, with thousands of tickets set to be distributed to volunteers through the 'football family'.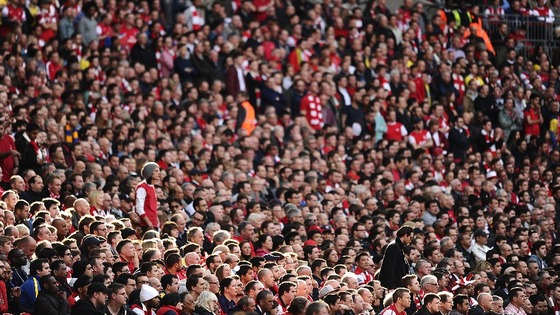 Gazidis said he believed loyal supporters from Arsenal and Hull City deserved a greater chance to see their team play in "one of the biggest matches of the season".
"The balance in the FA's allocation system is not right. Arsenal have approximately 45,000 season ticket holders and 150,000 members, many of whom come to games," he added.
"They all give us their loyal support throughout a season but with the FA Cup final allocation at 25,000 there will be many disappointed Arsenal fans, who have supported the club home and away for years, who will be unable to get a ticket to this historic match."
Read: Arsenal into FA Cup final after dramatic Wigan victory
Advertisement
Arsenal 'disappointed' by FA Cup final ticket allocation
Mikel Arteta says Arsenal were made to "suffer" against Wigan Athletic before booking their FA Cup final place.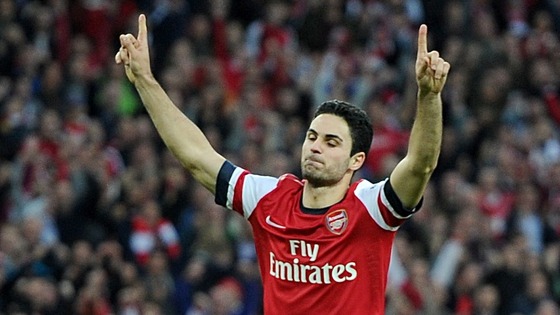 The north London side came from behind against the holders before winning on penalties in a tense semi-final at Wembley.
"We're really happy. It seems like at the moment we need to suffer and really earn things but I think we've done it today," the Spanish midfielder told Arsenal's website.
Arteta said Arsenal now had an "unbelievable opportunity" to win their first trophy since 2005, adding: "We've got the hunger and I think we've got everything we need to do it. We don't want to waste that opportunity and we're going to do it now."
Arsenal 'disappointed' by FA Cup final ticket allocation
Arsene Wenger admitted he was "relieved" after Arsenal won a dramatic penalty shootout against Championship side Wigan to reach the FA Cup final.
Per Mertesacker's late equaliser kept Arsenal's FA Cup hopes alive before Lukasz Fabianski's shootout heroics helped the Gunners to a crucial victory.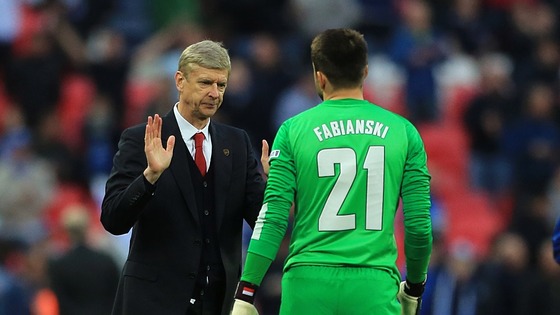 "Relieved because we were under big pressure because I expected a difficult game and I was not disappointed," the Frenchman said.
"Wigan were impressive, well-organised, physically very strong, calm when they had the ball and they played very well. They have shown why they knocked Man City out in the quarter-final and we had everything a little bit against us for a while in the game.
"We needed to show some character and some resilience and as well some nerves in a very united and resilient way."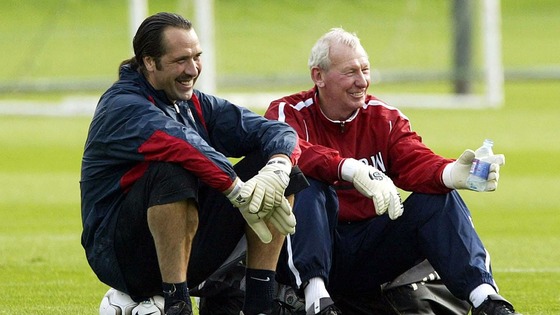 Former Arsenal goalkeeper Bob Wilson is to undergo treatment for prostate cancer.
The 72-year-old was at Wembley for yesterday's FA Cup semi-final between the Gunners and Wigan Athletic. He's cancelled forthcoming work and charity commitments in the near future, but says he's planning to return to public life as soon as possible.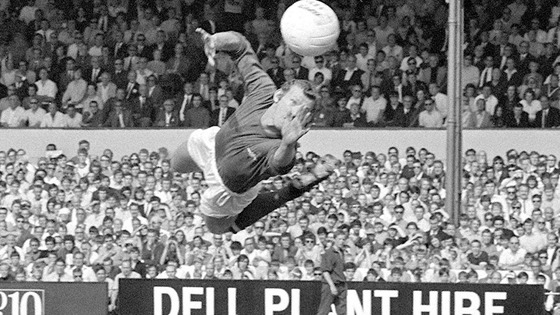 Wilson played for Arsenal in the 1960s and 70s. He retired from playing in 1974, and then took up a coaching role with the club for several years.
Wilson, also a BBC and ITV television presenter, said he's very confident that the treatment he's receiving will prove successful.
Arsenal 'disappointed' by FA Cup final ticket allocation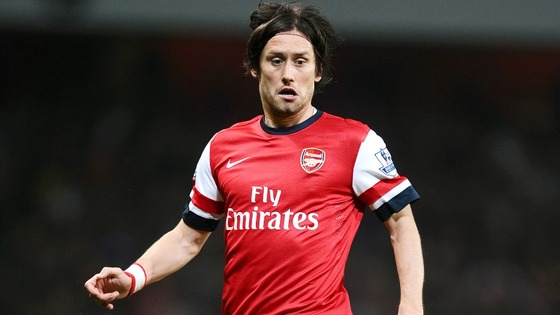 Arsenal face Wigan in the FA Cup semi-finals this evening. Tomas Rosicky, Kieran Gibbs and Alex Oxlade-Chamberlin are all undergoing last minute fitness tests to see if they'll be fit to play.
On paper, The Gunners look the stronger team. However, current FA Cup holders, Wigan caused a major upset in last year 's final by beating Manchester City 1-0.
Load more updates
Back to top