Arsenal midfielder Aaron Ramsey has said sorry for the red card he received in last night's Champions League qualifying match against Besiktas. He will be suspended for the second leg next week.
Thank you to all the fans that made the trip. Sorry for the red card. I'm sure the lads will do the job in the second leg
The Arsenal manager Arsene Wenger has said the performance of referee Milorad Mazic was "very bad" during last night's first leg match of their Champions League qualifying tie. The Gunners drew 0-0 away to the Turkish side Besiktas but had midfielder Aaron Ramsey sent off for two yellow cards.
Neither the first nor the second yellow card was deserved for Aaron Ramsey. In the second half the performance of the referee was very bad. Ramsey's second yellow card, I cannot see where that comes from, it was a huge decision.
– Arsene Wenger
The second leg is at the Emirates Stadium in a week's time.
Advertisement
Arsenal's Alex Oxlade-Chamberlain and Santi Cazorla celebrated their 3-0 win over Manchester City by taking a selfie.
The pair posed with the FA Community Shield trophy after yesterday's game at Wembley Stadium.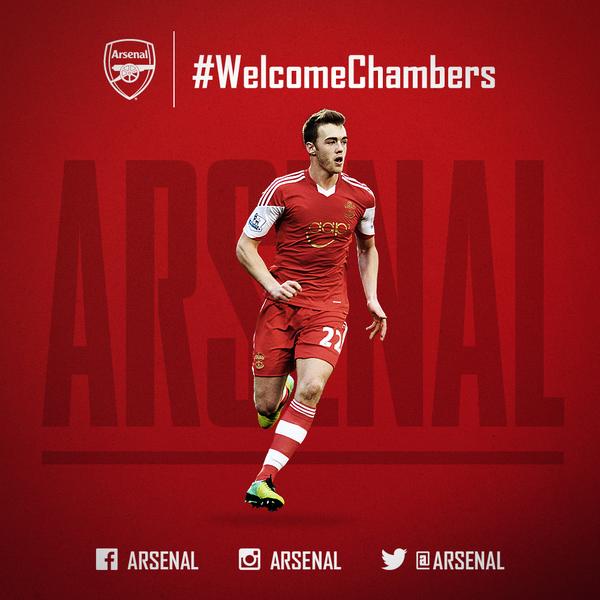 I would like to take this opportunity to say thanks to everyone at @southamptonfc for everything they have done & for making this possible.
I'm looking forward to joining up with my new team mates today & beginning preparation for the season ahead. Thanks for all your messages.
Arsenal has almost completed their signing of Southampton defender, Calum Chambers. The England Under-21 defender underwent a medical at the Emirates on Friday. This is the second signing of a right-back Arsene Wenger has made this summer.
The fee for 19-year-old Chambers is expected to be around £16 million.
Arsenal applied to increase the number of concerts from three to six
Islington Council rejected the application and a planning inspector dismissed the club's appeal
The inspector said Arsenal 'could not plead poverty', particularly after buying players such as Mesut Ozil for £43 million
Advertisement
Arsenal has launched a legal battle over a limit on the number of concerts that can be held at the Emirates Stadium.
Arsenal wants to double the number of concerts, which help generate hundreds of thousands of pounds extra revenue. But opponents are worried about the noise.
Casey Stoney came out as gay in February because she and her partner Megan Harris were planning on having a family.
Read the full story ›
I made a mistake. Players make mistakes. I am not a smoker, so I think that will be my last one.
– Jack Wilshere, speaking in October 2013
Arsenal midfielder Jack Wilshere may find himself with some explaining to do when he returns to London after photos were posted online of the 22-year-old appearing to smoke while on holiday in Las Vegas.
The pictures of Jack Wilshere were taken at a pool party in Las Vegas shortly before Germany won the World Cup.
Load more updates