Live updates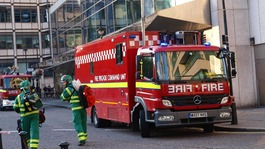 Concerns have been raised about why the London Fire Brigade's fleet was sold to a private company for £2.
Read the full story
The firm which provides and maintains London's fire engines has sold the whole fleet for two pounds.
AssetCo has off loaded its UK busines to private equity firm AB&A Investments.
It comes after AssetCo made a significant loss last year.
Managers said the London fire contract ran into trouble because it was based on a flawed business plan.
Advertisement
Back to top