Hugh Barker, a hedge enthusiast from Barnet, has made it on to the Dull Men's Club 2015 calendar - full of Britain's most boring men
Read the full story ›
Detectives in Barnet have released an e-fit of a man they want to speak to after a woman was handcuffed and gagged and her house burgled by men pretending to be police officers.
In August this year the men knocked on the victim's door on Eagle Drive, shouting that they were police officers. They were dressed in fake police uniforms and produced a fake search warrant.
But when the victim let them in, they handcuffed her and gagged her with a piece of tape, threatened her with a knife and demanded money.
This was a horrendous attack on a female in her own home, which has left her extremely traumatised. I am appealing to anyone with information to come forward and assist in anyway they can.
– Detective Constable Andy Deamer, Metropolitan Police
Police want to trace the man shown in the e-fit above, who is thought to be around 25 years old, as well as an accomplice who is around 28 years old, tall and stocky with short, light brown hair.
Advertisement
A man's been arrested after hitting the front of a building in Barnet. The Ford Focus veered off the road and smashed through the front of the detached house in Capel Road, on a T-junction with Cranbrook Road.
The house in Capel Road this morning, thank goodness he went into hallway & nobody was hurt! http://t.co/mm4OwTk9uQ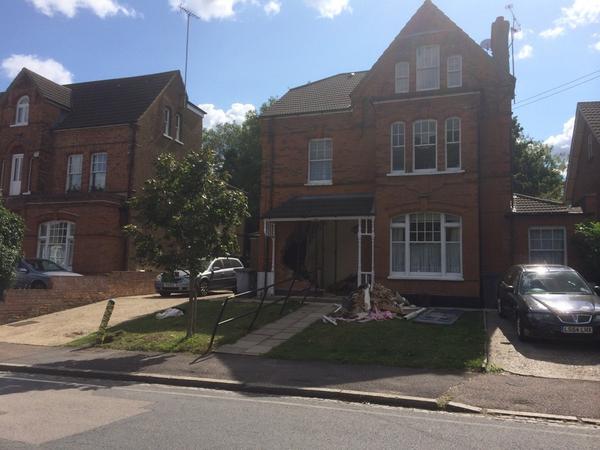 No-one was hurt in the crash, which happened late last night, though some residents were trapped in their flats until this morning.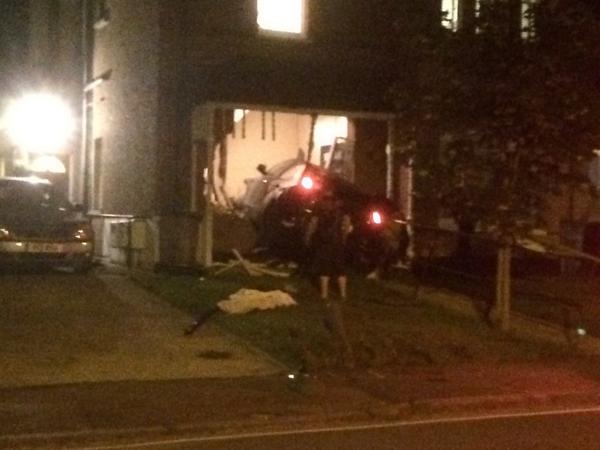 A 30-year-old man was arrested on suspicion of dangerous driving, drink driving, possession of cannabis, committing grievous bodily harm and assaulting a police officer.
Barnet Police have released a drawing of a distinctive tattoo etched on the bodies of two suspects, following a robbery at Stanway Gardens, Edgeware.
At approximately 11:05 on Thursday August 7 two men, wearing balaclavas and gloves, barged into a woman's house demanding to know where the safe was.
The victim handed over a quantity of cash and jewellery she had in her bedroom before a third suspect appeared and the trio left with items.
Police say the first suspect is a white 5ft 10in male with blue eyes, a pale/mid tone complexion and east European accent.The tattoo is on his upper arm.
The second suspect is said to be a white 6ft tall man of stocky build with brown eyes and a pale/mid tone complexion. He is believed to have an eastern European accent with a tattoo on the right side of neck.
The third suspect is said to be a white 5ft 10in male age between 30 and 40 of thin build, with an eastern European accent.
An 8-year-old boy has been seriously injured after a bus hit him while he was riding his bike in Barnet.
He suffered head and leg injuries in the collision and was taken to hospital, where he remains.
His injuries are currently described as life threatening.
The driver of the bus stopped at the scene and has not been arrested.
Police are appealing for witnesses.
The election in Barnet council's Colindale ward has been postponed after a candidate's death. The existing councillors for the ward are from Labour which is targeting the borough as a possible control gain. Results are due later today.
Advertisement
An ITV London FOI request revealed Newham spent more on compensation than the top 7 boroughs combined, while Barnet had the most complaints
Read the full story ›
A car rolled off the forecourt of a dealership this morning and ended up on a crash barrier on the M1.
The motorway was partly closed for nearly three hours after part of the wooden fence was demolished. No one was injured and the West London Motor Group on Watford Way have so far declined to comment.
A library in north London has been forced to close after thieves stole roof tiles, leaving the building to flood.
The Friern Barnet Community Library is run by volunteers and re-opened last year after a long campaign to keep it going. Repairs may have to be paid for through donations:
"We will have to pay for the damages upfront and seek to be reimbursed by the London Borough of Barnet, but we may also have to consider donations for a flood fund from you to help cover the costs."
Friern Barnet Community Library statement
When you think of gang violence, drug dealing and knife crime you don't automatically think of Barnet in North London. But one local young woman has warned the problem is growing in the borough and people don't realise how serious it is.
To tell her story she approached ITV Fixers, the scheme that gives young people a voice on issues that matter to them, to help her produce a film to highlight the problem.
Load more updates