Two cyclists have been seriously injured after being knocked off their bikes in two separate crashes. A man in his 60s was taken to hospital in a critical condition after colliding with a car in Regent Street on Tuesday evening.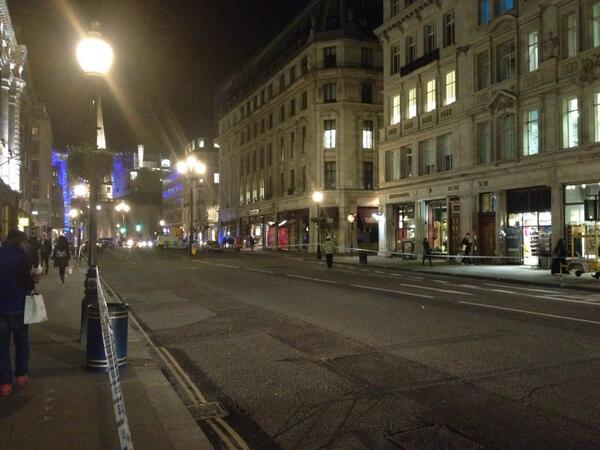 Just hours earlier, a cyclist in his 20s was hit by a bus in Battersea. Speaking to the Evening Standard, eyewitness Franco Romeo said:
"He was on the stretcher. They kept him there for a long time. I felt very bad because he was not moving at all. He looked in very bad shape. It was very serious."
Police say the drivers in both incidents stopped at the scene, and no one has been arrested.
Having awaited development for 30 years, this famous London landmark is now being restored and given a new lease of life and will be home to events space, shops, restaurants, offices and a limited number of new homes.
– Rob Tincknell, Battersea Power Station Development Company
Advertisement
Flats being built at Battersea Power Station will go on sale in May. Redevelopment of the site in south London will create 3,500 homes and 15,000 jobs. The sales programme in May covers 254 flats in the refurbished power station.
A stolen Bentley has burst into flames after crashing into a building in Battersea. Police were called to Battersea Bridge Road at 3:59am to find the luxury car on fire. Two men, aged 21 and 27 were arrested at the scene.
A3220 Battersea Bridge Rd is currently closed in both directions due to a collusion /fire. Please use another route. http://t.co/LSnWHREDZP
In a statement the Met Police said: "Two men, aged 21 and 27, were arrested for aggravated vehicle taking, and both remain in a south London police station. Enquiries continue."
A man has been saved from the icy cold waters of the Thames by lifeboat after being spotted at Battersea. A team from the Chiswick and Tower RNLI was sent to pull him to safety last night. He needed mouth-to-mouth recusitation.
From Covent Garden to Soho and Battersea Power Station, some of London's most historic buildings were once threatened with demolition.
Read the full story ›
Advertisement
After years of campaigning, South Londoners are getting the tube extension they've been hoping for.
The Government is expected to announce that a one billion pound extension to the Northern Line has been given the go-ahead today.
The Northern Line Extension will create two new tube stops in Battersea: one near Wandsworth Road and another next to Battersea Power Station.
It forms wider plans to regenerate Vauxhall and Battersea that also sees news homes and commercial buildings being proposed along the riverfront as well as the new American embassy being built in the area.
London looks set to get its first new footbridge over the River Thames in a decade. Plans are expected to be given the go-ahead for the bridge between Battersea and Chelsea Harbour. The structure would cost £22 million, but be paid for with corporate sponsorship.
Both pedestrians and cyclists will be able to use it, however there will be no segregated lanes.
Firefighters based at the fire station nearby had heard shouting in the street and went out to investigate, where they were confronted and threatened by the man.
The 26-year-old suspect remained hostile and struck the window of one of the first police cars when they arrived.
Eyewitness Jenilee Graham said she was unaware there was a situation developing until a woman stopped her and told her to get away.
The 23-year-old City worker, from south London, said:
"I was coming back from Asda with my mum when we saw a woman who told us to stop where we were going. We didn't know what was happening, but then we saw the man who the woman was talking about pop out from behind a bus. He ran towards us, then he darted down a side street. It was obviously pretty scary."
Load more updates