Live updates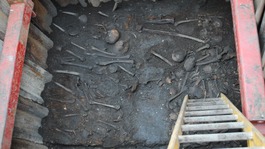 Work on Crossrail has exposed a burial ground opened in Farringdon at the time of the Black Death.
Read the full story
Crossrail burial ground discovery
The first evidence of a lost London burial ground has been uncovered by archaeologists working on the Crossrail project. Historical records referenced a Farringdon burial ground dubbed no mans land which opened during the Black Death Plague in 1348.
Despite significant development in the area the burial ground has not been located, until now. The limited written records suggest up to 50,000 people may have been buried there in less than three years. Nick Thatcher reports
Advertisement
Back to top