For everyone wondering... Yes I completed the Rubik's cube while Froch was talking today at the Presser @skyadamsmith will confirm! ;)
The rematch sold 20,000 tickets in the first five minutes. Then the website crashed, promoter Eddie Hearn told ITV News' Rags Martel.
Advertisement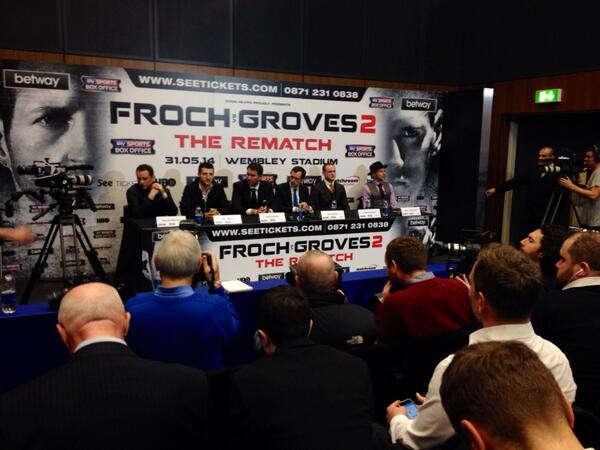 Boxing legend Frank Bruno who was the last Brit to fight at Wembley Stadium.
The last Briton to to fight at Wembley Stadium was Frank Bruno.
Speaking to BBC Radio Five Live, Frank Bruno said:
"Whatever the crowd was there for my fight against Oliver McCall - whether it was 2,000 or 50,000 - it didn't matter. Because those there were unbelievable, the way they got behind me and it gave me a big boost.
"Fighting at Wembley is the Rolls Royce, the Bentley, of boxing. It is a dream come true. It has always been the big place to hold the big fights. It was nerve wracking but it was an amazing feeling."
I've never boxed anywhere close to the capacity of Wembley - it is going to be a great experience. But when you are in ring it is hard to tell how big arena is.

But it will be electric. And to be crowned world champion in my home town of London will be an amazing feeling.
– George Groves, speaking to Sky Sports
Advertisement
The highly-anticipated re-match between George Groves and IBF and WBA super-middleweight champion Carl Froch will take place at Wembley Stadium on May 31.
It will be the first bout to be contested under the arch of the new Wembley. Froch stopped Groves in the ninth round of their last contest, but controversy followed with many experts suggesting referee Howard Foster stepped in when Groves was able to continue.
Arsenal's Emirates Stadium could be being lined up to host a rematch between the London boxer George Groves and Carl Froch. The pair first met in November when a controversial decision by the referee meant Froch retained his IBF and WBA super-middleweight titles.
Until last Friday when a rematch was ordered. George Groves spoke to Nina Hossain.
Young Londoner George Groves will face off against super-middleweight champion Carl Froch in the ring this evening. 25 year old Groves is looking to extend his unbeaten 19 match streak while Froch plans to defend his WBA and IBF titles.
The two have exchanged harsh words and almost came to blows before the match even started when they had to be pulled apart on the podium at the weigh-in.
Load more updates