I've never boxed anywhere close to the capacity of Wembley - it is going to be a great experience. But when you are in ring it is hard to tell how big arena is.

But it will be electric. And to be crowned world champion in my home town of London will be an amazing feeling.
– George Groves, speaking to Sky Sports
The highly-anticipated re-match between George Groves and IBF and WBA super-middleweight champion Carl Froch will take place at Wembley Stadium on May 31.
It will be the first bout to be contested under the arch of the new Wembley. Froch stopped Groves in the ninth round of their last contest, but controversy followed with many experts suggesting referee Howard Foster stepped in when Groves was able to continue.
Advertisement
Arsenal's Emirates Stadium could be being lined up to host a rematch between the London boxer George Groves and Carl Froch. The pair first met in November when a controversial decision by the referee meant Froch retained his IBF and WBA super-middleweight titles.
Until last Friday when a rematch was ordered. George Groves spoke to Nina Hossain.
Young Londoner George Groves will face off against super-middleweight champion Carl Froch in the ring this evening. 25 year old Groves is looking to extend his unbeaten 19 match streak while Froch plans to defend his WBA and IBF titles.
The two have exchanged harsh words and almost came to blows before the match even started when they had to be pulled apart on the podium at the weigh-in.
Haye's February 8 match against fellow Brit Tyson Fury will now be cancelled.
It's the second time Haye has had to pull out of the fight; he previously cancelled in September after sustaining an eye injury.
Advertisement
Thanks everyone for all the kind words of support. It means a great deal to me in these low times x http://t.co/F5tRGZX770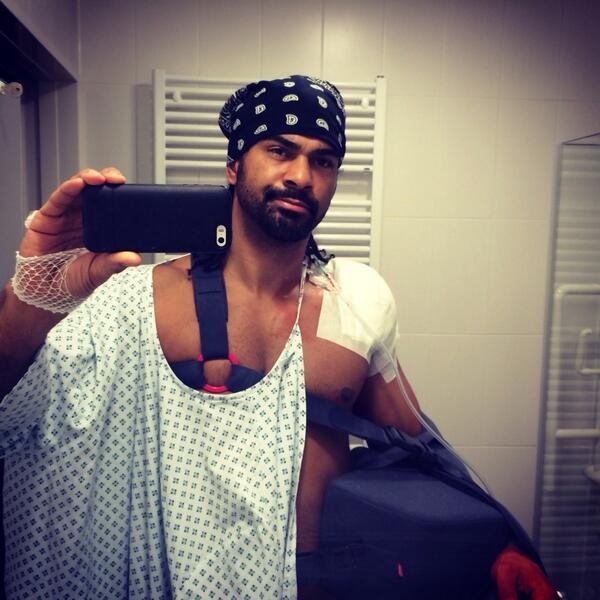 In a statement on his website, David Haye said:
"I genuinely believed the shoulder injury wasn't that bad...But the doctor sent me for a detailed MRI scan and within 24 hours I was told the full extent of the damage. Twenty-four hours after that I was in the operating theatre.
"It's a crushing blow for me. I had big plans for next year and the ultimate goal was to win back the world heavyweight title, something my amazing fans deserve.
"What I didn't anticipate was that this year would be the unluckiest of my career and that a number of injuries would disrupt my plans so much.
"Perhaps it just wasn't meant to be. The boxing Gods keep hinting that maybe enough is enough and that it's time to finally hang up my gloves."
The boxer from Bermondsey tweeted this picture of him in a hospital bed last night with the message, 'I am truly gutted for my loyal fans'.
Haye's promoters say he had five hours of surgery in Germany last Thursday to reconstruct his right shoulder and in a statement say:
'[Haye] has since been told to seriously consider ending his glittering 11-year professional boxing career.
The operation was to the right subscapularis and bicep tendon attachments, both of which were ruptured.'
Former undisputed world heavyweight champion Lennox Lewis says he would be happy to make a return to the ring to face IBF, WBA and WBO titlist Wladimir Klitschko. But he would only do it for $100 million - the biggest prize in boxing history.
London-born Lewis last fought professionally over a decade ago, but told the Daily Mail he would be ready to step back into the ring with only six months of training, on the condition he takes with him the huge price tag.
Lennox Lewis said: "I have told them I can be ready in six months and I am in provisional training. I said at the time that it will take $50m to get me out of my pyjamas but now I have to consider the value of my legacy of having retired as undisputed champion. That will cost them $100m."
Lewis had always maintained he had no interest in making a comeback since retiring after beating Klitschko's older brother Vitali in June 2003 in controversial circumstances, retaining his WBC title when the fight was stopped after the sixth round in Los Angeles.
Load more updates