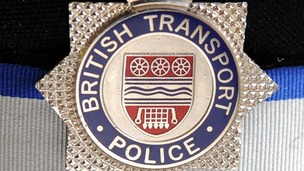 British Transport Police have put together these 6 videos of the most commonly used tactics by pickpockets.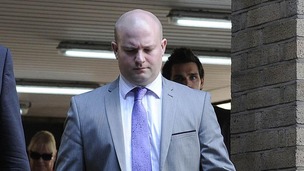 A police officer, who crashed into a cyclist while responding to emergency call, has escaped a jail sentence.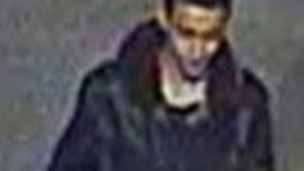 British Transport Police is appealing for information after a series of phone snatches at Hounslow station between May 26 and June 16.
Live updates
A bike was thrown onto train tracks during an argument between two people at a train station in Surrey. Police say a young couple were seen arguing on Monday an alleyway at Leatherhead station.
This was a stupid act of anger which caused delays at a very busy time for the railway on a Monday morning, as commuters were trying to get to work, school and to important appointments.
– PC Ian Stack, British Transport Police

The train approaching Leatherhead station did not hit the bike and no one was injured.
Police are trying to find a man spotted on CCTV after a couple were subjected to homophobic abuse on a train. The incident happened on Wednesday, 2 October as the couple were waiting at Stratford station. They suddenly noticed a man begin to stare at them.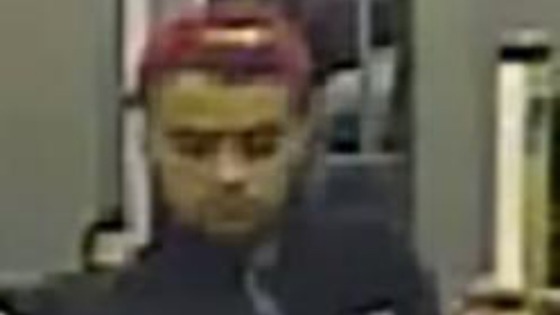 PC Charley Sutherland-Walker from the British Transport Police said: "They boarded a Shenfield-bound train around 7.10pm along with the man who started a brief conversation with the pair.
"He then started to make homophobic comments towards the two in an aggressive and threatening manner, which made them both fear for their own safety. He left the train as it arrived into Maryland station and the pair continued onto Forest Gate station."
Anyone with information is asked to contact British Transport Police on 0800 40 50 40.
Advertisement
Police have released CCTV images of three people they want to find after rail staff at Bexhill were targeted with verbal abuse.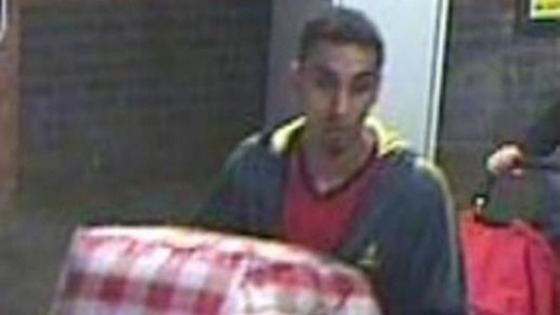 PC Peter Cooke, the investigating officer, said: "We are keen to speak to the man and woman in pictures one and two after a conductor was verbally abused at Bexhill station around 8pm on Saturday, 7 September.
"The second incident happened occurred about 10am on Monday, 16 September. The conductor approached a man and asked him to show his ticket. The man refused to show proof of travel and began to verbally abuse and swear at the conductor."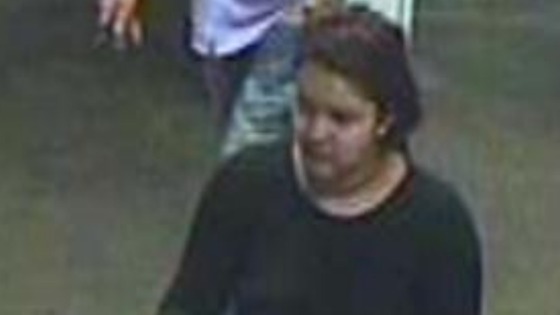 Anyone with information is asked to contact British Transport Police on 0800 40 50 40.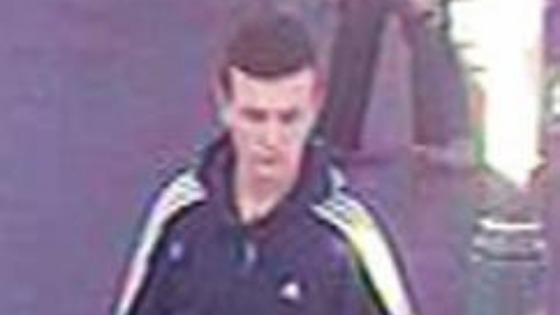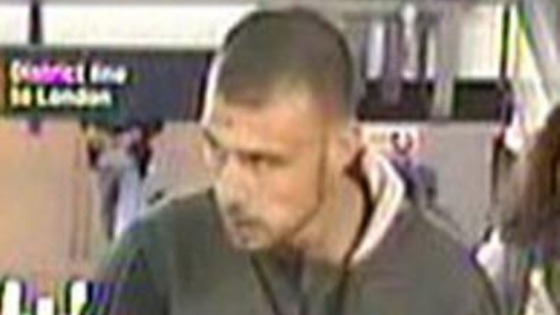 British Transport Police are appealing for help in identifying a man who ran in front of two trains at Barking station. They have released CCTV images of the man on Saturday 7th September, as he spotted a number of uniformed police officers and jumped onto the tracks in front of a tube train.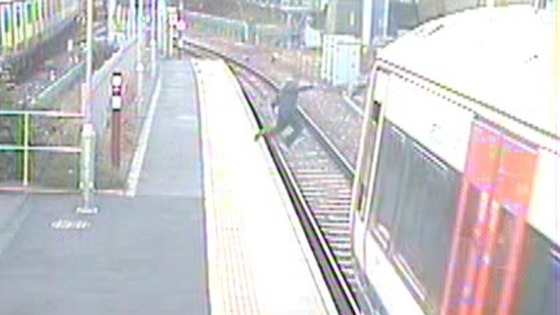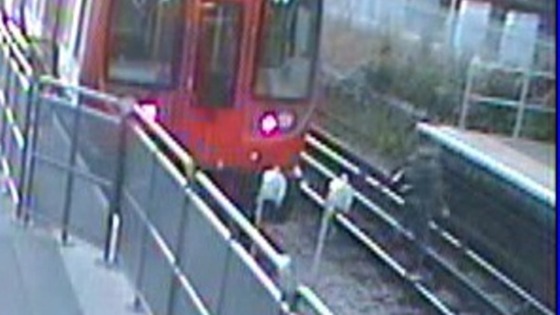 He then ran onto the next set of tracks as a London Overground train was approaching, forcing the driver to apply the emergency brakes. Police are appealing for anyone who recognises the man to come forward.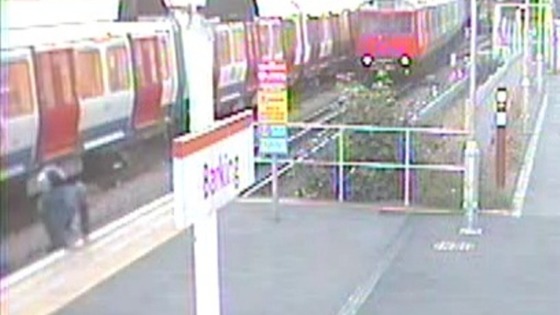 PC Phil Church said: "Trespass on the railway is, in itself,extremely dangerous and irresponsible, but to run in front of moving trains is putting your life on the line. We don't believe the man was injured during the incident ... but this was still extremely thoughtless behaviour."
Men armed with large knives have snatched phones from passengers at North Dulwich station. Police say two men approached a group of youths on Tuesday, 27 August around 10:15pm. CCTV pictures have been released of two men police want to speak to.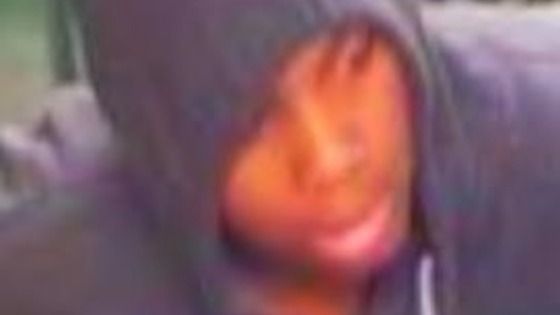 Detective Constable Ostin Elkins said: "Around 10.15pm, a group of six friends were approached by two men who were seen with large knife handles sticking out of their trouser waistbands. The men demanded that the group hand over their phones.
"Four out of the group of six handed over their phones before the men calmly left the platform and then fled the station."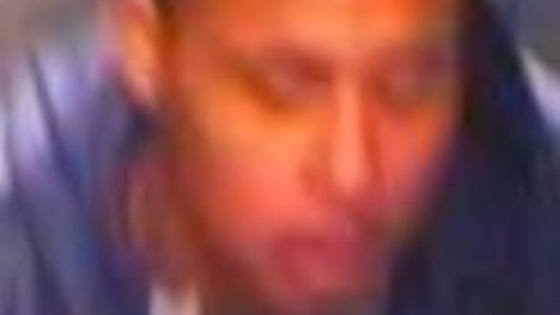 Anyone with information should contact police on Freefone 0800 40 50 40.
Crackdown on rail trespassing
Too many people think they would hear a train in time to move clear - tragically we know this isn't the case.

The sound of a train approaching is much quieter than you would imagine with the wheels pushing noise out sidewards rather than forwards and distorting what you hear.

Trespass is just not a risk worth taking and so we hope that Wretch and George can help get across this message and reduce the number of incidents we see each year.
– Dave Ward, Network Rail
Advertisement
Crackdown on rail trespassing
A survey reveals that despite most agreeing it's dangerous to trespass on the tracks:
A third of people (32%) think they would hear a train in time to move out of the way
This increases to more than half (51%) of 16-24-year-old males
Source: Test Tracks survey
Crackdown on rail trespassing
London is Britain's busiest railway region
Around 9,000 trains run every day
27 people have lost their lives trespassing over the last five years
Source: Network Rail
Crackdown on rail trespassing
I've got 97% hearing, so should have a good idea of where sound is coming from.

As soon as I stepped into the Track Test simulator and the normal sounds you'd expect to hear when you're on the tracks, like traffic noise, are added, I didn't make it across in time.

No matter how much confidence you've got in your hearing and speed, when you're in the dark and a train is coming towards you at 80mph, confidence is not enough to get you across safely.
– Wretch 32, rapper
Crackdown on rail trespassing
London rapper Wretch 32 has put his hearing to the test in a unique experiment as part of a new Network Rail safety campaign aimed at young men.
The video shows Wretch 32 and spoken word performer George the Poet battle to make a split second decision, relying only on their hearing to work out which direction a train is coming from as it travels towards them at 80mph in the dark.
Find out what happened here.
Load more updates
Back to top