One year on from the fatal stabbing of 19-year-old Tyrell Matthews-Burton on the holiday resort of Malia in Crete, the man accused of his murder, Myles Litchmore-Dunbar, is still awaiting trial.
The 20-year-old has been charged with the murder of the east Londoner following a fight that broke out amongst a group of British tourists outside a bar on July 22nd 2014.
The legal team for Mr Litchmore-Dunbar say he has been given a trial date in October.
Lawyer Hillary Brown acting for the family in the UK says the legal team now have a complete copy of all the files. There are more than one thousand documents, all in Greek, that are now being translated.
Tyrell Matthews-Burton from Leyton was pinned down and knifed in the chest and back.
Litchmore-Dunbar maintains his innocence and says he was attempting to break up the brawl. Nineteen others were arrested at the time but have all since been released and returned to the UK.
His family alongside MPs have questioned the handling of the case by Greek authorities. One particular issue is the return of Matthews-Burton's clothing, worn at the time of the stabbing. Such evidence would usually be retained as crucial evidence to the investigating authorities in any murder trial.
Myles' father Chris Dunbar is ecstatic his son now has a trial date and hopes he will be home for Christmas.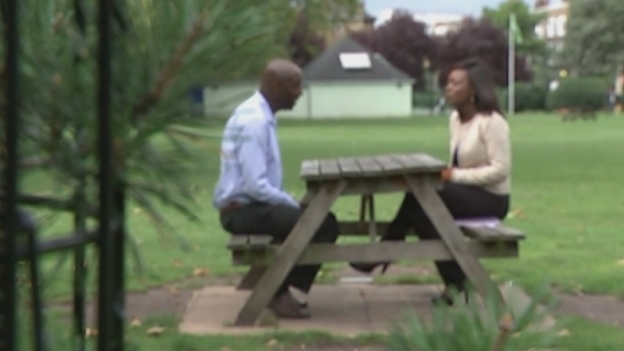 A driver in south London appeared to go to extreme measures to stop his car being stolen - by chaining his vehicle to a lamp post. The Range Rover was spotted in Catford with the chain threaded through one of the wheels.
Advertisement
A 13-year-old girl who died after being hit by a lorry in south London on Wednesday has been named as Yun-Yi Chen.
The driver of the lorry stopped at the scene and was arrested on suspicion of causing death by dangerous driving.
Bobbie Spencer, who lives nearby, said it's not the first time he's seen accidents along the same stretch of road.
Speaking to This is Local London, father-of-three John Lowe said:
Witnesses said the girl was on or near a zebra crossing and there were other schoolchildren around.
A 13-year-old girl has died after being hit by a lorry in south London. Police were called to Brownhill Road in Catford during this morning's rush hour.
The driver of the lorry stopped at the scene and was arrested on suspicion of causing death by dangerous driving. Police are still trying to trace the girl's family.
Anyone with information can call police on 020 8285 1574.
Advertisement
It's been home to hundreds of Londoners for decades, but now the remaining residents of one of the city's last pre-fab estates say they've been left in the dark over their future.
Demolition work was due to start at the Excalibur Estate in Catford months ago, but dozens of people are still living there.
Toby Sadler has been to a new museum set up inside one of the pre-fabs.
An unlicensed cab driver is facing a substantial prison sentence for raping a drunken woman passenger. After Mohamed Hacene-Chaouch, 46 and from Catford, was found guilty at the Old Bailey, Judge Wendy Joseph told the jury he had been accused of a similar offence before.
Hacene-Chaouch had been accused of attacking a drunken woman passenger in 2004 after picking her up in Soho, but was acquitted. Today he was found guilty of raping a professional woman in her 20s who had been celebrating a friend's birthday when she got lost in Soho in January this year.
She said she remembered being in the back of a car and being taken to a cashpoint.
She said she drifted in and out of consciousness but woke in the car outside her east London home with Hacene-Chaouch sexually assaulting her.
He denied he was touting for trade and any sexual assault on the woman.
A 14-year-old boy has been charged with attempted murder after another boy, also 14, was stabbed in south London, police said.
Officers were called to Dressington Avenue, near Catford, on Monday evening, where they found the teenage victim with serious injuries.
Youth workers who were nearby at the time of the incident rushed to the teenager to give him emergency first aid before the London Ambulance Service arrived on the scene.
The victim was taken to a south London hospital where he remains in a critical but stable condition.
Hello Quo! is a new documentary charting British rock band Status Quo's 50 years in the game.The band began life as The Spectres at Sedgehill Comprehensive School in Catford in 1962, before changing their name to Status Quo a few years later.
Two of the best-known members of Status Quo, Francis Rossi and Rick Parfitt talked to our Entertainment Correspondent Lucrezia Millarini.
Load more updates