A female cyclist has been hit by a car on Wheatfield Way in Kingston. The incident happened at around 1:45 this afternoon. The woman - thought to be in her 50s - was taken to hospital with head injuries.
Advanced Trauma Team helicopter just landed on Wheatfield Way in Kingston, can't be good news :( http://t.co/8b6Cvq15NB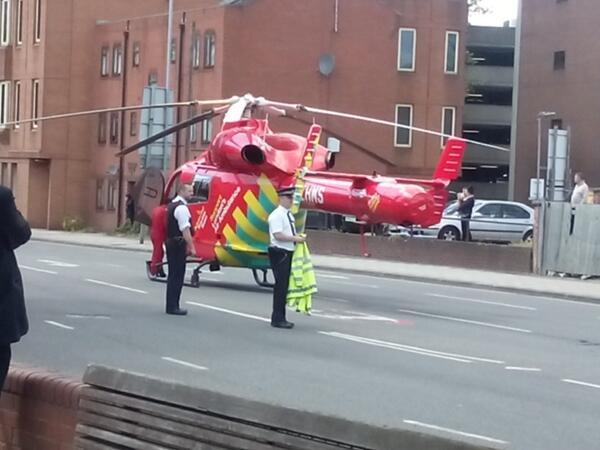 A coroner has warned cyclists of the dangers of ignoring red lights after the death of a young woman at Bow Roundabout.
Venera Minakhmetova became the third cyclist to die at the roundabout in two years when she was killed in a collision with a lorry at Bow Roundabout on November 13 last year.
Mary Hassell concluded that the 24-year-old "most likely" cycled through a red light prior to her death.
She said many cyclists went through red lights but did not suffer the same "devastating consequences" by "virtue of luck".
"It's important that I'm open and honest about the cause of this collision, for no other reason that other cyclists need to understand what dangerous behaviour contravening a red light is, and that there are potentially devastating consequences," Ms Hassell added.
Advertisement
Using the latest online mapping and lobbying technology, Londoners can quickly and easily enter their postcode to locate their ward and then email their council election candidates calling for their support for the specific Space for Cycling measure identified for their area.
They can also use the new tool to see what is being called for in all wards in London and, as the campaign progresses, track responses from candidates.
Install protected cycle lanes in a newly created Bradley Wiggins Way (Kilburn ward, Brent)
Remove through motor traffic from the cycling corridor on Tavistock Place (Bloomsbury ward, Camden)
Redesign Wimbledon's town centre to be walking and cycling-friendly (Hillside ward, Merton)
Reduce motor traffic speed to 20mph in Carlton Hill and surrounding streets (Abbey Road ward, Westminster)
Create safe cycle routes for children linking six schools in Tufnell Park (Junction ward, Islington)
Make a cycle route through Russell Park as alternative to busy Woolwich Road (Barnehurst ward, Bexley)
London Cycle Campaign has worked with local residents in every borough to create 624 demands for local cycling improvements. That's one demand for each electoral ward.
The central London junction where a cyclist was killed this morning was dropped from a list of areas due to be overhauled as part of safety improvements, a London Assembly member has claimed.
Ludgate Circus was on Transport For London's original list of 100 junctions deemed to have safety concerns, however it was later removed from the list when it was revised down to 33.
London Assembly member Darren Johnson accused TFL of failing to act despite a spate of deaths and injuries in recent years:
This absolutely tragic news is made all the more poignant by the fact that TfL recently decided to cancel the major safety overhaul it had deemed necessary at this blackspot.

Six cyclists were killed or seriously injured here in the space of five years yet despite this dreadful toll TfL aren't going to get this junction sorted out.

We are seeing this pattern of inaction all across the road network in London and it is unacceptable.
– Darren Johnson, London Assembly Member
Advertisement
London needs to bring itself into the 21st century and start investing more money into cycling-lanes. according to a leading cycling awareness group.
Stop Killing Cyclists' report found in some areas of the city over half of morning journeys are completed on a bicycle, however safe cycleways only constitute 1.63 per cent of the road surface in the best performing borough.
"Boroughs must urgently follow Amsterdam into the 21st century and invest a minimum of 10 per cent of their transport budget in Dutch standard cycle lanes and include space for cycling in all new developments and transport infrastructure." campaigner Donnachadh McCarthy said.
A Freedom of Information request found that over the past four years, local councils in London had only spent an average of £7,000 per borough on segregated cycle-lanes.
Thirteen London boroughs have no segregated cycle lanes, a new report into cycling safety has found.
The campaign group Stop Killing Cyclists have criticised London Boroughs who have failed to install safe segregated cycle lanes since the last local elections in May.
Barnet
Bexley
Bromley
Enfield
Haringey
Havering
Hounslow
Kensington and Chelsea
Lambeth
Richmond
Sutton
Tower Hamlets
Wandsworth
Twenty-four London boroughs have failed to install any segregated cycle-lanes since the last local elections in May, a new report claims.
A freedom of information request by the cycling awareness group Stop Killing Cyclists also found that 13 boroughs across the capital have no segregated cycle-lanes at all.
Six cyclists lost their lives on London roads in just two weeks last November prompting the report to call on local councils to do more to protect cyclists.
The campaign group will lead a protest today outside Westminster City Hall to highlight London's lack of cycling infrastructure.
Boris Johnson pledged to increase the number of people getting around London by bike with the Cycle Hire Scheme and Cycle Superhighways.
Read the full story ›
Load more updates