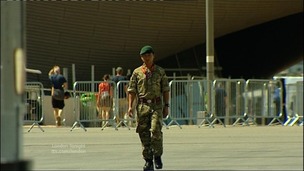 Twelve hundred more troops have been added to the defence of London's Olympics.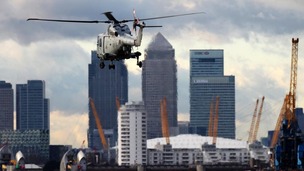 Aircraft that stray into restricted airspace could face "lethal force" if they fail to comply with directions from military aircraft.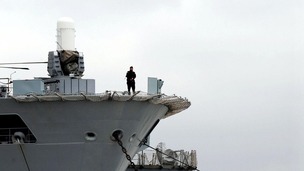 The Royal Navy's largest warship, HMS Ocean, sailed up the Thames today as the military stepped up security preparations for the Olympics.
Live updates
Military recruitment drive
A new campaign to enlist newcomers to the Armed Forces' reserves launched in the capital today.
It's a renewed attempt to boost numbers in the Territorial Army after a sluggish start.
Defence Secretary Philip Hammond wants to expand its ranks by between 10 and 12 thousand by 2018.
Potential candidates, young and old, were invited to find out more and marvel at the display of military helicopters, weapons and a parachute jump at the event at Horse Guards Parade.
Mr Hammond said that London recruits formed an essential and celebrated part of the TA.
Firms ejected from arms fair
Two companies have been ejected from the arms fair in east London for promoting illegal torture weapons. The firms are:
French firm, MagForce International
Chinese company, Tianjin MyWay International Trading
The action came after Green Party MP Caroline Lucas raised the issue in the House of Commons. The companies were promoting handheld projectile electric shock weapons, weighted leg cuffs, and stun batons, according to the website of Caroline Lucas.
No items can be bought and sold at DSEI. However, in displaying this marketing literature, Tianjin MyWay International Trading Co. and Magforce International have broken British law.
– DSEI arms fair statement
Advertisement
Firms ejected from arms fair
The world's largest, and most controversial arms fair opened its doors in London today, showcasing the latest defence technology.
The threat of U.S military action in Syria hangs heavy over this year's event, with protesters saying London has a moral duty not to host the exhibition. From there our Political Correspondent Simon Harris reports.
Firms ejected from arms fair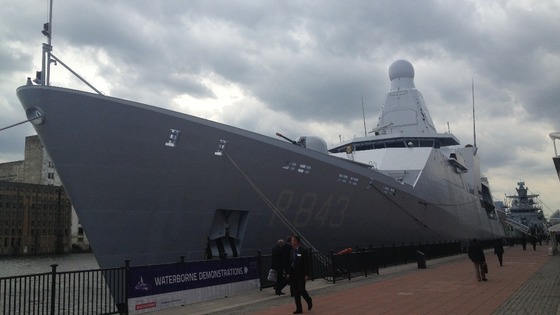 Firms ejected from arms fair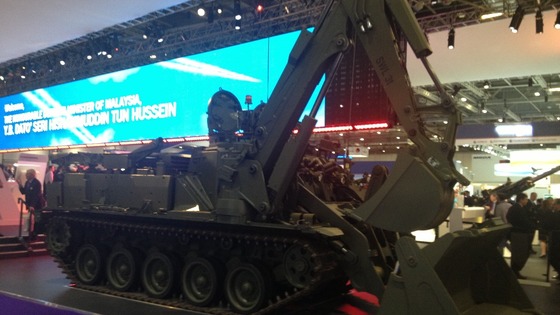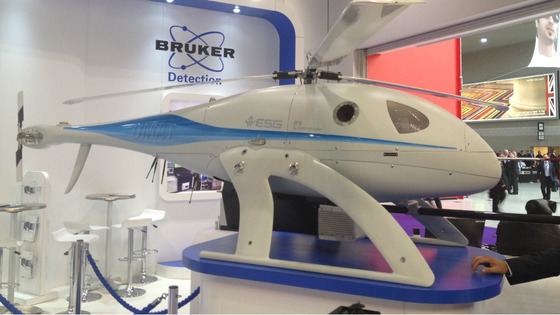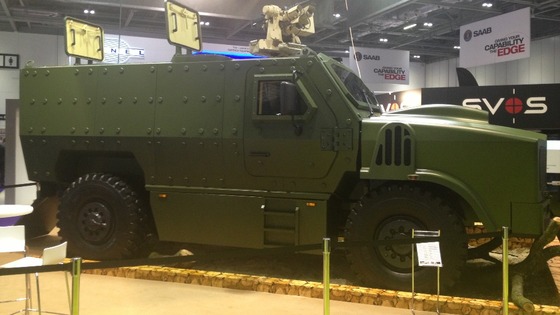 Firms ejected from arms fair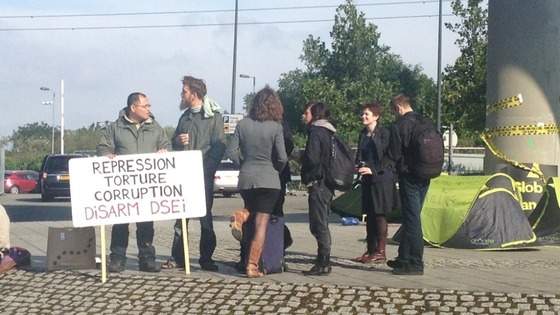 Advertisement
Firms ejected from arms fair
You've been telling us what you think about London's ExCel Centre hosting an arms fair. You can join the debate now by tweeting us @itvlondon or going to our Facebook page.
Sharon Irvine I can't even find the words to describe both the anger and resignation I feel about this and most of the other things the government is allowing to fuel hatred, discrimination and destruction.
James Sarah Kelliher-Ingram Somewhere will host it. It brings in money for the country so why not does not effect us?
Matthew Waite Oh get over it. It is an entirely controlled event and people are intrigued by them. If anything it's educational.
Firms ejected from arms fair
Sarah Waldron of the Campaign Against the Arms Trade claimed that the event would welcome "some of the most authoritarian regimes in the world".
She said:
"The deals done here fuel death, injury, fear and repression - yet instead of banning it, the Government helps make it happen.

"We are here to resist it, to stand in solidarity with the people facing the deadly consequences of its weapons and do what we can to stop this obscene event continuing."
Firms ejected from arms fair
A spokesman for DSEI said:
We recognise and respect the right to protest and we plan for these scenarios in advance....While the police monitor and manage protests, it is DSEI's function to go ahead with organising and carrying out a highly regulated event, complying with international laws and treaties.

We are delighted that this year's event encompasses a full range of defence and security equipment, including that which is designed to tackle humanitarian disasters, address food shortages and mass displacement of people, counter terrorism measures and cyber security.
Firms ejected from arms fair
One of the protesters, Chris Howson, told the Newham Recorder that arms fairs like this one were "fuelling the wars of tomorrow".
He said: "We are here to pray for peace because most people have no idea that they are selling weapons that can be used to kill women and children."
Load more updates
Back to top