Live updates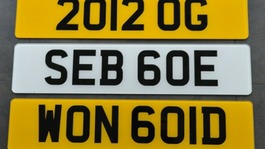 An auction of 1,750 personalised number plates takes place in London today.
Read the full story
Olympic and Jubilee Plates go on Sale
The auction starts today for new DVLA licence plates with Olympic and Jubilee themes.
The Driver Vehicle Licensing Agency (DVLA) is holding a three day auction of 1,750 London 2012 themed personalised registration number plates, including 'GO11 DEN', 'GB12 ROW' and 'RUN 100M'.
Advertisement
Back to top