Martin Stew has this morning's early weather update.
Advertisement
Helen Plint has this morning's weather update.
Supermarket price wars are fiercely competitive, with price-savvy consumers shopping around like never before. So it's pretty surprising to see a poster in a shop window urging customers to increase their shopping bills.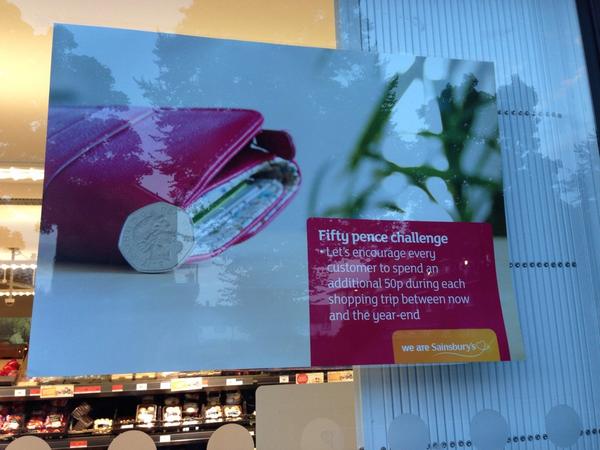 @mynameischrisd Yeah, I don't think so either. Which store was this? I'll give them a call. Ross.
Sainsbury's were pretty surprised too when they were alerted to the poster at a branch of the supermarket in Stratford, east London. It was only meant to be seen by staff and kept out of sight of shoppers. But the motivational poster found its way into a very public place. It read:
Let's encourage every customer to spend an additional 50p during each shopping trip between now and the year end.
– Sainsbury's poster
@mynameischrisd This is clearly a poster meant for staff areas. I'd really like to make sure it gets to where it should be. Ross.
In a statement, Sainsbury's said:
We often use posters to make store targets fun and achievable for our colleagues. They are intended for colleague areas in the store, but this one was mistakenly put on public display.
– Sainsbury's
Not surprisingly, some customers were less than impressed.
Speaking to ITV News Chris Dodd, who found the poster, added:
I was stunned to see the poster in the window of my local store. I can understand why there has been such a backlash against it, the wording is awful.

It's obviously no surprise that supermarkets are trying to encourage more spending, I think the negative reaction to the poster is down to how bluntly Sainsbury's are communicating this message to their staff.

I think the real mistake Sainsbury's have made it to present this to staff as a challenge. As a customer I don't want to feel like I'm being forced or tricked into spending extra by staff who have been challenged to make me do so. Had the poster encouraged better customer service, or more effective promotions I doubt there would have been this kind of reaction.
– Chris Dodd
Advertisement
A teenage boy has been found guilty of shooting a girl dead after she went to his home to give him a birthday present.
15-year-old Shereka Fab-Ann Marsh was hit in the wrist and neck by a single bullet from a pistol in the bedroom of a house in Hackney in March.
A 15-year-old was cleared of her murder at the Old Baily but found guilty of manslaughter
He was also found guilty of possession of a firearm with intent to endanger life and was remanded in custody for sentencing on a date to be fixed
London borough denies its schools are being looked at as part of a radicalisation probe.
Read the full story ›
The Colour Run will take place at Queen Elizabeth Olympic Park later today. It's a repeat of the charity event which was held in Wembley earlier this year.
You can decide to complete the course by running or walking. However, one rule which can't be broken is that all entrants must wear a white shirt at the start line.
All the money raised from this event will go to Save the Children.
Bethnal Green MP has 'no confidence' that the potential impact on radicalisation in the UK has been properly thought through.
Read the full story ›
Load more updates