A picture of Palmira Silva, 82, who was killed in north London in an apparent beheading, has been released by the Met Police.
Advertisement
A neighbour who knew victim 82-year-old Palmira Silva said she was "such a sweet lady" who still went to work every day in a nearby cafe.
The woman, who did not wish to be named, said she had known her since 1987, adding that she was left "devastated" by the news.
Police investigating the death of a woman, thought to have been beheaded in Edmonton, London, have named her as 82-year-old Palmira Silva.
A Met Police commander has said that officers discharged tasers when arresting a man on suspicion of murder, after reports that a woman's body was found in a back garden in London.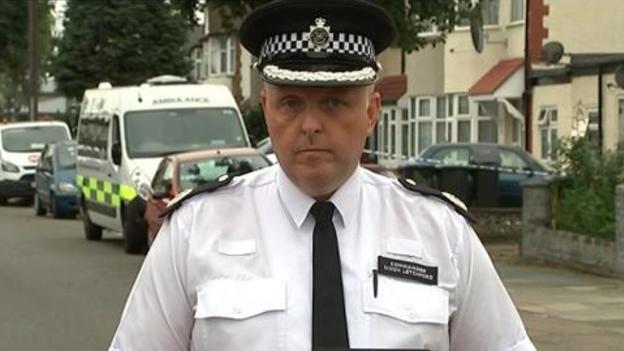 Commander Simon Letchford said officers were called at 1pm this afternoon to reports of a man carrying knife. He said: "During the arrest officers did discharge tasers and at least one firearms officer has been injured with we believe a broken wrist."
Police say that the motive of the attack is still under investigation but reiterated that they do not believe it to be related to terrorism.
Advertisement
Police have confirmed that the family of a woman killed in a knife attack in Edmonton have been notified by specially-trained liaison officers.
Forensics officers were pictured at the house in Edmonton where a woman is believed to have been beheaded in a knife attack.
Andy Love, the MP for Edmonton, has spoken of his shock at the apparent beheading of a woman in the area.
Mr Love reiterated the Metropolitan Police's assurances that the attack happened with "no suggestion of a terrorist motive".
A woman has reportedly been beheaded in a back garden. The victim was found at an address in Nightingale Road, Edmonton, north London, just after 1pm today. The Met Police said: "On arrival officers discovered a female collapsed in a garden area. A man has been detained and remains in custody."
Load more updates