A force has sacked two police officers after they were convicted of criminal offences.
PC Stephen Tilley from Rayleigh in Essex, was given a 22-month prison sentence, suspended for a year, after being convicted of misconduct in public office last month.
The offence related to him sending an "intimate" image to a woman he met while on duty.
Chief Inspector Ben Hodder, 34, from Thurrock, was given a six-month jail term, suspended for two years, after admitting one count of making indecent images of children last week.
Today Essex Police Chief Constable Stephen Kavanagh ordered that both men be dismissed with immediate effect following disciplinary hearings.
54-year-old Paul Monk was caught as workmen were laying a marble patio around the swimming pool at his luxury villa in Alicante.
Read the full story ›
Advertisement
Shadow Education Secretary Tristram Hunt today slammed a Labour council after he was banned from a visiting a school in Ilford North.
Read the full story ›
An pilot due to fly more than 250 passengers from London to Hong Kong has been arrested at Heathrow for alleged possession of knives.
Read the full story ›
There has been more morning misery for London Underground passengers following a series of rush-hour problems.
Read the full story ›
The UKIP leader will take to the stage at the Circus Tavern in Purfleet for a public meeting tonight.
Read the full story ›
Advertisement
A father found dead in the back seat of his car at Tesco had been there for a month. An inquest heard how the body of 50-year-old Behar Brace was only discovered when a cleaner at the Gallow's Corner branch in east London reported a bad smell.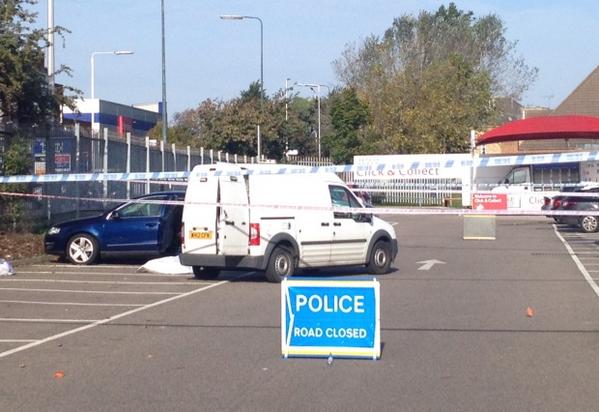 London 24 says Behar Brace had problems with alcohol and gambling and had previously tried to kill himself.
Our sympathies are with the gentleman's family and friends. We're sorry the vehicle wasn't noticed sooner and are looking into the matter.
– Tesco statement
"One minute it's Peppa Pig and Father Christmas and the next it's an orgy train..." said one shocked mother.
Read the full story ›
His top speed is believed to be the highest ever recorded in the UK by a rider carrying a pillion passenger.
Read the full story ›
A man has been robbed of a three figure sum of cash as he walked along a street in Grays.
Essex Police believe the victim was hit over the head by five or six men who attacked him.
It happened near the roundabout of Sherfield and Argent Street by Grays Riverside Park at around 12.20am on Sunday 22 March.
Anyone with any information is asked to contact CID at Grays on 101.
Load more updates