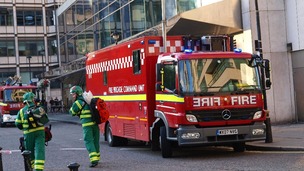 Concerns have been raised about why the London Fire Brigade's fleet was sold to a private company for £2.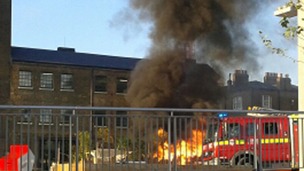 Around three hundred people were evacuated from New Zealand's Olympics hospitality house in Kings Cross last night after a fire.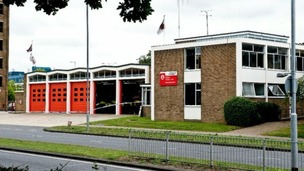 Firefighters in Essex will today hold the first of five planned strikes in a dispute over cuts.
Live updates
A man who was arrested for lighting a small fire at the Palace of Westminster in July has been given a caution.
Police say officers had investigated the fire after it broke out on July 23.
A 32-year-old man was arrested on October 23 and was interviewed at a south London police station and was later bailed.
The man returned on bail today and accepted a caution for criminal damage.
Fire crews are battling a blaze at an industrial estate in Edmonton.
100 firefighters have been trying to control the flames on Advent Way in Upper Edmonton since 3am. 15 fire engines from at least eight boroughs are at the scene.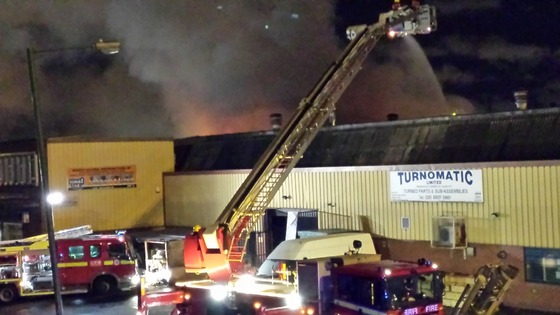 Station Manager John Tovey said: "The fire is affecting a range of single storey industrial units and crews are working really hard to get it under control.
"Fortunately the buildings on fire are located on an industrial estate and are away from any residential properties "
Advertisement
Twelve fire engines are attending a fire at a scrap metal yard on Chequers Lane in Dagenham.
Around 1500 tonnes of scrap metal in the open air is alight. The Brigade was called at 1519.The cause of the fire is not known at this stage
Fire strike called off
A strike by London firefighters planned for tonight has been called off.
Members of the Fire Brigades Union had been due to walk out for five hours in a row over pensions.
Fire strike called off
Strike action by firefighters has been called off after progress was made in a dispute over pensions.
The walkout was due to last from 6.30 to 11.30pm tomorrow and reduce the number of fire engines operating in London from 169 to just 27.
The Fire Brigades Union said it had been presented with a similar deal to one made by the Scottish Government, covering the retirement of firemen and women aged between 55 and 60.
Fire strike called off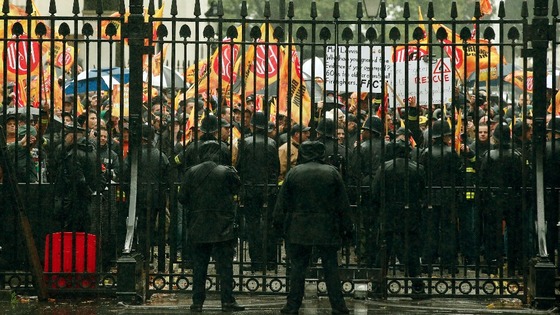 The London Fire Brigade is asking people to take extra care in their homes ahead of a second planned national strike tomorrow.
The walkout, which will take place between 6.30pm and 11.30pm tomorrow, will see the number of fire engines in London reduced from 169 to just 27.
Plans are in place to provide a contingency level of emergency cover across the capital during the strike, but officials have warned less urgent incidents may not be attended.
The strike is part of an ongoing dispute over pensions.
Advertisement
Bus destroyed after fire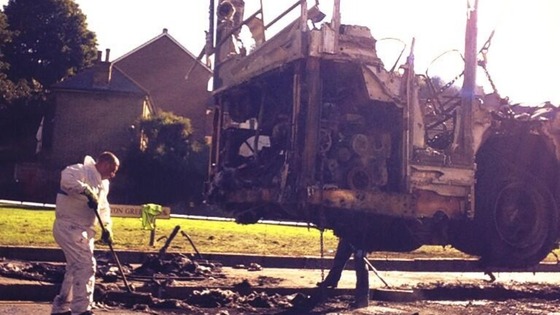 There are barely any remnants left of a bus that caught fire this morning on Leyton Green Road.
The driver managed to climb out and escape unhurt, and there are no other reports of injuries at the moment. The cause of the fire is still being investigated.
Bus destroyed after fire
A double decker bus has been destroyed after it caught fire earlier this morning.
The bus driver managed to escape after the fire began around 5:50am on Leyton Green Road. The fire was put out shortly after.
The cause of the fire has not yet been determined.
Officers investigating a small fire that occurred at the Palace of Westminster in July have arrested a 32-year-old man on suspicion of arson with intent to endanger life and criminal damage.
He is currently being interviewed at a south London police station where he remains in custody.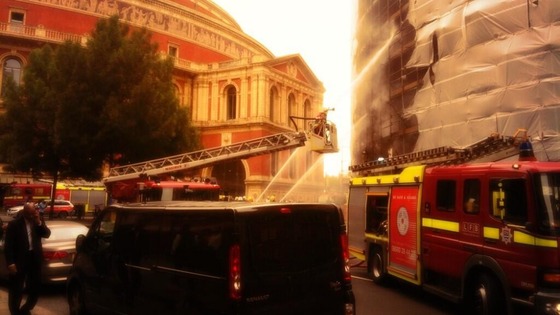 London Fire Brigade have confirmed that 20 firefighters are tackling a blaze on Kensington Gore, directly opposite the Royal Albert Hall.
It is not yet clear what caused the fire or if anyone has been injured - more details to follow.
Load more updates
Back to top