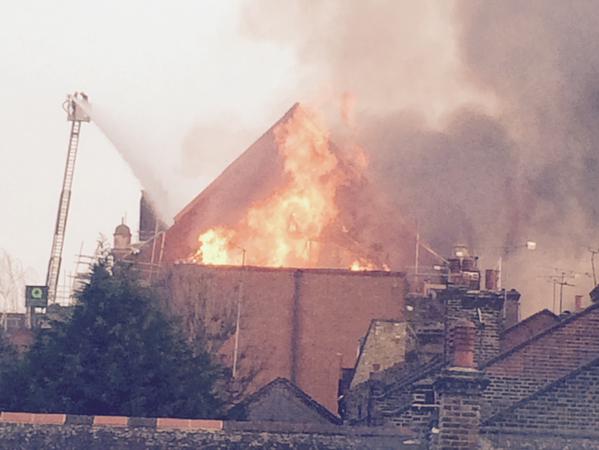 A man has died in a house fire in Plaistow.
Fire services were called to a block of flats on Selwyn Road just before ten o'clock on Saturday 17 January.
The man was taken to hospital, where he was later pronounced dead.
Crews from both Plaistow and Stratford fire stations were both at the scene.
Police are not treating the fire as suspicious.
Advertisement
A 42 year old woman has been arrested on suspicion of murder following a house fire in Islington on Friday.
Two men were found dead inside the building, one in his fifties, the other in his forties.
They were both pronounced dead at the scene.
Eileen Harris, 60 was on the train to travel to Tunbridge Wells in Kent when the fire started.
She described the chaos when the fire broke out and how some of those on board initially feared it was a bomb.
Suddenly the doors burst open and a woman ran through shouting there's a bomb on the train, everybody get off. We ran away towards the opposite end of the station because I thought that if there was a bomb, they'd probably take out the concourse. But the staff kept saying to us come back in and we really didn't want to come back through the station, because by then there was thick smoke.

Where the fire was there were big bangs and pops and flashes. And the smoke, the smoke was the worst thing.
– Eileen Harris, passenger
Mrs Harris' 26-year-old son Daniel was travelling with her on the train:
There was fire and lots of thick smoke, so we assumed that there was a bomb ripping through the train. People were running through the train, and my first thought was the reason they're running down the train is because they can't get off. No-one really knew what was going on.
– Daniel Harris, passenger
A passenger who was on the Southeastern train which caught fire at Charing Cross this morning has spoken of his ordeal.
Vincenzo Minore, who is from west London and the CEO for cosmetics company Soap and Glory, was on board with his wife, two children and in-laws, when the fire broke out.
I was sitting on the train with my family when there was a blast and a lot of light. You could see the fire - it was not like a normal fire, it was pushing out and consistently burning.

We walked away from the fire but it was in the wrong direction. The security services arrived quickly and escorted us out. We had to walk right past the fire which was quite worrying.
– Vincenzo Minore
Charing Cross station has now reopened, after this morning's fire, apart from platforms 5 and 6.
Advertisement
A passenger has described how he arrived on platform four this morning to hear 'a huge noise' from platform six.
Neil Hurle, who took the photo below, went on to say how he was marshalled onto the concourse, before being evacuated and that it appeared the fire was coming from the tracks.
There's major disruption to journeys between London Charing Cross, London Blackfriars and London Bridge, following this morning's train fire at Charing Cross station.
The latest can be found on National Rail's website.
Dramatic footage taken by a passenger shows a fire breaking out on a Southeastern train.
Vincenzo Minore, the CEO of cosmetics company Soap and Glory, was on board the train when the fire broke out. He tweeted that he was 'ready to go when blasted'.
The station was evacuated and 100 people led to safety. There were no injuries and the cause is being investigated.
Sorry, this content isn't available on your device.
This mobile footage was taken by Vincenzo Minore after a fire broke out on a South Western train at Charing Cross station this morning.
Charing Cross station has been evacuated after a fire on a Southeastern train.
Firefighters arrived at the scene within the last hour and around a hundred people were led from the building.
The first carriage of the train was damaged but there were no injuries.
The cause of the fire is being investigated and London Fire Brigade says the incident has now been dealt with.
Load more updates