Chessington World of Adventures has made a statement following a fire that broke out earlier this morning.
It says:
-The blaze has been brought under control but fire officers remain on site
-The park was closed at the time and no guests were involved
-All staff and animals are safe and well
-Chessington World of Adventures in conjunction with the Fire Service are investigating the cause of the fire.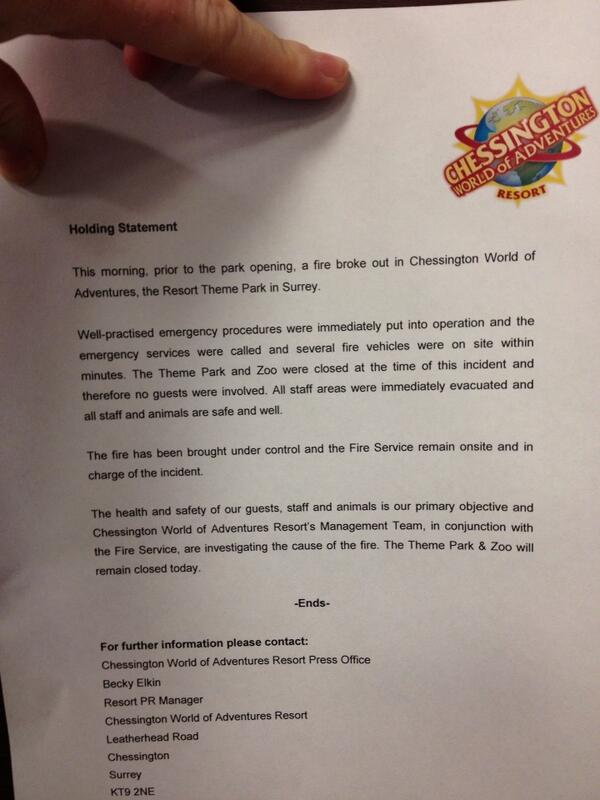 Update: Chessington World of Adventure is closed due to a building fire. Routes 71 & 465 remain on diversion & route K50 is still suspended.
Leatherhead Road #Chessington now fully re-opened to traffic following the Chessington World of Adventures fire. #CWA
Advertisement
The London Fire Brigade says the fire at Chessington World of Adventures is "now under control".
The fire in #Chessington is near the zoo in the theme park, so all animals have been evacuated to a safe place. No animal injuries reported.
A large part of the restaurant at the Chessington theme park is alight and fire crews are attempting to bring the blaze under control.
The fire is affecting a large part of a restaurant within the park, and crews are working hard to bring it under control. There were a lot of flames and the area was quite smoky when we arrived, but thankfully firefighters are making very good progress. Luckily it doesn't seem like anyone has been involved or injured. We're working with our partners at Surrey Fire and Rescue Service along with the police and ambulance services to ensure the incident is brought safely under control.
– Craig Carter, LFB Station Manager
The fire at Chessington World of Adventure is in a cafe which was being used as Santa's grotto over the Christmas period.
During the festive season the park opens for restricted hours and with access just to part of the zoo, this includes the Creaky cafe where visitors could visit the 'Night before Christmas - A Magical Adventure' attraction.
Advertisement
We have a crew, an officer and our hazardous area response team on scene at a fire in Chessington, but currently no reports of any injuries.
Theme park fire update: the park wasn't open to the public when the fire broke out, and no one is believed to be injured. #chessington
A statement on the Chessington World of Adventures' website said:
"Due to unforeseen circumstances, Chessington will be closed today.

"If you had tickets booked for today they will be valid for another day in the future."
Route 71 and 465 are subject to diversion and delays in Leatherhead Rd, Chessington due to a building fire
Route K50 is suspended due to a fire at Leatherhead Road, KT9 tickets will be carried by route 71 between Chessington & Kingston
The fire at Chessington World of Adventures is in the Creaky Cafe which is next to several animal enclosures.
Load more updates