Thousands of people have been affected after a technical problem at an air traffic control centre caused chaos at airports across the UK.
Disruption includes:
Heathrow cancelled 217 flights so far today
Gatwick cancelled five flights but experienced 86 delays
Stansted said flights had been delayed by up to three hours
There are some minor delays due to the power outage. We advise passengers to check the status of their flight with their airline.
Advertisement
All easyJet flights will operate from North Terminal for today only. The easyJet operation will be back to normal as from tomorrow.
"We are continuing to experience a power outage affecting some operational systems in the South Terminal. Unfortunately this has resulted in some delays for passengers and we apologise for any inconvenience caused. We are working hard to fix the problem and have contingencies in place to minimise disruption. We advise all passengers to confirm the status of their flight with the airline and to check in at the terminal they are scheduled to fly from."
– Grant Payne, Media Relations Executive
The power cut at Gatwick carried on into the afternoon, with some passengers praising the efforts of staff, while others were more critical.
After being told to stay in the departures lounge, the flight has taken off... WITHOUT ME @gatwick_airport @ryanair I AM NOT HAPPY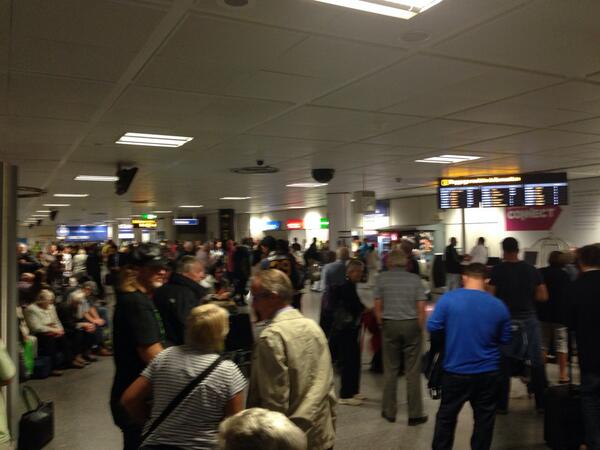 Gatwick Train Station is operating as normal and isn't affected by the power outage in South Terminal.
Our staff are out and about helping passengers get on their way. Please let us know if we can help you through airport.
All passengers should continue to check-in as normal at the terminal they are due to depart from.
Advertisement
Passengers arriving at Gatwick airport are unable to get off a plane while a powercut causes disruption at the south terminal.
Update from Gatwick South: departure display screens now back on... showing the wrong information! It's like a comedy of errors over here.
@easyjet whats with the insane queues at Gatwick?
Load more updates