A small fire broke out in the decking of the Cutty Sark this morning.
London Fire Brigade told ITV News the decking and timbers were on fire on Deck 3. They we called just after 7.20am and the fire is now out.
The brigade tweeted that they had got the blaze under control "very quickly" and had carried out salvage work on the ship.
Residents in Greenwich where the ship is located tweeted pictures of the incident.
SMALL fire in Cutty Sark! Now been put out...huge fire service presence..6 fire engines, 1 ambulance, police presence http://t.co/5joUpBOXlJ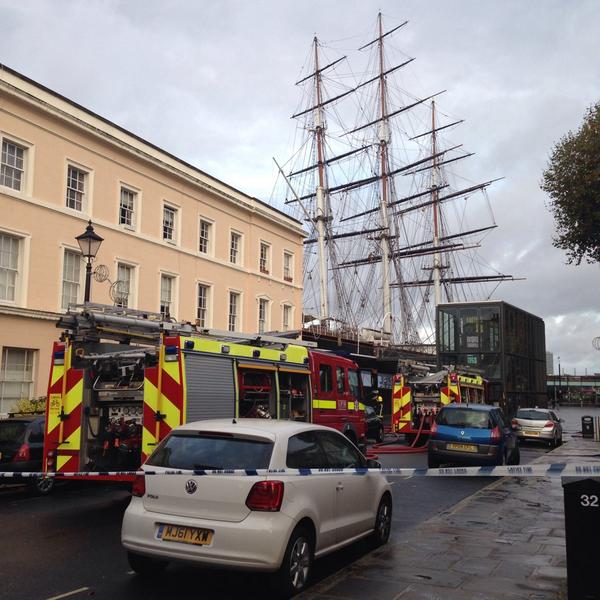 Two men have been charged with the 2010 murder of a student in Greenwich.
Hassan Hassan, who's 28, and from Brockley, and Colin Anderson, who's 47 and of no fixed abode will appear in custody at Bromley Magistrates' charged with the murder of Charlie Wright, a student from Eltham.
Charlie died from a gunshot wound to the face in April 2010.
Advertisement
A woman watched in her bedroom by a man who bugged her webcam tells ITV News of her shock, but backs decision not to jail him immediately.
Read the full story ›
The Metropolitan Police said it hopes the guilty verdict handed down to cyberstalker Andrew Meldrum will act as a deterrent and bring "some consolation" to his victims.
I would like to thank all witnesses in this investigation but especially the three victims who gave evidence on matters that were clearly of a private, intimate and personal nature to them. Meldrum effectively hacked into their lives.

I hope that they can take some consolation in the guilty verdict that sends out a clear message to anyone that this type of intrusion into a person's private life is not acceptable and the Metropolitan Police will support all victims and pursue all suspects.
– Met Police spokesman
One of the victims of cyberstalker Andew Meldrum has told ITV News of her shock at learning she was being spied on in her own home but said she supported the decision not to send the voyeur straight to jail.
"Even when I found out about it I couldn't believe that it had actually happened," said the woman, who cannot be identified for legal reasons.
"It was so shocking to see how easy it was and how quickly it was for someone to be able to install it and watch me and to do it inside my own home," she continued.
"It makes you question as a person what you do and how you live your life."
Speaking after Meldrum received a 12-month suspended sentence for his webcam plot, she said justice had been done, saying: "I believe the judge came up with the right conclusion."
She added: "If this is going to rehabilitate him and make other people think before they do things and if it's going to help anyone then that's fine."
As online harrassment appears to be becoming more common, some simple steps can be taken to greatly reduce the risk to you and your family.
Read the full story ›
Advertisement
Cyber stalker Andrew Meldrum has been described as a "jealous and controlling" man who pursued his plot for his own "personal sexual gratification".
Sentencing, Recorder Mark Heywood QC said: "It's clear from the evidence that many, many, many recordings were made by the computers of the three young women... concerning the most private acts in their own homes."
In one case, Meldrum conned his victim into believing he could help solve her computer problems but instead installed software which allowed him to remotely access her webcam.
He remained undetected for 15 months until the women - who cannot be named for legal reasons - discovered the programme had been installed on their computers.
Meldrum, a former Goldsmiths University student, has been ordered to forfeit his computer and pay a contribution to prosecution costs of £2,100 plus a £100 victim surcharge.
A cyber stalker who bugged computers to spy on women has walked free from court with a 12-month suspended sentence and a fine.
Andrew Meldrum, 30, secretly installed spying software on his victims' computers, allowing him to access private, nude pictures taken covertly.
Meldrum admitted three counts of unauthorised access to computer material and was found guilty of two counts of voyeurism after a trial at Woolwich Crown Court.
One of his victims wept in court and held her head in her hands at the sentence.
A man is due to be sentenced today in the country's first cyberstalking case.
Andrew Meldrum, 30, remotely filmed a woman using software he installed on her laptop.
Meldrum has admitted three counts of unauthorised access to computer material and was found guilty of two counts of voyeurism after a trial at Woolwich Crown Court.
Labour has retained control of Greenwich Council after passing the winning post of 26 seats, with one gain from the Tories so far, after nine of 17 wards declared.
Labour has retained control of south east London borough council of Southwark.
Labour has recorded victories in 47 of the 63 seats that have so far been declared. There is just one ward, containing three seats, left to declare.
The Liberal Democrats have 11 seats while the Conservatives have two.
Peter John, Labour's current leader of Southwark Council, described it as "a rejection absolutely of the coalition parties in this borough" and of negative campaigning.
Load more updates