A 'sexual predator' who posed as a cab driver and attacked a woman passenger has been jailed for four-and-a-half years.
Read the full story ›
A man in his 60s has been injured in a hit-and-run involving a car being pursued by police, the second such incident this week.
Read the full story ›
Advertisement
Police are looking for two men after a teenage girl was allegedly raped near a playground in Haringey, north London.
The victim, who is in her mid-teens, was allegedly attacked on the 12th March at 9pm near to the playground an exercise equipment in Ducketts Common Park.
One of the men is described as black, of large build with an afro and aged about 18-years-old.
The other man is described as black, also of large build and 18-years-old. It is thought that he was wearing a puffa coat, possibly with a Nike logo on the front.
Tonight a protest by Kurds in London accusing the Turkish government of supporting IS has closed roads and caused massive delays to traffic between Hackney and Haringey.
Organisers on Twitter claim between 3,000 and 4,000 people are taking part - but police would not give an official estimate.
The Met say officers from the two boroughs are attending the protest but no arrests have been made.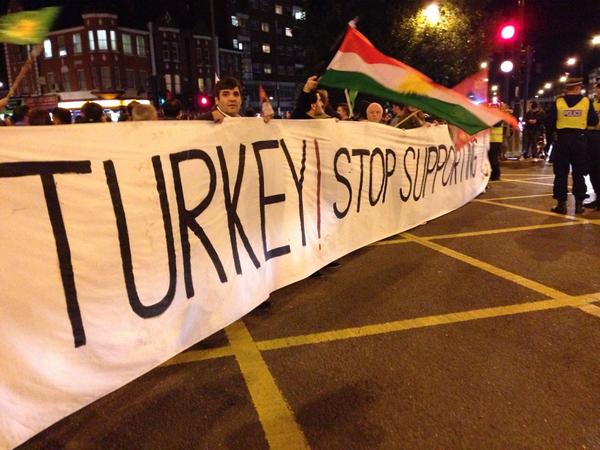 Haringey police are appealing for witnesses and any information concerning the burglary of a military supplier in N15 yesterday at 17:50.
An assortment of nine ceremonial garments and two silver Household Cavalry helmets were stolen.
The combined value of these items is in excess of £60,000.
Officers are keen to hear from anyone who is offered these items for sale or who has information concerning the theft.
Anyone with any information is asked to contact Haringey Police Burglary Unit on 101 or call Crimestoppers anonymously on 0800 555 111
Advertisement
Police say they are concerned for the welfare of Brian Playforth, a 66-year-old man, who has gone missing from Haringey.
He was last seen on Wednesday, 9 July. Scotland Yard says he likes to walk in parks and open spaces and can easily become confused and disorientated.
19 year-old Abdul Al-Faisal was arrested after trying to get into his school to retrieve his favourite hat.
Read the full story ›
Rightmove is also seeing evidence that house price growth in London is no longer being driven by the wealthy "prime central" boroughs.
London's worst-performing borough in March was named as Kensington and Chelsea, where asking prices had dropped by 2.4% on the previous month.
But the average price tag for a home in the borough was still £2.1 million.
The English capital's best-performing borough was found to be Haringey, where prices had surged by 9.5% month-on-month to reach £597,634 typically.
Westminster and Camden, where average asking prices were above £1 million, were also among Rightmove's worst-performing areas in London in March, while Barnet and Hounslow, where prices were around £600,000-plus, were among the best.
More than half a billion pounds has been spent by London local authorities on emergency housing since the last general election.
Councils have had to place people in hotels and B&Bs, after they presented themselves as homeless.
Haringey Council had the biggest bill of £197 million,
Westminster spent £111 million
Enfield spent £59 million
Kensington and Chelsea spent £53 million
Newham spent £35 million
and Islington spent £33 million
The total spend in London amounts to £630 million since 2010.
The Labour party has criticised the revelation saying the number of families with children living in such accommodation was at a 10-year high.
Housing charity Shelter also condemned the figures, saying cuts to the housing safety net were a false economy.
Load more updates