Several ministers will soon join Foreign Secretary Boris Johnson and Education Secretary Justine Greening in publicly condemning the Government's plans to build a third runway at Heathrow Airport, ITV News has learned.
ITV News Deputy Political Editor Chris Ship tweeted:
I'm told more ministers will join Boris and Justine in opposing #Heathrow in the coming days. Not Cabinet - but ministerial level
Shadow chancellor John McDonnell has condemned "devastating" Government plans for a third runway at Heathrow and pledged to continue campaigning against its expansion "so that it never sees the light of day".
The Labour MP has long fought the expansion plans at an airport sited within his west London constituency of Hayes and Harlington.
My response to the Government's announcement today to support a third runway at Heathrow in my constituency. https://t.co/V7OaiZ8XGn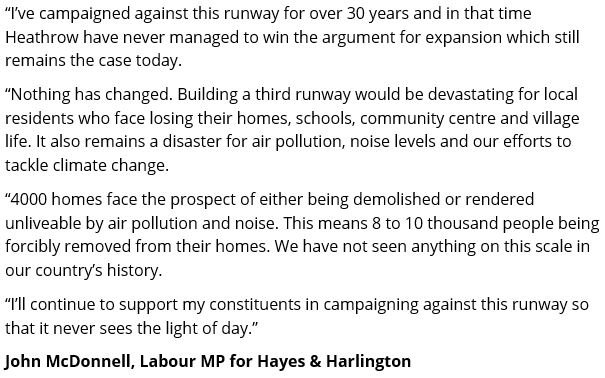 Advertisement
The Government's decision to build a third runway at Heathrow has received a mixed reaction from leading airline chiefs, who variously branded it "good news", a pricy risk or a "piecemeal" expansion that does not go far enough.
Willie Walsh, chief executive of British Airways owner IAG, said his group was "pleased" a decision had been made but warned: "The cost of this project will make or break it."
He added: "Heathrow want it, argued for it and now must ensure it's the UK and the travelling public who get the benefits from the runway, not the airport's owners."
Ryanair chief executive Michael O'Leary said choosing between Heathrow and Gatwick was the wrong approach.
"The best way to deliver additional runways in a timely and cost-efficient manner is to approve three additional runways - one each at Heathrow, Gatwick and Stansted."
But Carolyn McCall, chief executive of easyJet, offered the largest support.
"This is good news for UK consumers and businesses and will help ensure that the UK is better connected to the rest of the world," she said.
The decision to build a third runway at Heathrow will have a "disastrous impact", an environmental campaigner has said.
Ralph Smyth, of the Campaign to Protect Rural England, said: "Building a third runway at Heathrow would in itself take a huge chunk out of the Green Belt, but creating the biggest airport in the world on London's western edge would have an even more disastrous impact.
"Pressure for extra development would be felt in almost every village from the north of Oxfordshire to the south coast, urbanising and industrialising swathes of our most precious countryside."
London Mayor Sadiq Khan has condemned the Government's decision to build a third runway at Heathrow and pledged to join any legal challenges against the project.
Mr Khan, who supported the expansion at Gatwick Airport, said: "This is the wrong decision for London and the whole of Britain."
A new runway at Heathrow will be devastating for air quality across London – air pollution around the airport is already above legal levels of NO2.

I will continue to challenge this decision and I am exploring how I can best be involved in any legal process over the coming months.
– Sadiq Khan, Mayor of London
The decision to approve a third runway at Heathrow shows Britain can be an open, global, and successful country after it leave the European Union, Prime Minister Theresa May has said.
Speaking to the Evening Standard, Ms May said the decision showed the Government was willing to "take the big decisions".
"Airport expansion is vital for the economic future of the whole of the UK," Ms May said.
"Businesses will know that we are building the infrastructure they need to access global markets.
"This decision demonstrates that as we leave the EU we can make a success of Brexit and Britain can be that open, global, successful country we all want it to be."
Ms May continued that while the Government wanted the benefits of a new runway as quickly as possible, it would also a make sure London and taxpayers got a good deal.
Advertisement
CGI graphics reveal how the Heathrow third runway will look as the plans were given the green light.
Heathrow Airport released the CGI fly through of its expansion plans including footage inside a new state-of the art central terminal area.
Tory MP Zac Goldsmith intends to honour his pledge to resign and force a by election in Richmond Park and Kingston North in protest at the Heathrow decision, the local Conservative Association has confirmed.
The Government is to propose legally binding noise targets to provide respite for people living near Heathrow after a third runway was given the go ahead.
The Department for Transport added they would also propose a six-and-a-half hour ban on scheduled night flights from the airport.
The Department for Transport continued that the Government would publish a document in the new year on why Heathrow was the right choice, and that an additional study showed a new runway would be deliverable within air quality limits.
Richmond MP Zac Goldsmith has described the decision to confirm plans for a third runway at Heathrow as 'catastrophic'.
Following the Government's catastrophic Heathrow announcement, I will be meeting my constituents later today before making a statement.
Load more updates