Live updates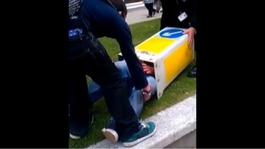 A prankster had to be saved by police after getting stuck inside a traffic bollard for over two hours.
Read the full story
Stabbed man found in house fire
Robyn Dwyer reports from the scene:
Advertisement
Stabbed man found in house fire
Police have named the man as Thomas Baird. He'd been stabbed and was pronounced dead in the early hours of Saturday after the blaze at his home in Westerdale, Hemel Hempstead, Hertfordshire.
A post-mortem examination carried out yesterday concluded that the 63-year-old died of trauma to the head and neck, and stab wounds to the chest.
A 30-year-old man from Hemel Hempstead, who was arrested on suspicion of murder on Saturday, remains in police custody.
A 30-year-old man has been arrested on suspicion of murder after a fatal house fire, police said tonight.
Hertfordshire Police said a man believed to be in his 60s was pronounced dead at the scene of the blaze in Westerdale, Hemel Hempstead, early today.
Emergency crews were alerted to the fire at 12.06am and scenes of crime officers were working with specialist fire brigade investigators to determine the cause.
Detectives the Bedfordshire,Cambridgeshire and Hertfordshire Joint Major Crime Unit have launchedan investigation into a house fire which occurred this morning, where a man has died.
Policewere called to a fire in Westerdale at 12.06am. Officers attendedthe scene and found that a man, believed to be aged in his 60s, haddied at the scene.
Scenesof Crime Officers are working alongside specialist fire investigatorsfrom Hertfordshire Fire and Rescue Service, to determine the exactcause of the fire.
Detective Chief Inspector Mark Ross isleading the investigation. He said: "Whilst the investigation isstill in its early stages, we are treating the man's death assuspicious at this time.
Police investigating an indecent exposure in Hemel Hempstead have appealed for witnesses who may have seen the offender to come forward.
The offender appeared out of long grass as the victim, a woman in her 70s from Hemel Hempstead, was walking alone with her dogs in Bunkers Lane woods.
The man was completely naked and stood watching the woman who then left the park.
The offence occurred at around 4.15pm on 11th August.
The offender is described as a man of Asian appearance, aged 30 to 35 years old. He is around 5ft 11in tall and of medium build, with black hair and brown eyes.
It is believed that other dog walkers may have seen the man but not reported it to the police.

I would urge anyone who believes they have seen this man to get in touch with us as soon as possible.
– PC Claire Richardson, who is investigating the incident
Advertisement
Back to top