The husband of a mum-of-three - who has been missing for four days - has been charged with her murder.
Read the full story ›
Police have arrested a man over a fatal hit and run in Hemel Hempstead.
Sixteen year-old Fazan Ahmed was knocked down in the collision on Friday 22nd August. He died two days later in hospital from his injuries.
A 20-year-old man from Berkhamstead has been arrested on suspicion of causing death by dangerous driving. He's currently in police custody and is being questioned about the collision.
Advertisement
The family of Fazan Ahmed, who was killed in a hit and run incident in Hemel Hempstead on Friday evening, attended a press conference today where they urged for the driver to give himself in.
Fazan was playing football on the day after he had received his GCSE results. He was struck by a blue car, possibly a Ford Focus, which then drove on. Police believe that the car would have suffered damage in the collision and have asked garage staff and car mechanics to keep an eye out for it.
This tragedy has torn not just this family apart, but his friends and the community as a whole. To the driver we say, please come forward. Look at the devastation you have caused this family, its friends and the community as a whole.
– Ahmed family statement
Sergeant Sam Cordingley from the Roads Policing Unit is leading the investigation into the death of 16-year-old Fazan Ahmed.
We are actively seeking the driver of the blue car and we would ask that they make contact with police as a matter of urgency. We need to speak to you to understand what happened.

The vehicle we are seeking is likely to have a broken windscreen, as well as other damage so I'd like to ask for the public's help in locating the vehicle. I would urge anyone who sees a vehicle with similar damage apparently parked up or abandoned to call us. I would also appeal to any mechanics, who may encounter a blue vehicle presented for repairs to get in contact before undertaking such work.

If anyone has seen this vehicle, or has a relative who drives a blue car and may have come home in a distressed state, I would urge that they contact police immediately.
– Sergeant Sam Cordingley, Hertfordshire Police
Anyone with any information is being asked to contact PC Dave Clarke at the Hertfordshire Police collision investigation unit on 101.
A 16-year-old boy who was injured in a hit-and-run in Hemel Hempstead has died.
Fazan Ahmed was struck by a blue car on Jupiter Driver on Friday night. The teenager was taken to St. Mary's Hospital in Paddington where he later died from head and spinal injuries.
His mother Izzy Begum and father Mukhtar Ahmed, and siblings said:
Fazan was adored by all his family and friends. He was the life and soul of our family with his whole future ahead of him. He loved football and was a supporter of Arsenal.

His family and friends are devastated beyond belief at what has happened.
– Family Statement
Officers believe a blue car was involved and are asking people to contact them if they have seen a car which may have substantial front-end damage.
The ultra-rare creature is thought to be one of about five grey squirrels in Britain suffering from a condition called leucism.
Read the full story ›
Advertisement
"We knew the ground conditions. The structure of the homes took into account the conditions and that's why there was piling.

That's why there are concrete beams.

That's why the timber frame and the structure has held out well when a hole opened up under one of the houses; the house didn't collapse into it."
– Peter Bogle, Chief Executive, HPCHA
"You have a solid steel cone which you're driving into the ground with a hammer and you're measuring the blow counts of that hammer.

The numbers give us the feedback of whether the ground is hard or soft, for example if the blow count is 1 or 2 its clearly weak. If it's ten then it's clearly much firmer, much harder."
– Dr Clive Edmonds, Peter Brett Associates
It's nearly two weeks since a ten metre wide and 6 metre deep sinkhole opened up in Hemel Hempsted.
Forty eight homes in the surrounding housing estate had to be evacuated and are still empty today.
Watch Martin Stew's report:
The sinkhole has been temporarily filled with concrete whilst engineering geologists assess whether the ground is now safe. They're now probing in sixty locations to see how firm the ground is from the surface to a depth of fifteen metres.
The developer who build the homes five years ago says he is hopeful people can move back into 44 of the 48 properties soon.
He says the timber design of the homes build on concrete foundations means they have stood up well to the damage.
The other four homes could require serious underpinning and early estimates show it could be at least three months before people can move back in.
Hertfordshire Fire Service have tweeted a picture showing the Hemel Hempstead sinkhole under the road.
Police are currently investigating a sink hole which has appeared in Wood End Lane in Hemel Hempstead. Avoid area. http://t.co/mZwgHrYGkc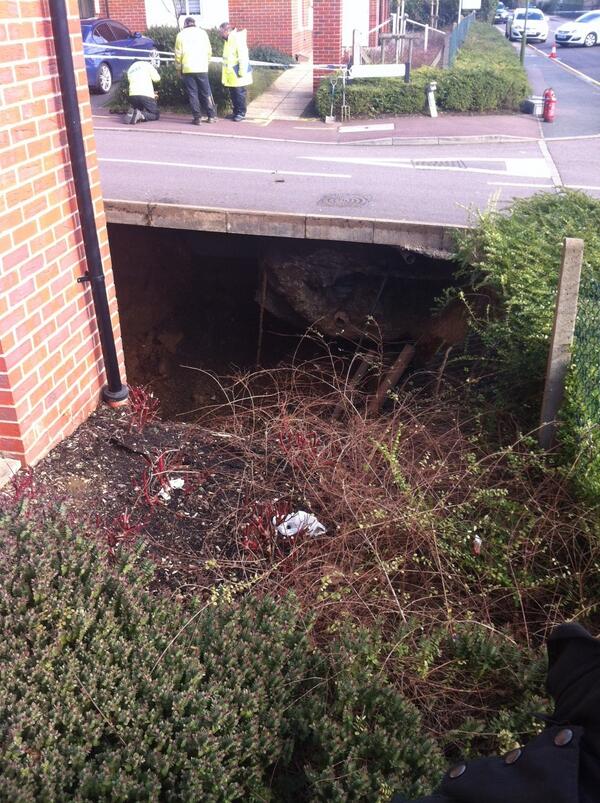 Load more updates