Witnesses reported hearing a massive bang as the massive office block crumbled to the ground.
Read the full story ›
Part of a west London building has collapsed, according to reports. Firefighters were called to a disused building in Hounslow this afternoon, after witnesses described seeing a crane crash into the tower block. Witnesses posted their photographs on social networking sites: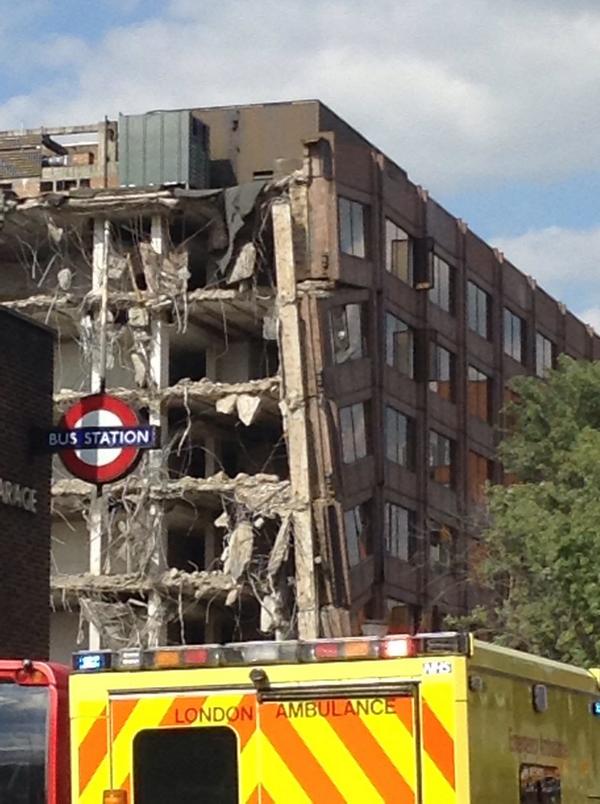 Advertisement
Newham Council paid out the most money in compensation: £188,864.
Kingston had the highest number of injuries: 315, followed by Wandsworth: 256, and Hounslow: 202.
Ealing and Wandsworth spent the most on repairs: £996,175 and £721,375 respectively.
Barnet, Haringey, Hounslow and Wandsworth all had more than a thousand individual complaints about potholes (1,772; 1,766; 1,066; 1,654).
Brentford Football Club will put forward their plans to build a new purpose built stadium to Hounslow Council's planning committee tonight.
The football club want to move from their current home Griffin Park, to a new 20,000 capacity stadium on an old brownfield site next to Brentford and Chiswick.
Part of the plans would see a number of residential homes built next to the new stadium.
But opponents to the plans say they will argue that the application has been rushed through without proper public consultation.
Police have identified the victims who were killed in an explosion at a property in Hounslow.
They were 46 year old Suhail Akhtar and 35 year old Dorota Kolasinska from Bath Road.
The Inquest is due to open at Fulham Coroners Court on Monday.
Advertisement
St Paul's School in Brentford has been damaged by fire this morning. Eight fire engines and 60 firefighters battled to put out the fire which badly damaged the roof of the Victorian school in Hounslow.
Sam Gibb tweeted "Very sad time in Brentford, heartbreaking our little family school on fire!"
London Fire Brigade tweeted, "Firefighters are making good progress on the school fire in Brentford. The roof has been badly damaged in the blaze."
Police are continuing to investigate after two people died following a fire at a flat in Heston. The cause of the fire is currently being investigated - at this stage it is being treated as unexplained.
Two people died and two are being treated in hospital for multiple injuries after the fire at a second floor flat in Church Road, Heston, in the early hours of yesterday morning.
Postmortem examinations for both people who died are scheduled to take place tomorrow at Uxbridge Mortuary.
A fire that killed two people at a flat in west London is being treated as suspicious, police said.
Two people died and two are being treated in hospital for multiple injuries after the fire at a second floor flat in Church Road, Heston, in the early hours of this morning.
Police said both men who were taken to hospital remain in a serious condition but their injuries are not believed to be life threatening.
An 18-year-old man and a 37 year old man were taken to St Mary's Hospital and the 18 year old has since been transferred to a west London hospital.
A spokeswoman for the London Ambulance Service said a 30 year old woman is believed to be one of the two people found dead, while police confirmed that the two patients being treated in hospital are a 37 year old man and an 18 year old man.
The London Ambulance Service spokeswoman added that four ambulance crews, three duty officers, a hazardous area response team and the medical team from the local air ambulance in a car all attended the scene.
The fire was first reported by police officers who spotted it while patrolling the area. Local road closures are in place while firefighters investigate the blaze.
Eight fire engines and around 58 firefighters battled to control the blaze which has now been extinguished, the London Fire Brigade said.
The fire is believed to have started in a flat above a shop before spreading to the roof and neighbouring flats.
Around 50 people who were evacuated from the flats and nearby properties are being moved to emergency accommodation by the local authority.
Load more updates