A luxury penthouse in Mayfair has just broken the record for the most expensive home ever sold in the UK
Read the full story ›
The Rightmove September House Prices survey is out today, revealing how house prices are changing in every London borough.
Read the full story ›
Advertisement
A two-bedroom house in north London, which appears to have been built over a driveway, measures just 83 inches wide.
Read the full story ›
Despite working, 48% of 20-to-34 year olds who live with their parents say this is because they can't afford to rent or buy their own home, new Shelter research reveals.
A lack of affordable housing was the single biggest reason why so many young adults in England are unable to fly the nest, a YouGov poll commissioned by the charity found. Additional data from the Census, released to Shelter, showed there are 1.97 million working young adults living with their parents. This accounts for a quarter of all 20-to-34 year old working adults in England.
For the first time ever, the cost of renting in London is double what it costs across the rest of the UK.
New figures from the HomeLet Rental Index show the average rent in the capital is now £1,412, compared to £694 elsewhere.
It also revealed rent in London has increased 11.2% in the last 12 months.
A growing number of businesses in London are being evicted so their buildings can be turned into flats.
It follows a change to the law, which means full planning permission is no longer needed to convert commercial property in new homes.
Some councils are now criticising developers taking advantage of the situation to make a profit from the capital's booming housing prices.
Islington Council's executive member for housing and development, Councillor James Murray, said: "I'm very frustrated by the planning minister's decision to stop us doing what's right for Islington.
"We're already seeing small businesses and charities being evicted from offices to make way for bedsits. People in Islington are losing out on jobs, affordable housing, and any community benefit."
Advertisement
Rents in London have risen 9.4% over the last year.
New figures from the HomeLet Rental Index show the cost of renting in London is increasing five times faster than national average incomes.
It has said the average rent in the capital now stands at £1348 per month
The gap in house prices in London and the rest of the UK is the widest it's ever been, reports ITV's Business Editor Joel Hills.
Gap between house prices in London and rest of the UK is widest it's ever been, both in cash and percentage terms. http://t.co/S9o5Fmsq3q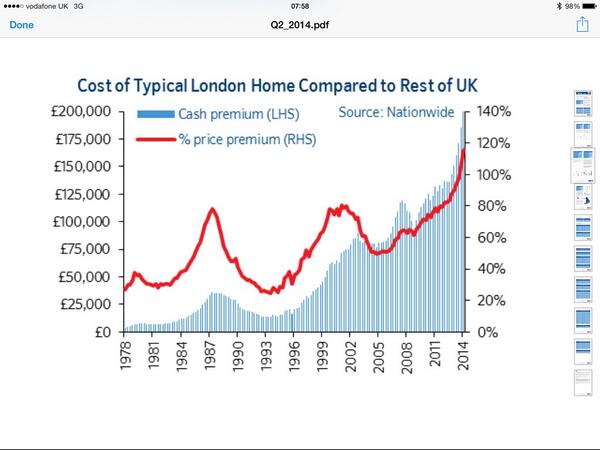 See the chart below for a national breakdown.
House prices in London now 30% higher than pre-financial crisis peak, but not everywhere. http://t.co/Z7mkLs6Xn4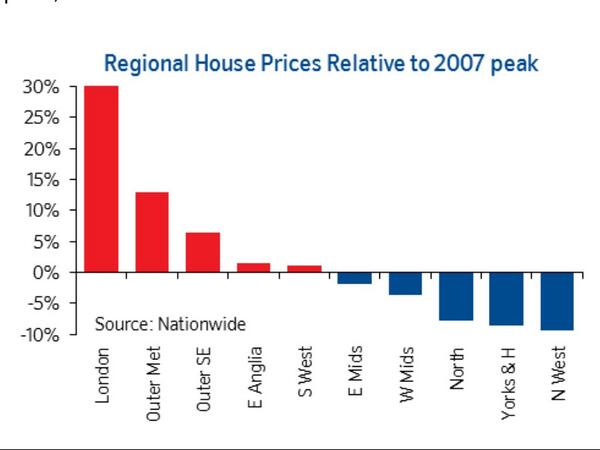 The typical price of a London property is now more than double the average UK house price breaking through the £400,000 mark for the first time, Nationwide said.
Cambridge saw the biggest surge in house prices with a 20 per cent increase putting the average cost of a house there at £419, 187.
While the value of properties in St Albans rose 18 per cent reaching an average of £451, 800.
Newcastle was named as the worst-performing city with only a three per cent increase in house prices taking prices there to £181, 473 typically.
In Wales property prices are up almost 10 per cent on a year ago now standing at £145,812.
And in Scotland, typical prices rose to £141,872, figures show.
However, In Northern Ireland, where the housing market is still recovering from some sharp falls in the wake of the financial crisis the average house price now stands at £117,150.
This is around half the level they were at their peak.
Load more updates