70 foot yacht in Central London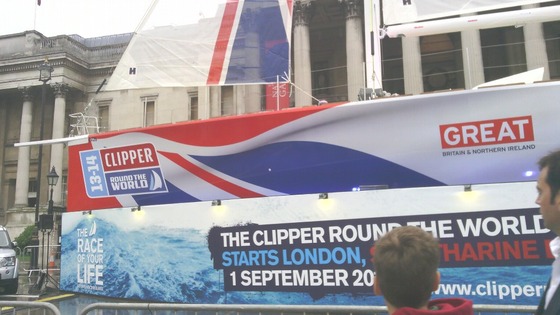 Five London crew members were among the first to visit the yacht this morning. They will be led by a London born skipper and are preparing for the ninth edition of the unique Clipper Round the World Yacht Race, which will depart from Tower Bridge on 1 September.
The UK team will sail aboard a Great Britain livery yacht in an innovative global campaign partnership between the race organisers, UK Government and British brands.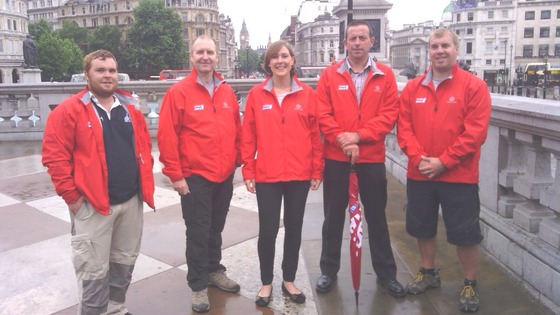 London born professional skipper 44 year old Simon Talbot will lead an amateur crew that has been trained in preparation for the 40,000 mile race. The race will take 11 months to visit 15 ports on six continents over the eight leg series, in a matched fleet of twelve 70 foot ocean racing yachts.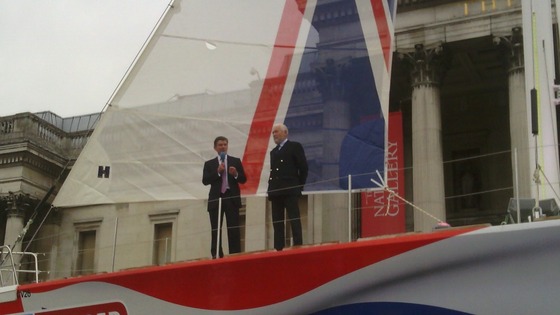 The large 70 foot state-of-the-art ocean racing yacht was launched this morning in land locked Trafalgar Square by Sports Minister Hugh Robertson.
He was joined by Clipper Race chairman and founder, the legendary yachtsman Sir Robin Knox-Johnston who became the first person to sail solo, non-stop, around the world in 1968-9.
Knox-Johnston launched the biennial race for amateur sailors 17 years ago; the unique global event has also grown into a successful platform to promote trade and tourism along the way.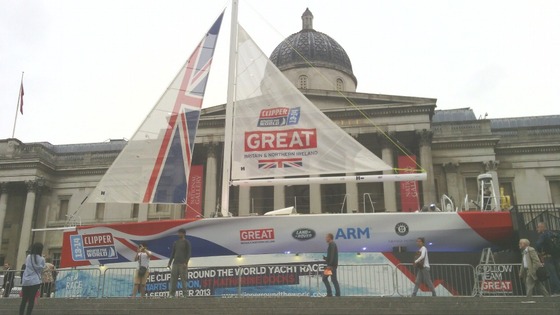 Positioned in front of the iconic National Gallery, on the North Terrace, the yacht will remain under the watchful gaze of Lord Nelson, Britain's greatest ever sailor, until 4 August.
The Great Britain team will sail back into the capital with the rest of the 12-strong Clipper Race fleet over the August Bank Holiday weekend to spend a week in St Katharine Docks - central London's only marina - prior to departing from Tower Bridge on Sunday 1 September.
The 40,000 mile race around the world will return to London almost 11 months later in July 2014.