Live updates
Orchid extravaganza
There may have been some sunshine in London today, but with temperatures still falling, spring seems a long way off.
In a part of South west London though, there's warmth, colour and a glimpse of things to come, ITV London's Martin Stew offers a sneak preview.
Advertisement
Orchid extravaganza
Click here for a look a quick look at some of the orchids on display for this year's annual orchid festival at the Royal Botanic Gardens, Kew.
Orchid extravaganza
It may be rather cold outside at the moment but the temperature will be a balmy 22 degrees Centigrade in a conservatory at Kew's Royal Botanic Gardens this weekend for the annual orchid festival. We spoke to Phil Griffiths, head of display collections at the gardens, as they were getting ready.
Woman killed by branch named
The woman who died when tree branches crashed down on her head as she walked through Kew Gardens has been named as Erena Louise Wilson, a 31-year-old accounts manager from New Zealand. She died instantly an inquest has heard.
She was unable to get out of the way when part of the Lebanese cedar snapped off and fell on her, as rain and gusts of up to 30mph swept the capital.
West London Coroner's Court heard she had been walking through the Royal Botanic Gardens in Kew, west London, with two friends when tragedy struck.
Her friends stated they were walking along the path and heard a loud crack, I believe they thought it was thunder.

They looked up and saw the tree branch descending. They ran and when they looked round, the lady was on the floor in an uncomfortable position to say the least, with lots of branches around her.

As far as we know, she would have died instantly from traumatic head injuries.
– Inspector Simon Young told the inquest
Woman killed by branch named
Kew Gardens will reopen today after the death of a woman in the park on Sunday. The 32 year old from New Zealand was killed by a branch that fell from a tree in strong winds.
On their twitter account the operators of the park, Kew Botanic Gardens, offered their condolences to the family and friends of the woman.
Advertisement
Woman killed by branch named
Kew Gardens has been closed to the public "as a precaution" after a severe weather warning for London. It comes after a woman was killed by a falling branch on Sunday afternoon.
Woman killed by branch named
A woman's died after being hit by a falling tree branch at Kew Gardens yesterday, as wind speeds in the area reached a peak of 30 miles per hour.
The woman - who's believed to be around 30 years old - was pronounced dead at the scene.
London 2012 Olympics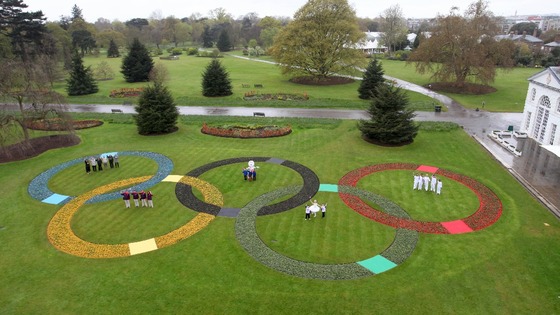 Gardeners at Kew have planted 20,000 flowers in the shape of the Olympic rings to mark 100 days to go until the London Games.
They spent five days planting the arrangement, which includes blue, yellow, black and red violas and green apple mint.
Each of the rings is 15.5m in circumference and will be visible from the Heathrow flight path.
London 2012 Olympics
Our Political Correspondent Simon Harris is tweeting from a press conference at Kew Gardens, to mark 100 days to go until the London Olympics.
Seb Coe: "I have rarely witnessed the level of excitement." @londontonight
Red Arrows to overfly live sites to launch the games. @londontonight
Culture Secretary Jeremy Hunt MP claims 10% of UK population will go to the games. @londontonight
Load more updates
Back to top