Live updates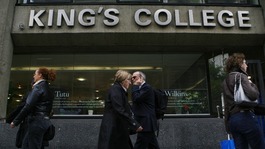 Researchers say the prestige of a UK degree is still recognised by employers around the world.
Read the full story
Researchers at some of London's top hospitals are to receive£28 million pounds of government money to study the impact long termconditions on the NHS.
The money will fund thirteen pioneering teams at Kings,Chelsea and Westminster and Bart's Healthcare Trust.
We want the UK to lead the world in terms of health research and this announcement underlines that commitment.

It is vital that we invest in health research, not only to create the opportunities for health research to grow - but also to help our economy thrive so we can compete in the global race.
– Lord Howe, Health Minister
Advertisement
Scientists at King's College are celebrating the 21st birthday of a special unit dedicated to sets of twins.
12,000 siblings have been registered with the Department of Twin Research, since it was set up in 1992 to carry out genetic tests. Sangeeta Kandola reports.
Back to top