Londoner Eddie Redmayne will take to the red carpet tonight in Leicester Square for the premiere of his latest film The Theory of Everything.
The 32 year old actor plays a young Stephen Hawking studying at Cambridge University before he was diagnosed with Motor Neurone Disease.
The film documents his relationship with his first wife Jane Hawking who he met while studying for his PhD in the 1960s.
The film will be in UK cinemas from the New Year.
Advertisement
Police who are trying to find a missing 18 year old boy have found a body in central London.
Read the full story ›
Westminster Council has approved plans to demolish a historic London cinema.
The Odeon West End - which is the smaller of two Odeons in Leicester Square - will be knocked down and rebuilt along with a hotel and spa.
Developers say it will create hundreds of jobs - but the move was opposed by English Heritage who argued that the 1930s art deco building should be preserved.
The high winds battering London have damaged the famous Odeon sign in Leicester Square. The fire brigade have come to the rescue to prevent the sign falling onto the street below.
Oops odeon sign has wind damage and fire brigade in leicester square london seem to be coming to rescue http://t.co/2N8tBukc8b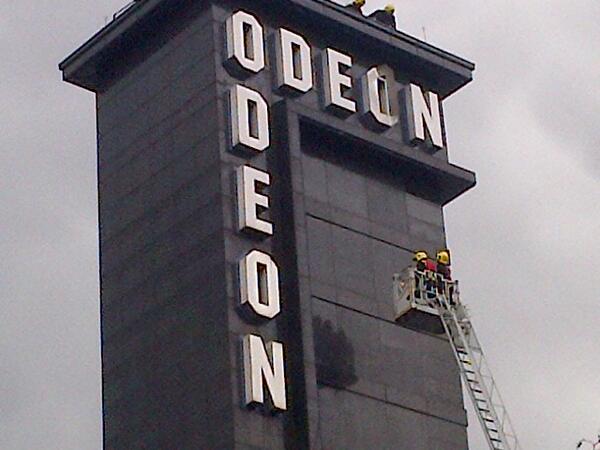 In a statement the London Fire Brigade confirmed the giant 'O' had been brought safely to the ground:
"Crews managed to bring the 'O' safely to ground level after an impressive spot of abseiling. We worked closely with staff at the cinema to bring the incident to a swift and safe conclusion."
A man who emerged naked from a storage cupboard of a Premier Inn hotel with a fire extinguisher hose between buttocks walked free today after he told a court: "I'm truly ashamed of myself."
20-year-old Joseph Small, from Sheffield, threw his clothes off and grabbed the appliance from the fourth floor of the hotel in Leicester Square in central London in October.
Small then put the hose between his buttocks and urinated on the carpet and a lift door before being escorted to reception by staff who wrapped him in a towel. He was also heard hurling racist abuse.
Joseph Small told Westminster Magistrates' Court: "I really am truly ashamed of myself - I can't recall anything that happened and I'm sorry to anyone that I offended that night. I have friends from all different ethnic backgrounds."
The judge sentenced him to a nine-month supervision order and to an electronic curfew for five weeks. He was also ordered to pay a total fine of £745.
Advertisement
A Hollyoaks actor who was attacked in Leicester Square after a night out has told ITV News London that he's "fine" and demands apology.
Read the full story ›
Four people have been charged following unrest during protest marches over the bank holiday weekend. The charges range from racially aggravated criminal damage to violent disorder.
Police made a total of 13 arrests in Whitehall and Leicester Square.
Five people were later released without charge and another four bailed pending further inquiries. Police say they're continuing their investigation to identify those involved in criminal behaviour.
Westminster police are appealing for help in tracing a man wanted in connection with an unprovoked attack on soap star Tom Scurr.He was punched by a man as he crossed Leicester Square in the early hours of Saturday 11th May.
Tom, who plays Hollyoaks character Barney Harper-McBride, suffered a broken cheek bone and a fractured eye socket, which later resulted in him needing hospital treatment.
Police are appealing for witnesses to an assault in Leicester Square.
It happened last Tuesday, when officers were called to the Angus Steak House at around 11pm. A man was found outside the restaurant door, unconscious with a serious head injury.
Police believe there was a fight shortly before they were called, and are appealing for witnesses. Investigating officer, DC Sanda Nicol, said: "The attack took place in an incredibly busy area and I am sure there will have been people walking past who may have noticed something,
or seen anyone acting suspiciously in the area at that time. Although the victim is now recovering at home he was incredibly lucky, his injuries were extremely serious and the attack could have proved fatal."
Load more updates