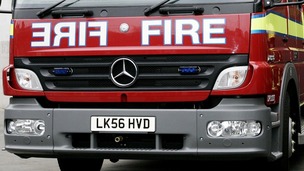 London Fire Brigade has released details of the strangest emergency call outs.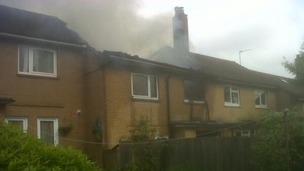 An explosion blew the whole roof off a house in Brixton today.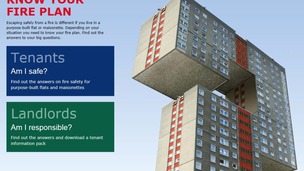 The Brigade have issued fire safety advice to people living in high-rise buildings.
Live updates
London Fire Brigade promote high rise flat safety
London Fire Brigade will today roll out an initiative in schools to raise awareness of fire safety. This will particularly focus on safety in high rise flats after the Lakanal House fire in 2009. Six people died in the fire at Lakanal House that was part of a 14 story housing block in Camberwell.
Specialist Schools team with the London Fire Brigade will be at a school in Waltham Forest from 8.45 this morning to talk to students. Pupils will be encouraged to pass on information to family members at home.
Faulty fuse boxes cause five house fires a week
Faulty fuse boxes are causing five house fires a week in the capital, according to new figures by the London Fire Brigade.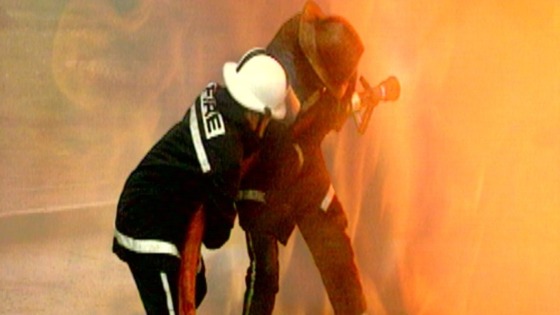 They say defective wiring and components are behind the problem. New regulations are being announced which will require them to be flame proof from 2015.
There's been a five fold increase in fires started by fuse boards over five years.
It's believed the increase is because many homes have installations subject to product recall.
Also, sometimes the wiring is not fitted properly at the time the unit is installed.
Find out here if your fuse box unit is on the London Fire Brigade recall list.
Advertisement
Huge fire on south east London industrial estate
London Fire Brigade say that 97 firefighters and officers are now at the scene of a fire on an industrial estate in Erith.
They are working with 15 engines from stations including Greenwich, Plumstead, Erith, Lee Green, Sidcup, and Bexley fire stations.
The Fire Brigade have confirmed that over half of a scrap yard and an adjacent car workshop is on fire and that a number of vehicles are alight, as well as scrap metal.
Huge fire on south east London industrial estate
15 fire engines currently at fire in #Erith. Keep windows shut as smoke is drifting from the scene
Over half of a scrap metal yard is alight in #Erith, lots of smoke, avoid area if you can.
Huge fire on south east London industrial estate
More than 80 firefighters are fighting a fire on an industrial estate in south east London.
They were called to the scene on Darent Industrial Estate in Erith earlier this evening.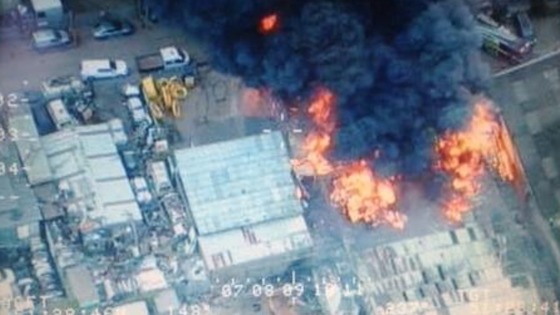 It is believed that the fire was sparked in a scrap yard at around 6pm.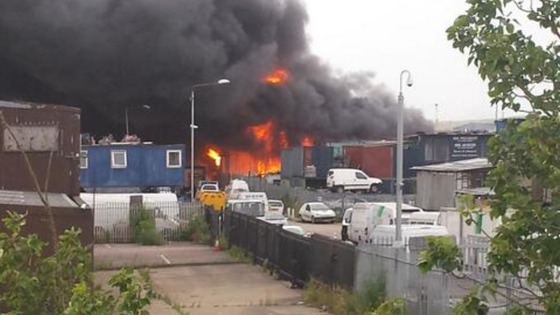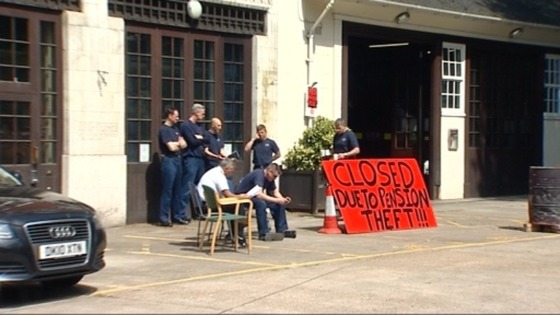 London firefighters have joined a nationwide strike today over changes to pension schemes.
Firefighters in the capital will walk out for 7 hours from 10am in protest at controversial changes to their pensions and retirement age.
The London fire brigade has warned it will not attend grass fires during the strike unless there is a risk to life or property. The capital's fire commissioner, Ron Dobson has urged people to take extra care with cigarettes.
He added: "There is contingency cover during the strike but it isn't a replacement for a normal service. The contingency crews will not attend a grass fire with no risk to life or property, so it's vitally important that Londoners help us stop them from starting in the first place."
Advertisement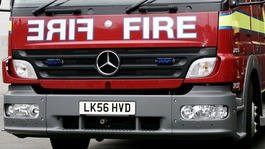 London Fire Brigade has released details of the strangest emergency call outs.
Read the full story
Delays on train services from Victoria station
A gas cylinder has ruptured on Kirtling Street in Battersea. We've put in a hazard zone as damaged cylinders can explode when unstable.
We've reduced the hazard zone to 25 metres at the leaking gas cylinder incident on Kirtling Street in Battersea.
Fire crews are investigating the cause of a fire in Harrow yesterday which killed a woman. 14 firefighters and officers were called to the blaze at a house on Saint Margarets Avenue.
Fire fighters rescued a woman from the burning building but she later died. The blaze damaged part of the ground and first floor.
Three teens seriously burnt trying to light barbecue
Firefighters have issued safety warnings after teenagers were seriously burnt lighting a barbecue with bio-ethanol over the weekend. One of the men is critically ill in hospital, with 'potentially life-changing' burns to over 50% of his body.
London Fire Brigade has issued warnings about the use of bio-ethanol:
Only use bio-ethanol fuel in fireboxes and containers designed for the product
This fuel is highly flammable and should be kept in containers tightly closed and away from any ignition sources
Never add fuel to a burning fire or overfill a fuel container and never fill up a firebox fuel container that is still hot
Extinguish all fires when leaving a room or before going to sleep
Clean up fuel spills with a damp cloth and dry completely
Load more updates
Back to top