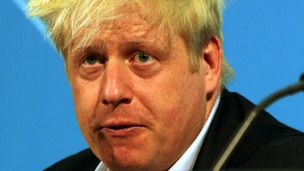 Boris Johnson is supporting a project to combat the plight of young people living alone at Christmas.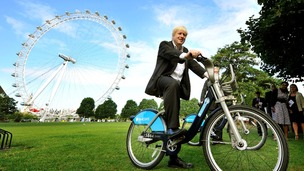 Boris Johnson has been asked to act over a rise in cycling injuries in London. A new report recommends doubling funding for cycling.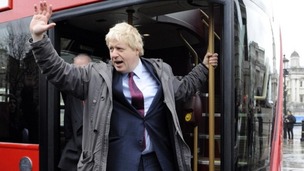 London Mayor Boris Johnson has announced that some London tube and bus fares will rise by above the rate of inflation.
Live updates
The last time Boris Johnson came face-to-face with campaigners angered by the downgrading of Lewisham Hospital, they booed and heckled him. Undeterred, he had another meeting with them today. Nina spoke to our Political Correspondent Simon Harris about how it went.
Boris to outline housing plans
Should money made in the capital stay in the capital? Boris Johnson thinks so.
He's wants the Government to give London the 1.3 billion pounds raised here through Stamp Duty every year.
With property prices traditionally higher than anywhere else in the country, the Mayor thinks the money made selling flats and houses should benefit Londoners, and be used to build more so-called affordable homes.
So is this the right way to solve the housing crisis?
Here's Rags Martel.
Advertisement
Boris to outline housing plans
The Mayor says with the extra money from London property's stamp duty he aims to:
-Build 1 million new homes in 25 years
-Give London boroughs more freedom to build new homes
-Implement an affordable housing scheme with rents reflecting income
Rags Martel has more...
Boris to outline housing plans
@itvlondon I live in "affordable" housing in central London but I would use the term "affordable" lightly
"@itvlondon: Luxury flats are everywhere, but where is the building of affordable housing happening near you?" Woodberry Down
@itvlondon I've been offered a flat that is apparently affordable, I can afford it if I beg,steal and borrow from family etc. how else?
Let us know by joining in the debate on our Facebook page.
Boris to outline housing plans
Labour Member of the London Assembly Len Duvall has told ITV News London that Boris needs to do more on housing with the money he has. He claims Boris 'sounds good, but does nothing'.
Boris to outline housing plans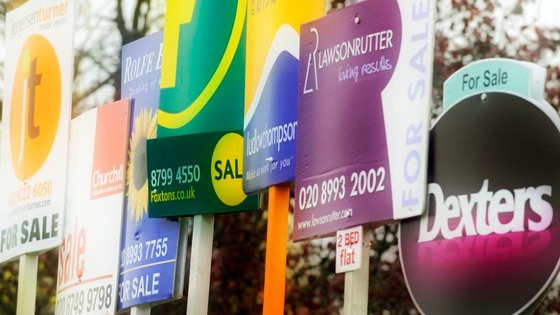 Boris Johnson is asking the government to let London keep all stamp duty raised on its property sales - estimated at around £1.3 billion a year. He wants the money to be able to build a million homes by the mid 2030s.
The Mayor claims that this arrangement would give the capital a stable income to create a 25 year plan that would solve the capital's housing needs, create hundreds of thousands of long-term jobs and give a massive boost to the economy.
"Give London the tools and we will solve its impending housing crisis", said Boris.
Advertisement
Boris to outline housing plans
Our Political Correspondent attended the briefing in which the Mayor revealed he also wants to get his hands on government owned property in the capital.
Boris Johnson is demanding ministers hand over the annual £1.3bn income from stamp duty on London property sales. @itvlondon
The mayor claims giving City Hall the money is the key to unlocking London's housing crisis. @itvlondon
Johnson believes the move will lead to an increase in new homes from 33,000 to 40,000 a year. @itvlondon
Boris to outline housing plans
The capital's mayor, Boris Johnson, is today outlining his plans to solve London's housing problems.
The Mayor believes that the lack of housing in the capital could be a drag on it's economic growth, and that a dramatic acceleration of house building is needed over the 25 years.
.
He'll set out what he believes needs to be done to house the capital's ever growing population
There's speculation that he's going to ask the government to give him the proceeds from stamp duty in the capital to spend on creating new homes.
Boris Defends Cuts
The Mayor was challenged today over closing some of the capital's police and fire stations.
Labour's London Assembly members gave him a grilling at City Hall and even accused him of targeting closures in Labour's boroughs.
Boris Defends Cuts
Boris Johnson denied there was any political motive behind closing certain police stations, when he was questioned by London Assembly member, Andrew Dismore.
Load more updates
Back to top