Live updates
No @ldnoverground service between Stratford and Richmond/Clapham Junction while we deal with a power supply problem at Hampstead Heath.
There is no service between Gospel Oak and Barking while attempts are made to fix a faulty train at Gospel Oak.
TfL say tickets will be valid on the buses and the Underground.
Advertisement
Overground strike to go ahead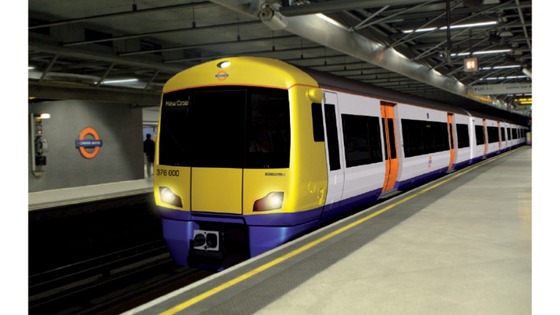 The Rail Maritime and Transport workers union has confirmed that a strike on London Overground services will go ahead this weekend after an agreement was not reached over job cuts.
The RMT claims that 130 guard jobs are at risk over plans to run driver-only services on some trains. They will walk out for 48 hours from 00:01 on Sunday August 25th.
The strike takes place over the weekend of Notting Hill Carnival and is expected to cause widespread disruptions to services, especially on the Richmond and Clapham Junction to Stratford Junction routes.
Transport for London said they were working hard to keep as many services running as possible and there will be alternative Tube, bus and rail services available.
Rail workers vote to strike
London Overground has released a statement, following news that the RMT union is planning a series of strikes in protest at the removal of guards from its trains.
We are disappointed by the result of the ballot, but would highlight that fewer than half of our 124 conductors voted, and only 43% of those voted in favour of industrial action.

We believe industrial action is unnecessary. LOROL continues to give the RMT assurances on employing conductors in alternative customer service roles and offering a generous voluntary redundancy package to those who want it.
We urge the RMT to work with us to maintain progress in safeguarding jobs and avoid disruption to passengers.If industrial action goes ahead on Sunday August 25th and Monday August 26th we believe we will still be able to run a regular service on the majority of the London Overground network with alternative arrangements for the routes affected. We will update our customers when we have more information.
– Peter Austin, London Overground managing director
Rail workers vote to strike
Rail union RMT has announced that guards on London Overground will strike on the following days:
Sunday 25th August
Monday 26th August
The strike is over a move by the company to introduce Driver Only trains (without guards) on the whole of the London Overground network.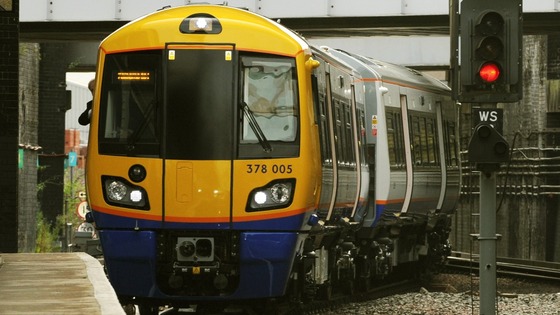 The rail union RMT is threatening strikes on London Overground in a row over plans to axe more than 100 guards. Transport for London wants to switch to driver-only trains on the North London Line from Stratford to Richmond and Clapham.
TfL says 130 posts will disappear, saving £5m a year. RMT General Secretary Bob Crow said: "The news that millions of passengers are to be put at risk through plans to throw guards of London Overground trains on north London routes will send shockwaves through transport services."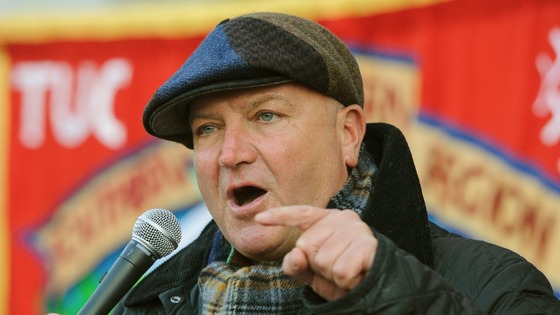 Transport for London insisted the guards are no longer needed to open and close doors and the move would bring services in line with other parts of the Overground network.
Acting Director of TfL London Rail, Jonathan Fox, said: "The safety of our customers and staff is paramount and these proposals will maintain our excellent safety record."
Advertisement
The are severe delays on the London Overground between Stratford and Richmond due to a road vehicle hitting abridge. Tickets are being accepted on London Underground, London Buses andDocklands Light Railway services. Source: Inrix
RMT above-inflation pay deal
More than 500 workers on the London Overground have been awarded a four-year, above inflation pay deal.
Staff will receive a 3.85 percent increase this year followed by three further rises.
The RMT union says the deal sets a benchmark for the rest of the industry.
London snow disruption
There are delays on several tube lines and problems on the London Overground this morning.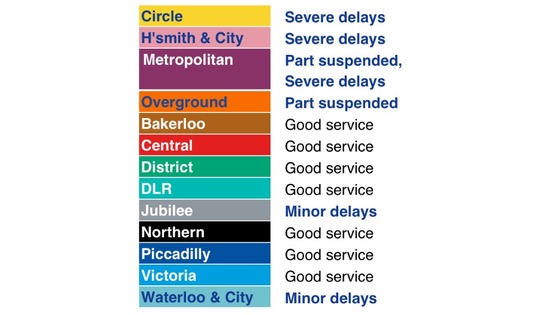 London snow disruption
No service between Surrey Quays and Clapham Junction and between Willesden Junction and Richmond to due to the adverse weather conditions.
Source: INRIX
Load more updates
Back to top