A house in Romford was destroyed today in a gas blast. Firefighters were called to Rodney Way in Romford, early this morning. The property was being refurbishment at the time.
The house was under refurbishment and had been completely stripped out. Fortunately, it was unoccupied at the time it collapsed and no-one was injured.

Had it collapsed when the builders working on the house were inside, they may not have been quite so lucky.
– Jason Frisby, London Fire Brigade
The building fractured the incoming gas supply main when it came down, so eight people from neighbouring properties were evacuated and a temporary 50 metre exclusion zone has been put in place.

As soon as the gas supply has been isolated, the exclusion zone will be lifted and residents will be able to return to their homes.
– Jason Frisby, London Fire Brigade
Tube and rail passengers planning to travel over Easter could be hit by major engineering projects.
Read the full story ›
Advertisement
Sorry, this content isn't available on your device.
A cyclist attempting to use the M1 motorway to get London didn't get very far. He was soon spotted by police after arriving at Luton, and quickly escorted off the road.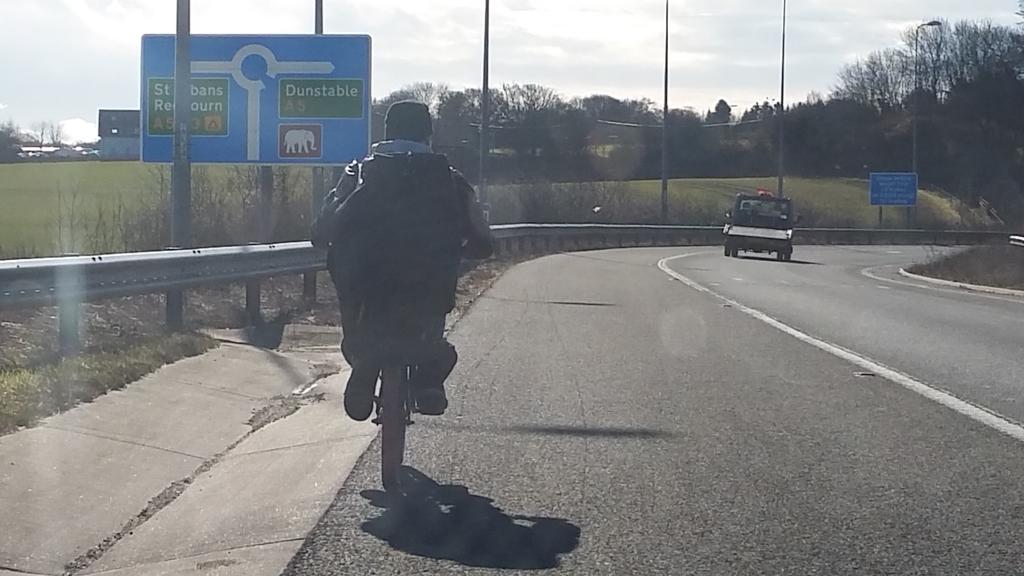 Lorna McIlwaine was treating a patient who had suffered an unprovoked attack when she felt a splash of fluid fall onto her.
Read the full story ›
A furious biker appeared to berate a pedestrian after knocking him off his feet at a set of traffic lights in South London. CCTV footage shows the man crossing Malden Road in Sutton. He's then suddenly hit by a bike travelling at speed.
The rider, who was knocked off his bike during the collision, is then seen to get up and angrily berate the stricken pedestrian before getting back on his motorcycle and driving off down Cheam Common Road.

As he makes off, a car which was waiting at traffic lights at Malden Road pursues the motorcycle down Cheam Common Road. Officers are also appealing to the occupants of that car to get in contact with officers as they may be able to assist the investigation.

The pedestrian, aged 53, was taken to a south London hospital for treatment to his injuries - has has since been discharged.
– Met Police
Anyone with information can contact Sutton Police on 101.
Advertisement
Despite seven deaths and 71 serious injuries in London since 2010, the LFB says manufacturers are "dragging their heels" on improvements.
Read the full story ›
A report by Labour's mayoral candidate, David Lammy, says nine in 10 shoplifting incidents are not reported to police.
Read the full story ›
World-renowned conductor Sir Simon Rattle is joining the London Symphony Orchestra as music director.
Sir Simon will join the LSO in September 2017 from the Berlin Philharmonic, where he has led the orchestra since 2002.
Last month, Chancellor George Osborne gave his backing to a campaign led by Sir Simon to build a concert hall, and a feasibility study is now under way for the project.
During my work with the LSO over the last years, I noticed that, despite the orchestra's long and illustrious history, they almost never refer to it.

Instead, refreshingly, they talk about the future - what can they make anew, what can they improve, how can they reach further into the community?

In terms of musical excellence, it is clear that the sky's the limit, but equally important, in terms of philosophy, they constantly strive to be a 21st century orchestra. We share a dream in which performing, teaching and learning are indivisible, with wider dissemination of art at our centre. I cannot imagine a better or more inspiring way to spend my next years, and feel immensely fortunate to have the LSO as my musical family and co-conspirators.
– Sir Simon Rattle
Someone, somewhere in London should be nearly £2 million richer. A winning lottery ticket is still unclaimed which could transform the fortunes of one player - but only if they claim the prize before the deadline.
The ticket was bought on January 28 in the Barnet area
The winner matched five numbers 3, 4, 17, 24, 30, 34 & bonus of 36
The dealine to claim the life-changing prize is July 27
We're eager to find the mystery ticket-holder and unite them with their winnings this amazing prize could really make a difference to somebody's life.

We're urging everyone who bought a Lotto ticket in this area to check their old tickets again or look anywhere a missing ticket could be hiding.
– National Lottery
Got the winning ticket? Call 0845 910 0000.
Load more updates