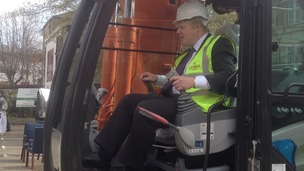 The mayor believes the economic recovery should force developers to rethink their commitment to social housing.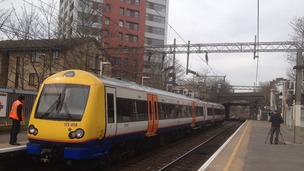 A new station will be built at Barking Riverside where a town with a population of 29,000 - the same size as Windsor - is planned.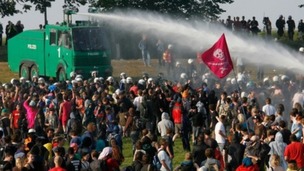 The Mayor has written to Home Secretary saying he supports the anti-riot measure. The move has infuriated members of the London Assembly.
Live updates
The Sun's Political Editor has said that Conservative MP Zac Goldsmith want to run for Mayor of London in 2016 as part of a job swap with Boris Johnson.
Critics who say the Mayor is failing to tackle London's housing crisis say he must use a keynote speech on the subject today to begin to tackle the problem.
Boris Johnson is launching his new draft Housing Strategy for the capital.
Advertisement
Jowell fuels Mayor speculation
Tessa has undoubtedly made a huge contribution to the fabric of our city and its people. But it is her work on the Olympics that stands out.

As mayor of the host city I worked closely with Tessa in the run-up to London 2012, a Games that she played a huge part in ensuring were indeed the greatest ever staged.

I wish her well in whatever path she may choose next!
– Boris Johnson, Mayor of London
Jowell fuels Mayor speculation
Tottenham MP David Lammy, another of those who have expressed an interest in being Labour's London mayoral candidate, was among those paying tribute to Tessa Jowell on Twitter:
Sad my good friend @jowellt standing down after 21 years of service. Feel very fortunate to have worked alongside her as Culture Minister.
Shadow business secretary Chuka Umunna added:
My Lambeth neighbour, political mum and Labour legend, @jowellt, has announced she is stepping down at the next General Election this eve
Jowell fuels Mayor speculation
In a letter to her Dulwich and West Norwood constituency party she said quitting the south London seat was "the hardest decision I have ever taken", adding:
It is really too early for anyone to be declaring themselves ahead of the local elections next year and the general election in 2015.

I love London and, of course, when the time comes will think hard about whether I should offer myself as a candidate.
– Dame Tessa Jowell MP
Jowell fuels Mayor speculation
Dame Tessa Jowell has fuelled speculation she is preparing for a bid to run as London's Mayor after announcing she will retire as an MP at the next general election.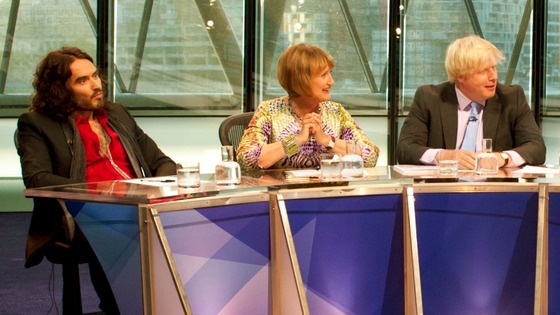 The Labour MP played a crucial role in bringing the 2012 Olympics to London. Her Commons career will come to an end after 23 years in 2015.
Advertisement
Mayor launches Schools Atlas
We are putting information and transparency at the heart of schools planning in the capital. Whether you are a teacher, a policymaker or a parent, the London Schools Atlas provides a single authoritative resource for anyone concerned about education and seeking to understand the challenges of pupil numbers and places. This important new tool means that, for the first time, a range of information and data about school numbers, location, catchment areas and attainment is available in a way that is easy to use and to interpret.
– Boris Johnson, Mayor of London
Mayor launches Schools Atlas
This video gives a detailed analysis of how to use the map - including how to find out where pupils who attend certain schools live, information about individual schools and easy access to their OFSTED reports as well as allowing users to search for schools in a certain ward or post code area.
Mayor launches Schools Atlas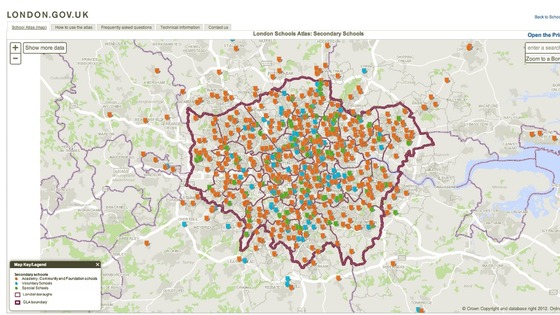 Covering primary and secondary provision, including academies and free schools, the London Schools Atlas for the first time uses data to illustrate current patterns of demand for places at a pan-London level, rather than within boroughs alone.
The London Schools Atlas shows what areas pupils attending a particular school are drawn from and the extent of mobility between boroughs. It also provides information about the performance of schools.
It gives projected changes in demand from 2012 to 2017, helping people to get a clear picture of where pressure on school places might be in the future.
The Mayor hopes that council communities and parents will use the map to identify areas with highest demand for new schools - so they can set up new academies and free schools in those areas.
View the map here.
Load more updates
Back to top