Simon Harris: Political Correspondent
Responding to news that the Airports Commission has ruled a Thames Estuary airport option off its final shortlist, London Assembly Labour Group Transport Spokesperson, Val Shawcross AM, said:
Boris Johnson has long known that an estuary airport option was simply not viable, but has ploughed on regardless and wasted more than £5m of taxpayer money pursuing this pie-in-the-sky vanity project.

If anything, Londoners now deserve an apology from their Mayor. He has wasted valuable public money promoting an estuary airport to raise his profile, when the expert evidence all along suggested the idea was environmentally and financially doomed.
– Val Shawcross
Advertisement
London mayor Boris Johnson today revealed his fury at the official decision to kill off plans for a new hub airport in the Thames estuary.
Read the full story ›
A plan to build a major new airport to the east of London was rejected by a government-appointed commission this morning dealing a blow to its high-profile backer, the city's mayor Boris Johnson.
The Airports Commission said the idea to build a new airport in the Thames Estuary, nicknamed Boris Island, had not made the shortlist of options it is considering to expand Britain's runway capacity
The Mayor of London's plans for a so-called 'Boris Island 'Thames Estuary airport plan will be officially rejected tomorrow.
The Airports Commission is expected to give the thumbs down to the plans, which would have seen a four runway airport built to the east of the capital.
Official confirmation will come from the Commission's Chief Sir Howard Davies but already aides close to Boris Johnson have admitted plans for the island airport are unlikely to be considered by Government.
We strongly suspect that the Airports Commission has decided not to short-list the estuary option.

If so, it will be a sadly short-sighted decision but far from the end of the process.

Airports policy has been stalled for nearly five decades, ricocheting like a billiard ball between Heathrow and Gatwick.

We have one opportunity to break out of that but it seems the commission has taken us back to the same old, failed choice. But the final decision will lie with the Government and a key question now is whether the commission will play much of a role in that.
– Daniel Moylan, Mayor's chief aviation adviser
The rejection of the scheme will leave just three options, two additional runways at Heathrow and one at Gatwick.
The Mayor has already announced he is seeking to be the candidate for Uxbridge and South Ruislip at next year's general election.
The constituency borders on Heathrow and contains many people who depend on London's main airport for their livelihoods.
The Deputy Chair of the Liberal Democrats has accused Boris Johnson of "extraordinary arrogance" after he announced plans to run for Parliament in 2015.
Sir Malcolm Bruce told ITV News it looked as though the Mayor of London was an "opportunist" who thought he could "walk in and out of Parliament" as he pleased.
Advertisement
The local Conservative association has been told to expect as many as 100 applications for one of the safest Tory seats in London.
Read the full story ›
Commenting on Boris Johnson's intention to seek a return to Parliament in 2015, Colin Stanbridge, Chief Executive of London Chamber of Commerce and Industry, said London needs a "full time" Mayor who will "give undivided attention" to the capital's problems.
It is disappointing that the Mayor has announced his intention to run for Parliament next year. London business needs and deserves a Mayor giving their undivided attention to the problems facing the capital.

Solving the chronic undersupply of housing that is pricing out skilled workers, delivering a reliable, frequent and expansive transport network fit for a thriving global city, and fighting for the capital to have more autonomy over its own finances and economic future is a full time job.
– Colin Stanbridge
Labour's Tessa Jowell, who is seen as a frontrunner for the party's London mayoral candidacy, has attacked Boris Johnson over his plans to stay on as Mayor even he is elected as an MP.
Londoners need representation by their Mayor day-in day-out. Transport, homes or jobs, Londoners' challenges deserve undivided attention.
Mr Johnson announced earlier that he planned to run for Parliament in 2015 but also remain as London mayor until 2016.
Former Cabinet minister Ms Jowell has already said she is standing down from Parliament in 2015 and is believed to be targeting a run at the mayoralty.
She has previously said that "were I Mayor of London, I wouldn't be like Boris, certainly not".
A recent sales surge in t-shirts suggests Uxbridge says yes to Boris' plans to try to run for Parliament in next year's general election.
ITV News Political Correspondent Simon Harris tweets from Uxbridge: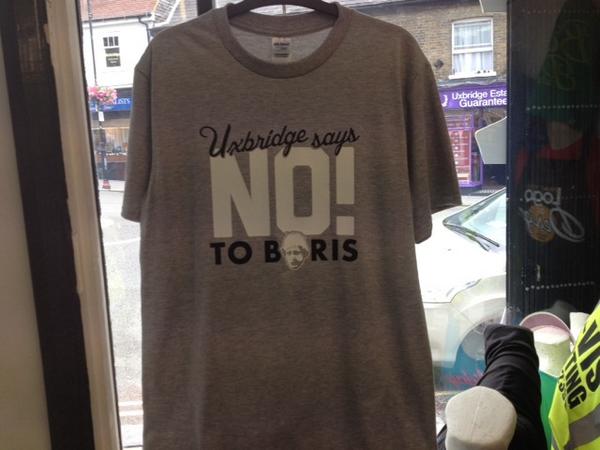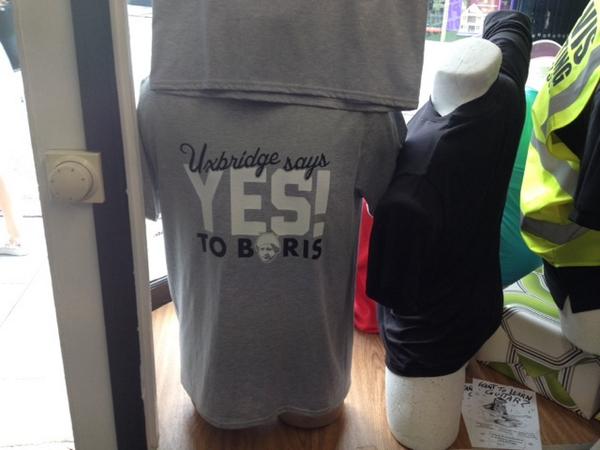 Load more updates