The Deputy Chair of the Liberal Democrats has accused Boris Johnson of "extraordinary arrogance" after he announced plans to run for Parliament in 2015.
Sir Malcolm Bruce told ITV News it looked as though the Mayor of London was an "opportunist" who thought he could "walk in and out of Parliament" as he pleased.
The local Conservative association has been told to expect as many as 100 applications for one of the safest Tory seats in London.
Read the full story ›
Advertisement
Commenting on Boris Johnson's intention to seek a return to Parliament in 2015, Colin Stanbridge, Chief Executive of London Chamber of Commerce and Industry, said London needs a "full time" Mayor who will "give undivided attention" to the capital's problems.
It is disappointing that the Mayor has announced his intention to run for Parliament next year. London business needs and deserves a Mayor giving their undivided attention to the problems facing the capital.

Solving the chronic undersupply of housing that is pricing out skilled workers, delivering a reliable, frequent and expansive transport network fit for a thriving global city, and fighting for the capital to have more autonomy over its own finances and economic future is a full time job.
– Colin Stanbridge
Labour's Tessa Jowell, who is seen as a frontrunner for the party's London mayoral candidacy, has attacked Boris Johnson over his plans to stay on as Mayor even he is elected as an MP.
Londoners need representation by their Mayor day-in day-out. Transport, homes or jobs, Londoners' challenges deserve undivided attention.
Mr Johnson announced earlier that he planned to run for Parliament in 2015 but also remain as London mayor until 2016.
Former Cabinet minister Ms Jowell has already said she is standing down from Parliament in 2015 and is believed to be targeting a run at the mayoralty.
She has previously said that "were I Mayor of London, I wouldn't be like Boris, certainly not".
A recent sales surge in t-shirts suggests Uxbridge says yes to Boris' plans to try to run for Parliament in next year's general election.
ITV News Political Correspondent Simon Harris tweets from Uxbridge: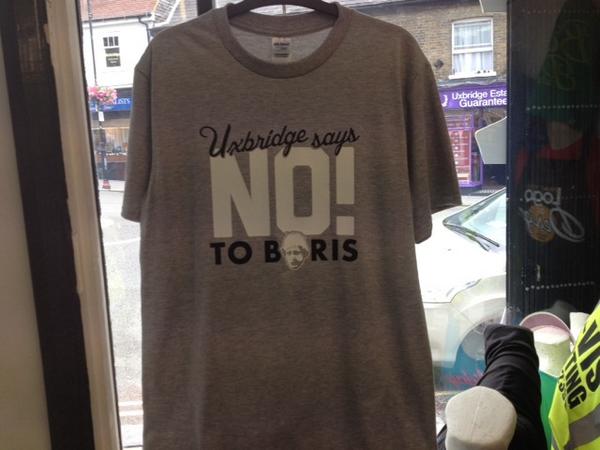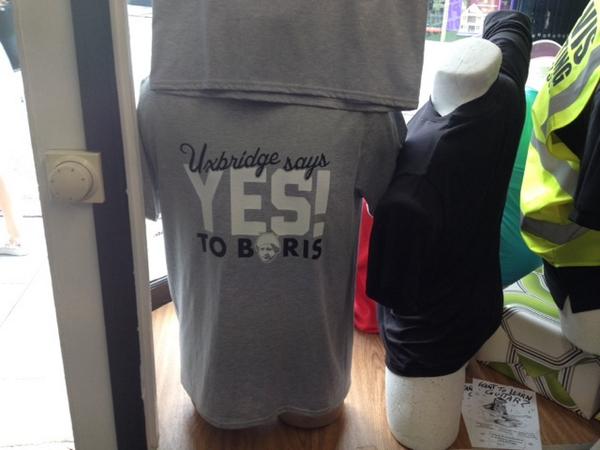 Nick Clegg has launched a scathing attack on Boris Johnson over the Mayor of London's speech on the EU today.
The Deputy Prime Minister said threats to "flounce out" of the union were "deeply irresponsible" and motivated by Mr Johnson's personal ambitions.
"I think this speech is more to do with Boris Johnson's political ambitions rather than what is right for the United Kingdom," the Lib Dem leader said.
"I think it is deeply irresponsible to suggest that we can flounce out of the European Union and I don't think it's the way that you get the reform," Mr Clegg added.
Advertisement
Following Boris Johnson's announcement today, that he plans to stand in the 2015 general election, Chris Summers, Labour PPC for Uxbridge & South Ruislip, said he "would relish the chance" to take on the Mayor in a "head-to-head debate".
If Boris Johnson is parachuted into Uxbridge & South Ruislip I think many voters will feel that they have been taken for granted.

I would relish the chance to take on Boris in a head-to-head debate about the issues facing the people of Uxbridge & South Ruislip - the cost-of-living crisis; the future of the NHS and growing waiting lists; crime and police cutbacks; HS2; Heathrow; step-free access to the Tube; and especially the London housing crisis, which he has done so little to tackle as Mayor.
– Chris Summers
"Let him try his hand in Uxbridge and South Ruislip. I'm up for the challenge," he added.
In response to Boris Johnson's announcement today, that he plans to stand in the 2015 election, Len Duvall, Leader of London Assembly Labour Group, said the decision is a "snub to Londoners".
She said: "It is clear that Boris saw the Mayoralty as a nothing more than a stepping stone to help build his public profile and his record at City Hall reflects that."
Boris has previously stated that being Mayor of London was the 'greatest job in the world'. However, it is clear he no longer thinks that.

Boris will be utterly distracted for the next two years – fighting an election campaign then as an MP, if successful.

All this at a time when Londoners – who are suffering a severe housing crisis, cuts to police and fire services, and some of the worst air quality in Europe – will need strong leadership most.
– Len Duvell
"Londoners deserve better than a part-time Mayor who is more concerned with his own political ambitions than leading their city," she added.
Load more updates