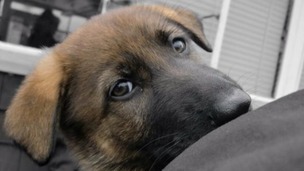 Search and locate! Pups are put to the test in the next part of their Met Police training.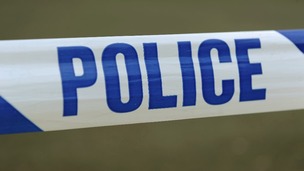 A borough-by-borough breakdown of London's crime figures.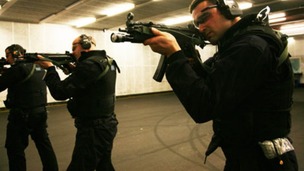 New figures released by Scotland Yard reveal that armed police operations in the capital has fallen in the past year.
Live updates
Raids tackle major drugs ring
Today's arrests are the culmination of a lot of planning and hard work. We have dismantled what was a sophisticated, well oiled, well established operation involving a network of criminals from the cargo handlers to the couriers to the distributors all the way up to the top of the pile.
– Det Supt Stephen Ratcliffe, Serious, Organised and Economic Crime Command
Raids tackle major drugs ring
Police say large quantities of near pure cocaine were recovered with a street value totalling many millions of pounds.
The drugs would come in to London Heathrow in cargo containers on flights from Mexico City
Once the aircraft arrived into the terminal, cargo handlers would quickly remove the drugs, which were boxed inside the cargo container, before it was moved on
Couriers would then liaise with the cargo handlers and collect the drugs and pass them onto the criminals responsible for distributing the drugs to local dealers
Advertisement
Raids tackle major drugs ring
Met Police Officers have carried out a series of co-ordinated raids on homes in London and the South East as part of an operation to smash an international drugs smuggling ring.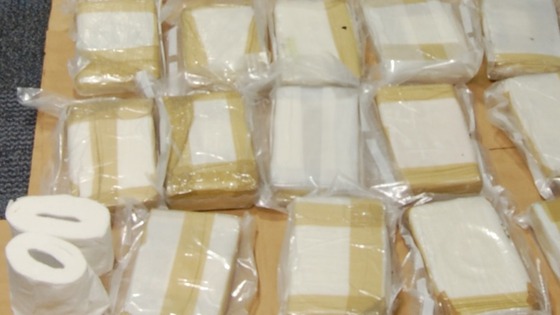 Police say today's operation dismantled a well-established, organised criminal network responsible for importing and distributing millions of pounds worth of cocaine.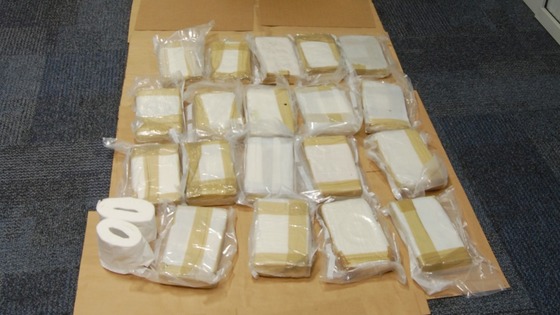 The Met are searching for a 14-year-old boy who has not been seen since Friday 4 October.
Semi Suka, from Uxbridge, was last seen wearing his school uniform at Uxbridge High School at around 3.15pm on Friday 4 October.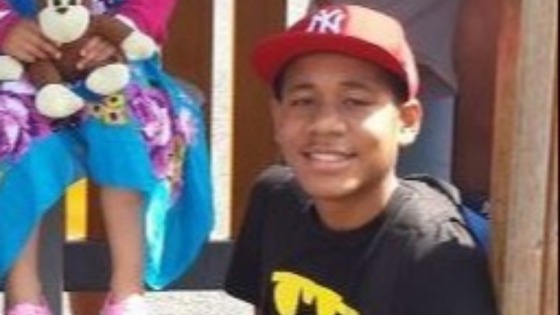 He told friends he was going to KFC in Uxbridge and police think he may have gone into Uxbridge Town Centre.
The school uniform he was wearing consists of black trousers, a white shirt and black blazer with a black and yellow tie. He was also carrying a blue and red bag.
Police want anyone with information on Semi to call Uxbridge Police on 0208 246 1524, the police non-emergency line on 101 or Missing People on 116 000.
Attempted murder in Edgware say police
Police were called byLondon Ambulance Service just before midnight yesterday toreports of a GBH at Hankins Lane at the junction with Courtland Avenue, NW7
On arrival police discovered a 22-year-old man with a stab wound to the stomach. He was taken by ambulance to hospital. His injuries are described as potentially life threatening.
Three men have been arrested in connection with this incident on suspicion of attempted murder. They have been taken to a north London police station.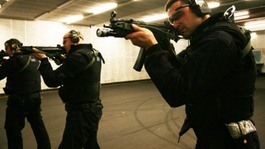 New figures released by Scotland Yard reveal that armed police operations in the capital has fallen in the past year.
Read the full story
Advertisement
A Metropolitan Police officer has been charged with assaulting someone at a police station .
Pc Rohan Scarlett, 46, is said to have committed the alleged offence on February 20 this year.
The officer will appear in court on Tuesday.
Pc Rohan Scarlett, a serving Met officer based in Lewisham borough, has been charged with the offence of assault by beating on 20 February 2013 in the rear yard of Islington police station, Tolpuddle Street, N1.

He has been bailed to appear at Highbury Corner Magistrates Court on Tuesday 28 May 2013.

The officer is suspended
– Scotland Yard statement
Design competition for Met HQ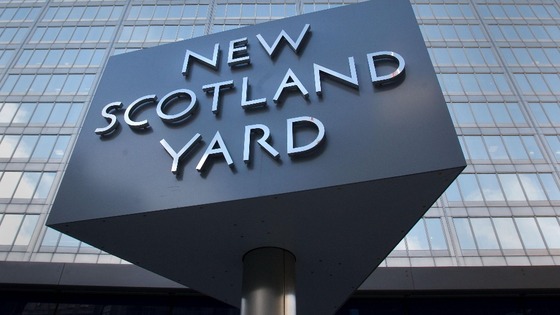 A competition has been launched to design a new HQ for the Met Police.
The Mayor of London Boris Johnson and the Metropolitan Police Service have announced that they are joining forces with the Royal Institute of British Architects to give architects the opportunity to design the new headquarters.
The current building is to be sold, and from 2015 the famous Scotland Yard revolving sign will move to a new location on Victoria Embankment - known as the Curtis Green Building.
Met issues 29k cautions a year
A spokeswoman for the Met Police said the force follows guidance from the Association of Chief Police Officers on the offences for which a caution may be an appropriate disposal.
For a caution to be issued, an offender must have made a clear and reliable admission, there is a realistic prospect of a conviction, and it is in the public interest to administer a caution.

For some sexual offences, in cases where the victim may not wish to proceed to court, one of the factors that then is considered in administering the caution is that the accused individual can be placed on the sex offences register for two years, which enables police to monitor them to increase public safety.
A caution is a serious matter, which can have significant consequences for the person's future employment.

A caution is a serious matter, which can have significant consequences for the person's future employment.

Officers are encouraged to use their discretion regarding out of court disposals, acting in a proportionate manner, and taking into account the individual circumstance of the case, victims and communities.
Met issues 29k cautions a year
Victims across London tell us they want the response to fit the crime and for that response to make sure the offender doesn't do it again.

Although it is ultimately up to the police to decide on when to give a caution, victims must have decisions explained to them in order to retain their confidence in the police and other criminal justice agencies.

The police need to be clear on when it is appropriate to give a caution - for example, this is not likely to be right for most violent and sexual offences."
– Javed Khan, chief executive of the independent charity Victim Support
Load more updates
Back to top