The West End nightclub has come under fire over accusations it refused entry to women because of their skin colour.
Read the full story ›
As final preparations for tonight's MOBO Awards ceremony are made, ITV London spoke to Ms Dynamite about the musical talent across London.
Read the full story ›
Advertisement
Jessie J has sold her London home and is leaving the UK because she is sick of speculation about her love life. The 26-year-old has bought a property in Hollywood where she says her talents as a singer are more appreciated.
"I've dedicated my life to singing and I want it to be taken seriously. Here it seems that all people want to know is what I've had for breakfast and who I'm sleeping with," she told the Mail on Sunday.
In 2011 the former coach on The Voice came out as bisexual and is often questioned about her sexuality.
The singer has also described herself as a 'rubbish date.'
"I'm the sort of person who will order ribs on a date, or the spaghetti bolognese and get it all down my front. And I'm too full-on as a date, too intense. It's like, if I'm going to be someone's girlfriend I have to be a really good girlfriend, which can be a bit much for some people. Maybe I should relax more," she said.
The Libertines featuring front-man Pete Doherty are to reform to headline London's Hyde Park festival this summer.
The band mates last reunited in 2010 where they performed at Reading/Leeds Festival after splitting in 2004 so co-frontmen Doherty and Carl Barat could pursue their own careers.
The reunion will not come as a complete surprise to fans of the band as Doherty hinted a show was on the cards in a recent interview, and the band's Facebook page featured an image of Hyde Park.
The Libertines, will play at Barclaycard Presents British Summer Time in Hyde Park on July 5, with the Pogues, Spiritualized and McBusted also set to perform at the festival.
Tickets go on sale on Friday May 2nd.
Cornershop, the band behind the 90's mega-hit 'Brimful of Asha', will open the 'world's smallest disco' in Stoke Newington, Hackney tomorrow to mark Record Store Day.
The group will be playing tunes and selling music in a bid for the world record.
They hope that the small venue inside a record shop on Albion Road will be officially recognised as having a capacity of just 14.
Veteran rockers Black Sabbath are the latest headline act to be announced for the British Summer Time festival. The band fronted by Ozzy Osbourne and featuring Geezer Butler and Tony Iommi will play on the opening night of the Hyde Park event on July 4.
Black sabbath made a comeback last year with a number one album and sell-out tour. Osbourne said he's looking forward to the event, because when he first went to London he was impoverished and spent the advance he got for the first album on a new pair of shoes and some Brut aftershave.
"Returning almost 50 years on we are doing a bit better for ourselves, so I may even splash out on some new aftershave before taking to the stage at Hyde Park - the most beautiful park in London - that has opened its gates to so many legends in the past," said Osbourne.
"We are beyond honoured to be allowed to put on a show and hope that the royals will enjoy it."
Other acts to perform include Soundgarden, Faith No More, Neil Young and McBusted. Tickets go on sale on Friday.
Advertisement
Prince is expected to announce a number of UK tour dates today.
Details of his tour remain uncertain but Prince said he hoped toplay "iconic" venues along the lines of music club the Bag o' Nails,where Jimi Hendrix once performed, and Ronnie Scott's jazz club.
"We'll work our way up, if people like us, to bigger venues," Prince said.
The Camden New Journal is reporting that one woman has cancelled her holiday to Turkey, in order to queue for tickets to see Prince tonight.
Ruth Newcombe is standing in the pouring rain, when she could be on a beach, even though she has no guarantee that she'll be able to see the star.
She told the paper: "no one knows if he'll really turn up or not, but we're waiting here anyway. I have done this before and he hasn't even turned up."
Fans are already queuing in the rain for the chance of snapping up a ticket to tonight's show.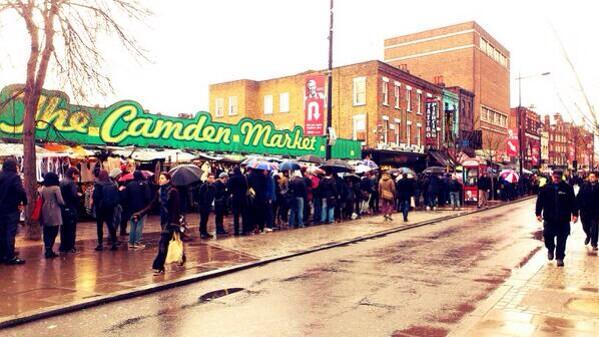 Load more updates