Prince is expected to announce a number of UK tour dates today.
Details of his tour remain uncertain but Prince said he hoped toplay "iconic" venues along the lines of music club the Bag o' Nails,where Jimi Hendrix once performed, and Ronnie Scott's jazz club.
"We'll work our way up, if people like us, to bigger venues," Prince said.
Advertisement
The Camden New Journal is reporting that one woman has cancelled her holiday to Turkey, in order to queue for tickets to see Prince tonight.
Ruth Newcombe is standing in the pouring rain, when she could be on a beach, even though she has no guarantee that she'll be able to see the star.
She told the paper: "no one knows if he'll really turn up or not, but we're waiting here anyway. I have done this before and he hasn't even turned up."
Fans are already queuing in the rain for the chance of snapping up a ticket to tonight's show.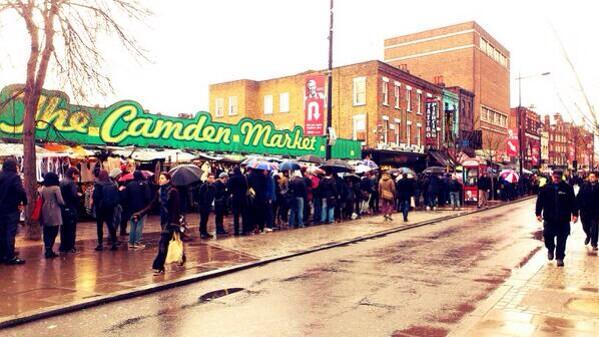 Last night's gig was in front of a crowd of just 300, but the star is expected to hold another show tonight.
Prince teased fans with promise of a further performance at the Electric Ballroom by posting a link to a countdown clock online, with the seconds ticking by until 7pm tonight.
This video of last night's gig was posted on YouTube by Prince's new band.
Advertisement
US singer Prince delighted fans by performing at a surprise gig in Camden last night.
He took to the stage of the Electric Ballroom in Camden, north London, late last night backed by his new 3RDEYEGIRL band.
Rumours of the gig had begun circulating on Twitter, with some fans fortunate enough to get tickets.
Prince surprised his fans after taking to the stage of a small London venue for a secret gig ahead of an announcement of UK tour dates.
Read the full story ›
The Kinks, were who formed in Muswell Hill, north London, are pondering a reunion to mark a half-century milestone for the band.
The group'sfrontman and chief songwriter Ray Davies said the reunion was as "close asit's ever been to happening".
The 69-year-old, his guitarist younger brother Dave and original drummer Mick Avory all told Uncut magazine they are keen to get back together for the 50th anniversary of their debut release this year.
The rapper Professor Green was arrested on Sunday on suspicion of drink driving after police were called to reports of a robbery
Officers called to the scene of the suspected mugging in south London at about 2.40am and found his Mercedes had been in a crash with a van.
No-one was injured but the star, real name Stephen Manderson, was arrested and questioned at a police station where he was bailed to return later this month.
A Scotland Yard spokeswoman said: "Inquiries into the circumstances of the robbery and collision are ongoing."
Green was due to play 12 dates in November but has said recuperating from a recent car accident has not left him with time to work on his new album.
Load more updates