The biggest ever investment plan for the regions rail network has just been announced.
Read the full story ›
Waterloo International will at last be used by South West Trains to ease overcrowding Network Rail and the Government will announce today
Read the full story ›
Advertisement
Rail upgrades in the South East costing more than £2 billion will get underway this week.
Network Rail announced the investment to try and accommodate for increasing numbers of commuters coming into the capital from Kent and Sussex.
The 5 year plan to improve stations, introduce more trains and 20% more seats will get underway this week.
Some routes have seen a 50% increase in passengers over the past 10 years, so Network Rail now hopes to succeed in connecting Kent and Sussex with London before 2019.
This will form part of a wider programme to deliver an extra 115,000 seats a day into the capital.
Network Rail's Dave Ward, said: "The growth we are managing now is phenomenal - Southeastern and Southern already run more than 2,000 trains each every day - and this has given us a real opportunity to improve the railway in Kent, Sussex and south-east London."
Passengers using London Bridge have been warned to expect severe disruptions for up to four years as the station is redeveloped. Today Network Rail was showing off the first two new platforms to be completed.
They said the ongoing work would provide 'tremendous benefits' to passengers. But as Luke Hanrahan reports, for some it comes at a significant cost.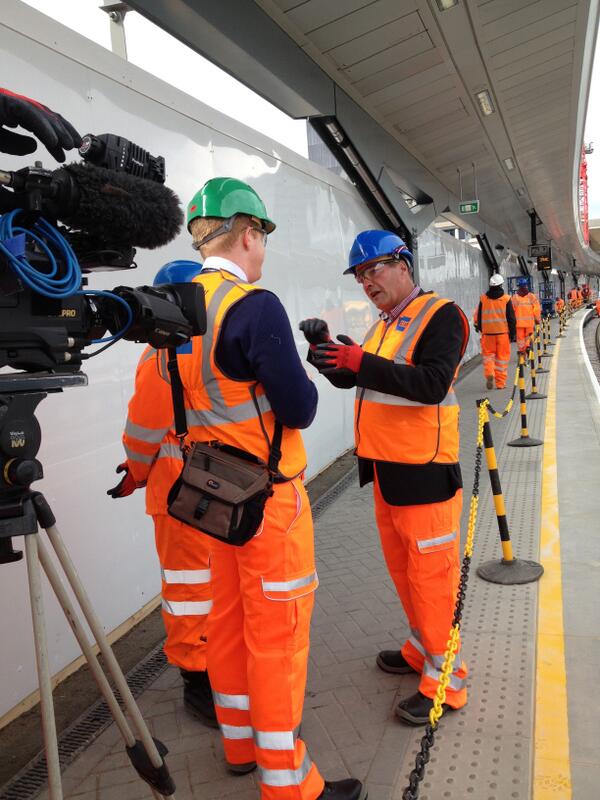 Advertisement
The long term benefits of the redevelopment of London Bridge station to passengers will be "tremendous" despite the disruption to services, a minister has said.
Network Rail have released images of the two new platforms scheduled to open next week as part of the £6.5 billion redevelopment.
Rail Minister Stephen Hammond said:
Thameslink is vital if we are to deliver a transport network fit for the 21st century, providing more seats across the morning peak and better connections across the south east.

The London Bridge redevelopment is at the heart of this project and I am pleased to see progress is being made with the opening of these two new platforms.

Whilst there will be disruption, the benefits to passengers in the long term will be tremendous.
Developers behind the renovation of London Bridge station claim the extensive work will result in a "bigger and brighter station" which will transform north-south travel through London.
The work, due to be completed in 2018, will enable trains to run with "Tube-like frequency" every two to three minutes, Network Rail claims.
Passengers will be able to travel more efficiently and make easier connections to other rail services as a result of the improved facilities.
When complete, the station will be longer than the Shard is tall while the entire length of the platforms will be covered by undulating canopies of steel and aluminum.
Dave Ward, Network Rail route managing director, said: "This huge investment in rebuilding London Bridge station will transform rail travel in London for millions of people across London and the south east.
"By 2018, London Bridge will be the most modern station in Britain with more space, better connections and great facilities."
The first phase of the extensive redevelopment of London Bridge railway station is on course to finish next week but passengers have been warned to expect further disruption as renovations continue.
Two new platforms will be brought into use on March 31 before another two are closed for the next stage of the process.
The station is being redeveloped as part of the Government-sponsored £6.5 billion Thameslink Programme which developers claim will remove bottlenecks to enable a more efficient service and to reduce the pressure on the Underground.
The continued overhaul of the station, which began in May 2013, will result in disruption to passengers in late March, August and December.
The chief executive of Network Rail, Mark Carne, has made an "unreserved apology to those who have been let down" by the authority's failings in managing the risks of level crossings.
Speaking on Daybreak, Mr Carne also apologised for the behaviour of Network Rail in dealing with the bereaved.
In response, Chris Bazlinton - father of Olivia Bazlinton, who died at a level crossing in 2005 - said he was "encouraged" by the comments and would be holding Network Rail to account.
Mr Bazlinton added: "I think the future is bright. I think this report will lead to much safer railways."
Load more updates