Live updates
St Paul's Protesters Evicted
Boris Johnson on St Paul's protesters: "As Mayor of London I cannot just firehose those guys off the streets." @londontonight
St Paul's Protesters Evicted
Business Correspondent Glen Goodman reports from Finsbury Square, in the City of London.
Advertisement
St Paul's Protesters Evicted
Some of the protesters evicted last night from St Paul's Cathedral have moved to an encampment at nearby Finsbury Square.
St Paul's Protesters Evicted
"In the past few months, we have all been made to re-examine important issues about social and economic justice and the role the cathedral can play.
We regret the camp had to be removed by bailiffs but we are fully committed to continuing to promote these issues through our worship, teaching and Institute. The cathedral is open today and set aside for prayer and reflection. The cathedral is accessible to everyone.
The area currently cordoned off is for essential repairs to damaged paving.
Clergy are available throughout the day for pastoral care and support."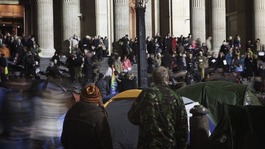 Anti-capitalist protesters have been evicted from outside St Paul's Cathedral, more than four months after their occupation began.
Read the full story
St Paul's Protesters Evicted
The anti-capitalist protest camp outside St Paul's Cathedral has been ended by bailiffs and the police overnight.
Advertisement
Load more updates
Back to top