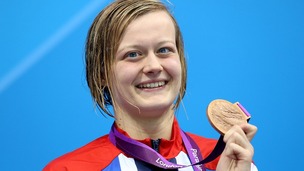 Paralympian Hannah Russell from Woking in Surrey returned to her primary school for a hero's welcome.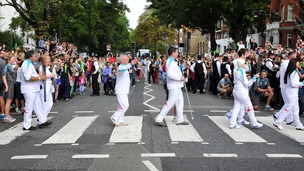 The Paralympic relay made a pop stop off to visit Abbey Road in St John's Wood, north-west London.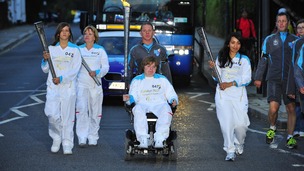 The Paralympic Flame has arrived in London ahead of tonight's opening ceremony.
Live updates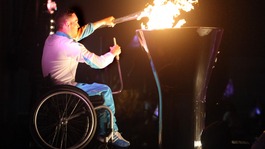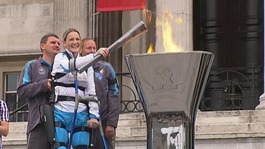 Cauldrons have been lit in England, Northern Ireland, Scotland and Wales over the past week
Read the full story
Advertisement
Bandstand marathon to close Paralympic Games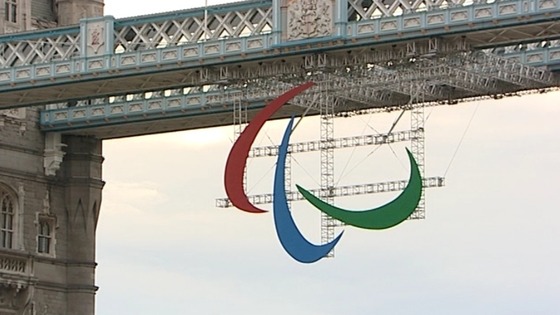 Hundreds of musicians will perform their own renditions of one of Coldplay's biggest hits to mark the end of the Paralympic Games.
The band's anthem Viva La Vida will be played simultaneously at outdoor concerts across the UK in a Bandstand Marathon ahead of the Paralympic closing ceremony.
Performers will be encouraged to play their own unique take on the song on September 9th, as part of the finale to the London 2012 festival.
Hundreds of outdoor community concerts will be staged for the event, as the song is performed at 2pm on the final day of the Games.
Organisers said the Bandstand Marathon will present a "unique portrait of the UK's diverse musical tastes and styles in 2012".
Coldplay frontman Chris Martin, who will headline the closing ceremony with his band, said: "It's a great honour for us to be part of the celebrations for the Paralympic Games and it should be a great moment when the bandstands of Great Britain strike up in unison."
Mayor of London Boris Johnson said: "Millions of people across the capital have already enjoyed an astonishing variety of music, drama, and spectacle from around the world.
The Bandstand Marathon renditions of Coldplay's instantly-recognisable mega hit Viva la Vida will be fittingly upbeat coda to the London 2012 celebrations.
We want as many Londoners as possible to take part and after the Games are over I hope many more will be encouraged to bring the sound of beautiful music to their local communities. Long live life indeed!"
Olympic victory parade
Games row over wheelchair tickets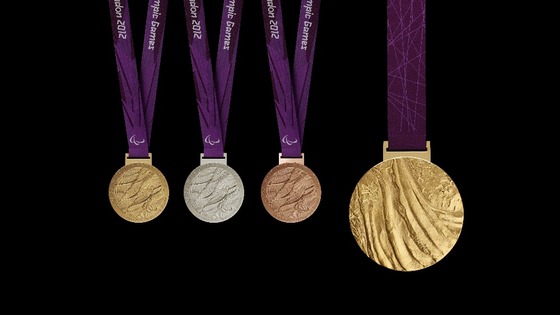 The organisers of the Paralympic Games have been accused of discriminating against the disabled by making wheelchair users book tickets for events via business rate phone lines.
Those trying to book wheelchair tickets or check their availability can only do so by calling an 0844 number costing up to 41p a minute, while able-bodied people can buy their tickets online from organiser Locog without incurring extra costs.
The arrangements have caused outrage among some disabled people who say they have been kept on hold for long periods of time running up large bills before being told there are no seats available.
The London 2012 website has a specific section for disabled people wanting to buy tickets to the Paralympics, which start on Wednesday.
It says: "If you require a wheelchair space, you will be able to purchase one, subject to availability, by calling 0844 847 2012."
According to communications regulator Ofcom, 0844 calls are charged between 1p and 13p per minute for landline customers. Calls from mobile phones are typically charged between 15p and 41p per minute, depending on the network provider.
On its website, Locog says it has created a ticketing process which is "inclusive and accessible".
"It is important to us that people of all abilities can purchase tickets easily," it adds.
Paralympic Flame
Paralympic flame lights cauldron
The Paralympic flame created on Britain's highest peak will be used to light a ceremonial cauldron in Edinburgh this morning as part of a festival celebrating the Games.
Scouts lit four flames atop the highest peaks of the UK to spark the Paralympic torch relay this week.
After the celebrations the flame will be taken to the home of the Paralympic movement, Stoke Mandeville, before it is joined with the others created around the UK and carried in a 24-hour relay to London for the opening ceremony.
French Paralympians arrive in the Capital
First Paralympians to arrive by Eurostar
The French Paralympic team became the first to arrive by Eurostar today. But they were quickly over-shadowed by some other stars.
Advertisement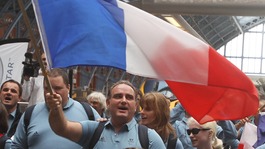 A total of 200 athletes from the French Paralympic squad arrived at St Pancras international station ahead of Wednesday's opening ceremony.
Read the full story
Paralympic Flame
Double gold medalist Peter Norfolk to carry Paralympic GB flag
Wheelchair tennis star Peter Norfolk says he's very 'humbled' to have been chosen to be Paralympic GB's flagbearer at the opening ceremony.
The 51-year-old, known as the "Quadfather", won gold in the quad singles in Athens and Beijing and will be looking to defend his title in London.
Paralympic Flame
The Paralympic flame arrived in Trafalgar Square this morning. The ceremonial cauldron was ignited by Claire Lomas, who this year became the first person to complete the London Marathon in a bionic suit.
Ria Chatterjee reports.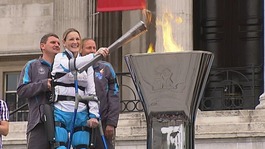 The flame that was lit on Scafell Pike on Wednesday has been brought to London.
Read the full story
Load more updates
Back to top