The 20-year-old was attacked and killed a week ago at East Surrey Grove in Peckham.
Read the full story ›
A double-decker bus was hit by falling scaffolding in Peckham High Street today. The scaffolding struck the number 345 shortly after 11am. No one was injured.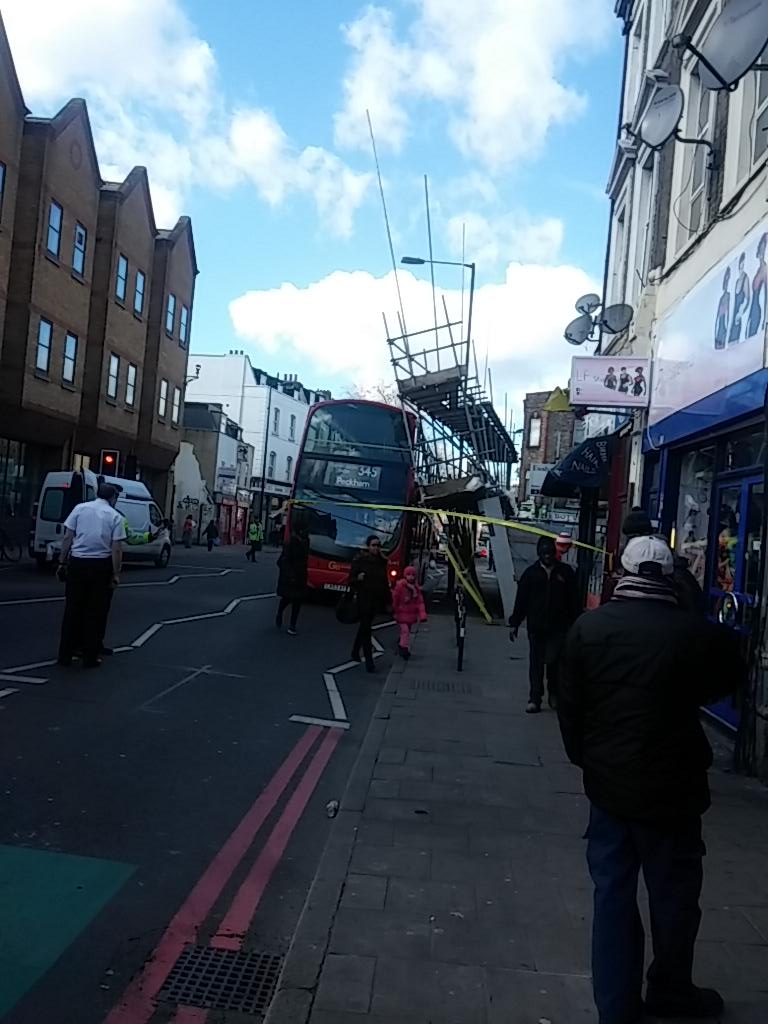 At around 11am this morning some scaffolding collapsed on a route 345 bus as it was driving down Peckham High St, at the junction with Basingcourt.

The bus was in service at the time and there have been no reports of injuries. We will work with the emergency services who will be investigating this incident.
– Transport for London
Advertisement
The unloved property in Peckham is in need of some serious modernisation. Would you buy it?
Read the full story ›
A man who attacked and raped a woman in the street has been jailed for seven years at Woolwich Crown Court today.
Steven Dunne from Peckham pleaded guilty in March to one count of rape and one count of robbery following the attack last November.
The victim, a 27-year-old woman, was walking to work along Surrey Quays Road when she realised she was being followed. Dunne suddenly rushed at the woman and grabbed her, forcing her into nearby bushes where he assaulted her and robbed her of cash. He also threatened to kill her during the ordeal.
PC Carol Day who led the investigation said:
"Steven Dunne committed a violent and terrifying rape on a woman walking to her workplace in the early hours of the morning. The victim in this case was traumatised by the attack, but with support has found the determination to see her attacker sent to prison for a long time."
Police are appealing for information after a woman was injured in a collision with a bus.
The crash happened outside Peckham Rye station on Sunday 30th March, at around 1:30pm.
The bus stopped at the scene and the driver was not arrested.
A man who was spotted walking two ducks in south London has explained the circumstances behind the unusual sighting to ITV London.
Read the full story ›
Advertisement
Just weeks after a woman was spotted walking a man on a lead, a man has followed suit by leading a pair of ducks around Peckham.
Read the full story ›
A man who tricked two Chinese students into believing they were viewing a room at his flat so he could sexually assault them has been jailed for 8 years.
Li Hao from Peckham placed an advert on an internet site claiming he had a room to rent. He imprisoned his victims in December 2012 by threatening them with a meat cleaver.
"I have been in public life for 30 years and all of those years have been about protecting the vulnerable, protecting women and children," Harriet Harman insisted today.
"That's why I find it so unfair and offensive that the Daily Mail should put smear and innuendo on me as if somehow I supported those people that all my public life I've been fighting against.
"I think they are wrong to be doing that and that's why I'm speaking out."
"It's actually not me that should be apologising for something that I haven't done - it's the Mail that should be apologising for their smear and innuendo," Harriet Harman said today.
Load more updates