Police are appealing for witnesses after a collision between a pick-up truck and a motorcyclist. Emergency services were called to Consort Road, close to the bus garage at 5.33pm on Saturday 30th April.
At 6.52pm a 51-year-old male rider was pronounced dead at the scene. His next of kin have been informed.
No arrests have been made.
Detectives from the Met's Roads and Transport Policing Command are now investigating the incident and would like to speak to anyone who saw the collision or the moments leading up to it.
Russian state media has been ridiculed over claims of no-go 'explosive ethnic neighborhoods' in London.
Read the full story ›
Advertisement
Detectives investigating a linked series of violent attacks on women in south London have increased their reward for information to £20,000.
Read the full story ›
Plans to build flats next to the Bussey Building in Peckham have been withdrawn after opposition from residents and businesses.
Read the full story ›
A dilapidated bungalow in Peckham has sold at auction for £920,000 - £330,000 above the guide price
Read the full story ›
A 16-year-old boy has been arrested in connection with an attack on a heavily pregnant woman. The teenager was questioned on suspicion of conspiracy to commit GBH and child destruction after Malorie Bantala lost her unborn child. She was eight months pregnant when she was assaulted near her home in Peckham in June. Two other people have been charged in connection with the case. The teenager has been released on bail.
Advertisement
The 20-year-old was attacked and killed a week ago at East Surrey Grove in Peckham.
Read the full story ›
A double-decker bus was hit by falling scaffolding in Peckham High Street today. The scaffolding struck the number 345 shortly after 11am. No one was injured.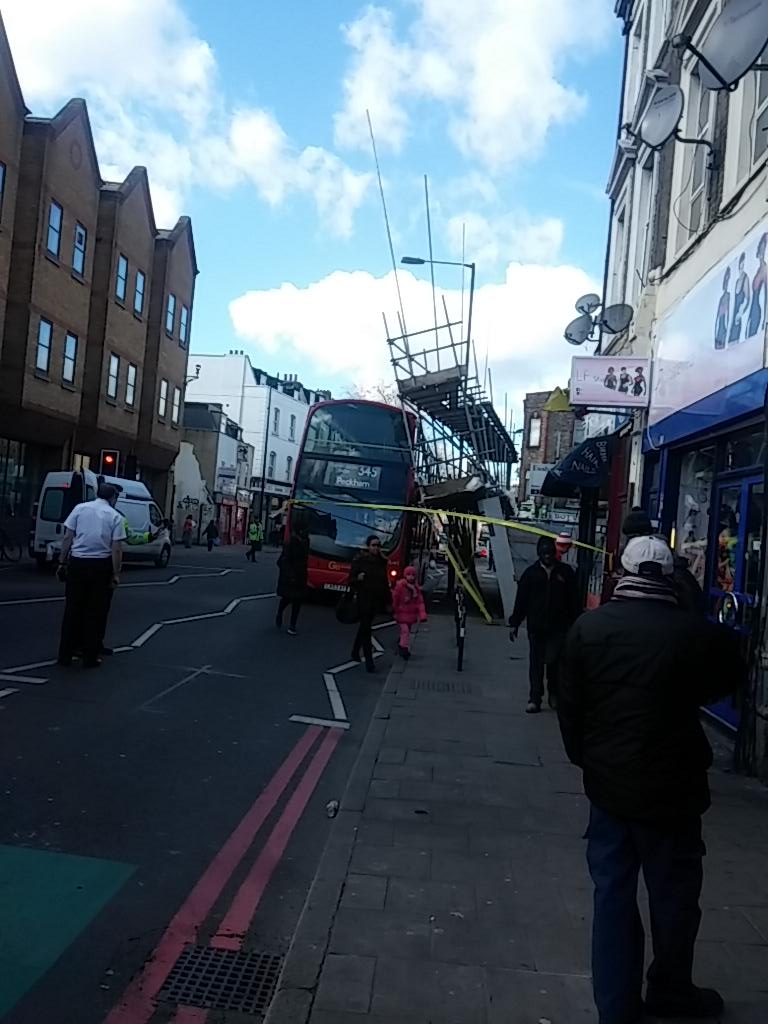 At around 11am this morning some scaffolding collapsed on a route 345 bus as it was driving down Peckham High St, at the junction with Basingcourt.

The bus was in service at the time and there have been no reports of injuries. We will work with the emergency services who will be investigating this incident.
– Transport for London
The unloved property in Peckham is in need of some serious modernisation. Would you buy it?
Read the full story ›
A man who attacked and raped a woman in the street has been jailed for seven years at Woolwich Crown Court today.
Steven Dunne from Peckham pleaded guilty in March to one count of rape and one count of robbery following the attack last November.
The victim, a 27-year-old woman, was walking to work along Surrey Quays Road when she realised she was being followed. Dunne suddenly rushed at the woman and grabbed her, forcing her into nearby bushes where he assaulted her and robbed her of cash. He also threatened to kill her during the ordeal.
PC Carol Day who led the investigation said:
"Steven Dunne committed a violent and terrifying rape on a woman walking to her workplace in the early hours of the morning. The victim in this case was traumatised by the attack, but with support has found the determination to see her attacker sent to prison for a long time."
Load more updates